3 Best Ways to Remove Copy Protection from DVDs Easily
When you have purchased the commercial DVDs, you will find that many of them are protected by region codes or DRM protection. Then, the DVD content can't be saved to computers for playing back, or even some DVD players would fail to play the DVD movies because of the protection. As a result, people would want to remove copy protection from DVDs and copy DVDs to protection-free discs, folders, or ISO files for saving and playing more flexibly.
So in this article, the 3 best ways to remove DVD protection will be introduced and you can learn how to remove copy protections from DVDs. Both free and paid services are provided. You can continue on reading now.
1. How to Remove DVD Protection with VideoByte DVD Copy
To remove copy protection from DVDs, you need the help from an extra tool, which is a DVD copy software that supports unlocking the DVD protection and copying the content to another DVD disc, folder, or ISO file. In this part, we'd like to introduce the most recommended DVD copy software: VideoByte DVD Copy.
VideoByte DVD Copy is a desktop software provided for Windows and Mac for DVD backup with original quality. You can copy the original DRM-protected DVD to a new blank disc in DRM-free format. More importantly, this software will maintain the video and sound quality at 1:1 ratio during the copying process, and at the same time, the protection can automatically be unlocked.
The software provides 3 modes, including "Full Movie", "Main Movie" and "Custom" for people to select the most suitable way to copy DVDs. Also, VideoByte DVD Copy can speed up the DVD copying process by adjusting the writing speed to "×2.0 - Recommended" or "Max".
When copying DRM-protected content, please strictly keep it for personal use but not commercial use. 
Removing DVD Copy Protection with VideoByte in 3 Steps
You can first check the video tutorial on removing DVD copy protection with VideoByte DVD Copy.
Step 1. Select Load DVD Source
Don't forget to connect the disc drive and insert the DVD to remove DVD protection. If you want to copy it to another disc, you would also need another disc drive for inputting the blank disc.
Now, you can open VideoByte DVD Copy and select the DVD source to load in the software in "File" menu. You may need to wait for a few minutes to load the content.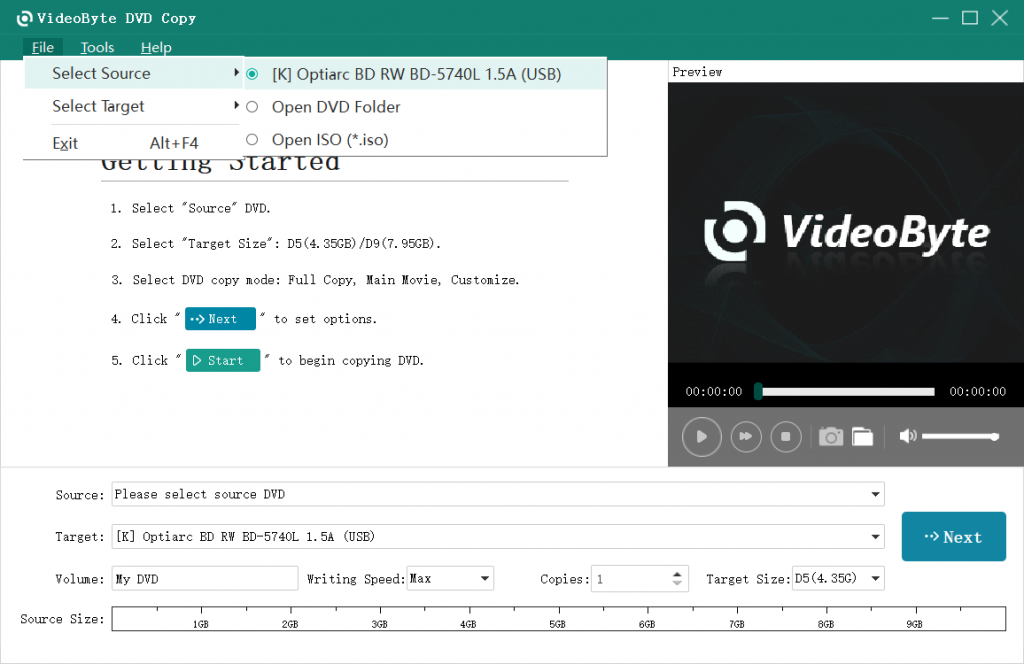 Step 2. Choose Output Target and Copy Mode
When the content is loaded, select a "Target" in "File" for copying the DVD content. Then you can go to select a copy mode for copying the DVD and remove the protection. The functions of the 3 modes are as follows:
"Full Copy": Copy the whole DVD disc, including the main movie, menu, ads, etc.
"Main Movie": Copy the main movie only.
"Customize": Choose certain parts of the DVD for copying specific contents.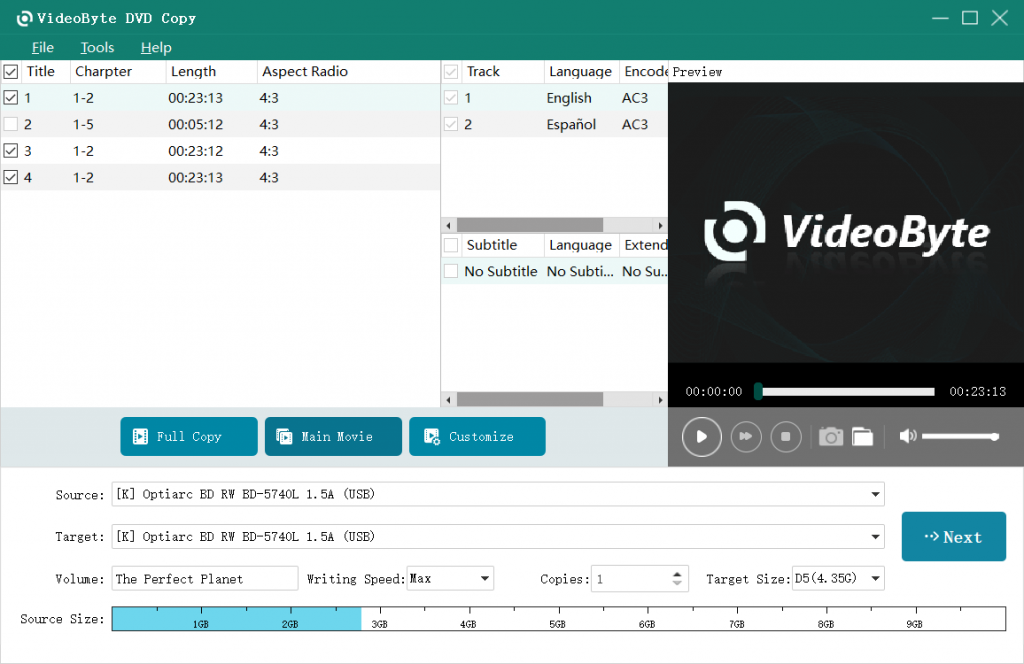 Step 3. Set Output Options and Copy DVD
After clicking the "Next" button, you will be turned to the window to set some output options. When pressing "Start", the DVD copying process will begin and the protection will also be removed at the same time automatically.
2. How to Remove Copy Protection from DVDs with MakeMKV
Another DVD copyright remover we'd like to introduce is MakeMKV, which you may be familiar to. MakeMKV is freeware to copy or rip protected DVD/Blu-rays to MKV format, during which the DVD copy protection is stripped. What's more, the MKV format can preserve all content in the disc, and you can get the output with most DVD data.
Though MakeMKV is free to do most DVD copy protection removal, you may need to know that it's not always free. The free version of MakeMKV requires a BETA key, which is updated by the producer. But many users complain that the key sometimes isn't published on time, and the BETA version expires until you receive the new key. In a word, MakeMKV is still reliable for removing copy protection on DVDs. Just read the following steps:
STEP 1. Launch MakeMKV, and insert the DVD disc you want to remove copy protection. MakeMKV will detect and load your DVD disc.
STEP 2. On the interface, you can see the title list, audio tracks, and subtitles. You can select the content you want to keep, because if you preserve all movie content it may take a long time.
STEP 3. Now you can choose the output folder. After removing DVD copy protection on MakeMKV, you can find the DVD content in the selected folder.
STEP 4. Hit the "Make MKV" icon, and MakeMKV will remove copy protection from DVDs for you.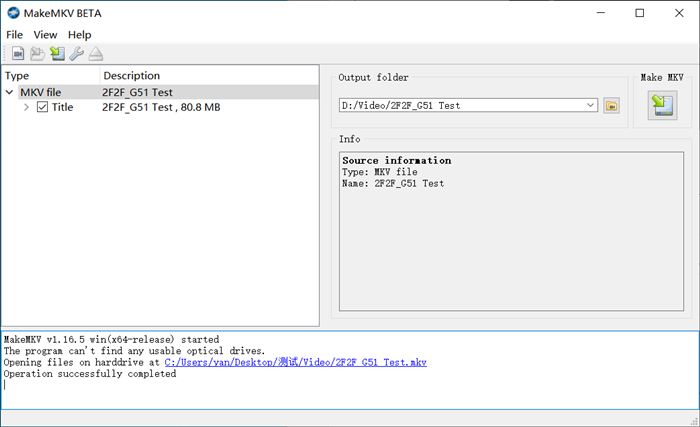 Tip: MakeMKV only supports MKV output and cannot copy DVD to DVD folder, VIDEO_TS file, or ISO Image file, which is not useful to back up DVD content to a blank DVD like VideoByte DVD Copy. If you have such needs, you can try VideoByte DVD Copy.
3. How to Remove Copy Protection from DVDs with VLC
Instead of being a simple media player for both computers and mobile phones, VLC also provides the DVD copying function that people can use to remove DVD copy protection and convert the content to common video files. Unlike MakeMKV, VLC is totally free to use. But you need to pay attention that VLC can only remove the region codes protection. For the other types of encryption, it will fail to do the DVD copying. Here is how it works:
Step 1. Import DVD to VLC after inserting the disc. You should go to "Media" menu and select the "Convert/Save" option.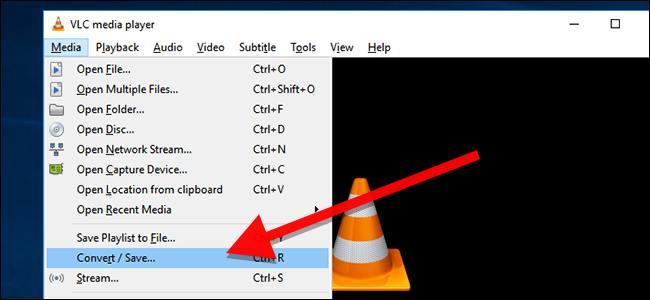 Step 2. In the "Open Media" window, click "Disc" and choose the DVD you need to copy. Then continue to "Convert/Save" for going to select and output format for ripping the DVD to.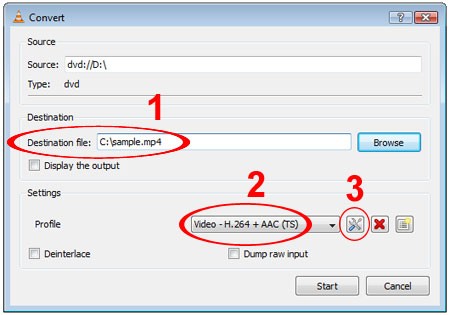 Step 3. Simply press the "Start" button, then VLC will start copying the DVD to your selected video files for saving on your computer locally.
Note: You can also use VLC to remove copy protection from DVDs, but you need help from the libdvdcss.dll file. If you want to know a more detailed guide, you can check the post: How to Rip Copy-protected DVD with VLC.
Extra Tip: Remove Copy Protection from Blu-ray Easily
The 3 tools mentioned above can handle DVD copy protection, and if you also collect some Blu-ray discs armed with Blu-ray copy protection, you can try another professional program: VideoByte BD-DVD Ripper.
VideoByte BD-DVD Ripper supports multiple Blu-ray protections like AACS, BD+, and Cinavia, so almost all of your Blu-ray discs can be ripped by it. What's more, after it removes the protection, various output formats can be chosen including MP4, MKV, MOV, etc. and you can enjoy the protection-free Blu-ray movies on any device you like.
Here you can follow the simple image guide to remove copy protection from Blu-ray with VideoByte BD-DVD Ripper: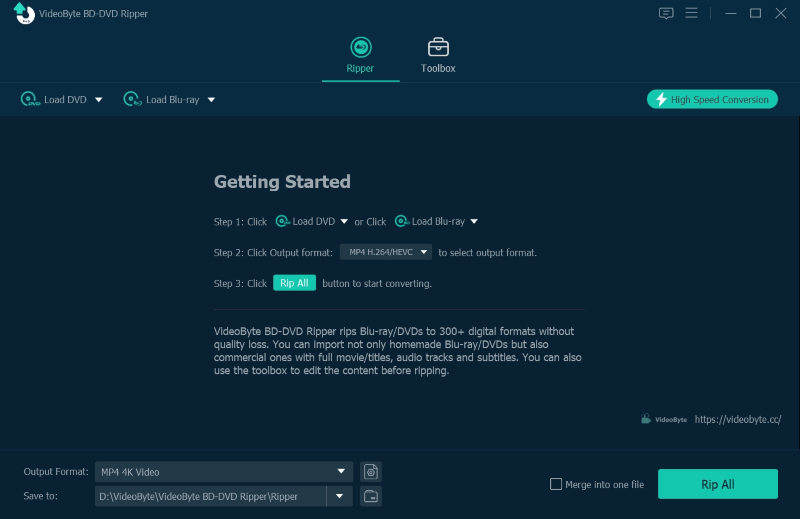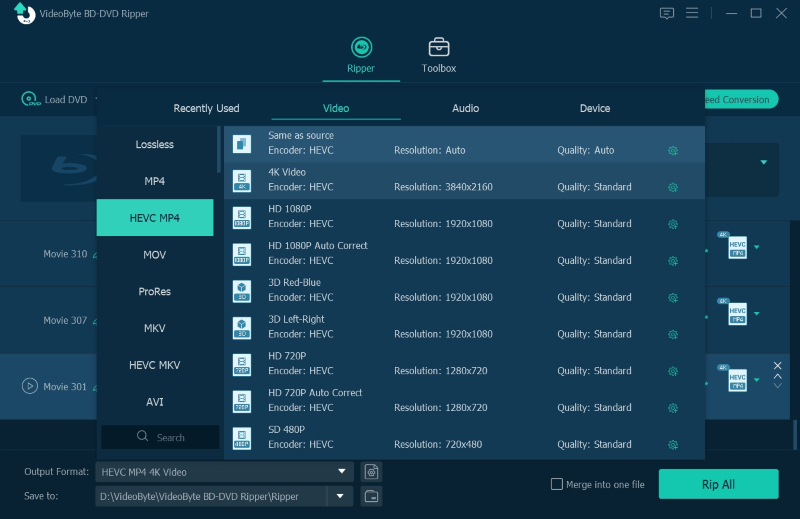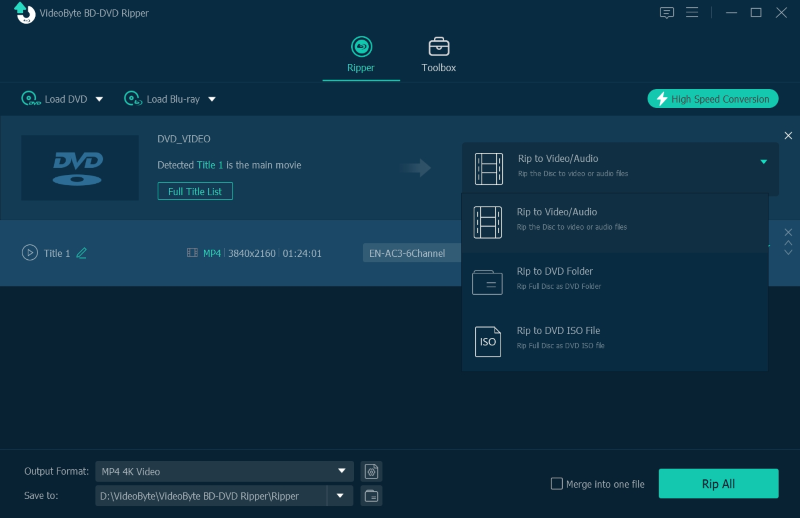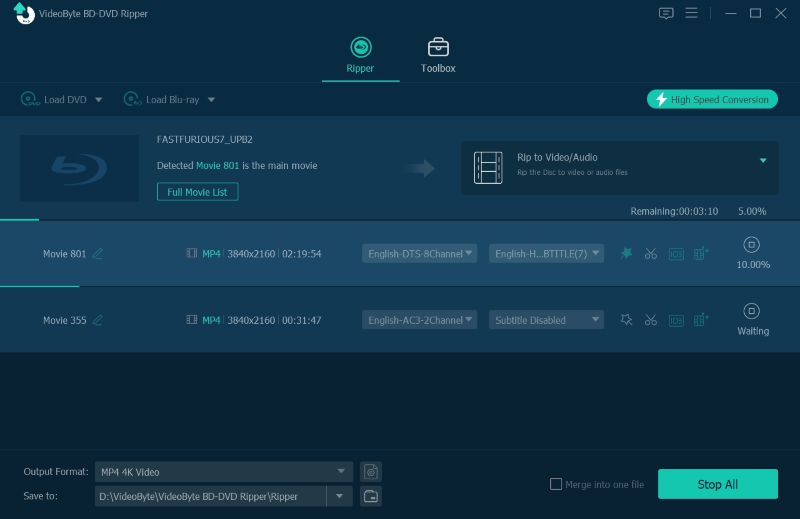 Know About Basic Knowledge of DVD Copy Protections
As you may notice, there will be different types of DVD copy protections used today to lock the DVDs for preventing the abusing use of them. This part will give you some basic knowledge about them.
CSS stands for Content Scramble System, which is widely used for locking almost all the commercial DVDs in the market to protect the DVD content from being copied.
DVD region codes are used for dividing the DVDs to be playable when they only match the region numbers. If you are in the region where the DVD doesn't process the code, you will fail to play the content.
Just like the DVD region codes, RCE or REA is used for preventing the DVD of one region to be played in another region, even you are using a region-free player to stream the DVD disc.
UOP stands for User Operation Prohibition, which can stop people from doing much actions while streaming the DVD using the majority of DVD players. The industry will use UOP to reveal the copyright notices like the FBI warning within the United States.
The full name of Sony ArccOS is Advanced Regional Copy Control Operating Solution, which is developed as an additional layer to be used in conjunction with CSS. This protection would result in some corrupted errors while you try to copy the DVDs with ripping or copying software.
Disney X-Project DEM also calls 99 titles copy protection. It will confuse the DVD copying ripping software, leading them to choose the wrong title, so that the process would be failed. Even people can still copy the movies successfully, the file structure will be added up to a 40GB or 60GB file, making it hard for people to store it.
FAQs on DVD Copy Protections
Except for learning the basic knowledge about the DVD copy protection, this part also include some FAQs that many people may ask. Now just see if they can also solve your questions.
Can copy-protected DVDs be ripped?
Even for the copy-protected DVDs, people can rip and convert them to common files for enjoying more convenient playback offline. But you will need software that can bring you such function to decrypt DVD. Tools like
VideoByte BD-DVD Ripper
can do such help.
How to check if a DVD is copy-protected?
Generally, all commercial DVDs are protected by different types of encryption. If you want to double-check the copy-protected condition, you can check the back of the DVD for seeing if it has the protection logo, saying that the DVD is protected by region codes or other DVD copy protection methods.
DVD copy protection is the biggest reason that stops us from copying, converting, and backing up DVD movies. To get your DVD copied successfully, you must use reliable software to do the DVD copy protection removal, and the best 3 ways have been offered in this article. Use any of them to try copying a DVD movie now.