Aspect ratio is a very important factor for DVD/Blu-ray and any kinds of videos existed around you. For that with the wrong aspect ratio, you may encounter with the black bar problem when watching a movie. The most common forms of aspect ratio for TV is 16:9 and 4:3, while the common ones for DVD and Blu-ray are 1.33:1, 1.25:1, 1.78:1, 1.85:1 and 2.39:1 etc. You should be noticed that the aspect ratio for PAL standard is 5:4 while for NTSC standard is 3:2. They are different. Though aspect ratio is of extremely importance, most of people don't know it very clear and have no idea which one to choose. In this article, I will explain some details about aspect ratio and show you how to change a suitable aspect ratio of the DVD/Blu-ray.
What Do You Know About Aspect Ratio
The aspect ratio describes the proportional relationship between its width and its height. It is commonly expressed as two numbers separated by a colon, as in 16:9. The two most common aspect ratio are 4:3, also known as 1.33:1 or fullscreen, and 16:9, also known as 1.78:1 or widescreen. However, can you exactly figure out what their functions are and how to use them? Read further to get more information about such aspect ratios.
A 4:3 aspect ratio means that for every 4 inches of width in an image, you will have 3 inches of height, the screen being 33% wider than it is high. Since the 1940s, the 4:3 aspect ratio has traditionally been used in television, which is often referred to as being NTSC, or pan and scan. The majority of analog cable channels still broadcast in 4:3.
A 16:9 aspect ratio means that for every 16 inches of width in an image, you will have 9 inches of height, which is 78% wider than high. The 16:9 aspect ratio developed from the film industry, is a product of movie producers. The reasons are that they want to make their movies bigger and better and provide some different experience for viewers from what they could view on television. Most modern HDTV screens are designed for 16:9 images. Only some older TVs are built to accommodate the 4:3 aspect ratio.
A 1.85:1 aspect ratio means a width of 1.85 units and height of 1 unit. This aspect ratio is a common widescreen aspect ratio for many movies, and it is slightly wider than standard 16:9 widescreen image.
A 2.39:1 aspect ratio is also known as Panavision or CinemaScope and is a popular aspect ratio for major movie releases. The 2.39:1 aspect ratio was once 2.35:1, but changed to 2.39:1 in the 1970s, which is also rounded up to 2.40:1. Please notice that these three aspect ratios are totally the same thing.
Generally speaking, if the aspect ratio of your discs or videos do not match and fill the screen, then when you play the disc or video through such display, you will always get black bars on your screen, either at the top and bottom or left and right. Though you still can have a completely image on the screen, it may not be a good experience.
Easy Guide - Another Way to Change the Aspect Ratio of DVD/Blu-ray
From the above, you have got to know what aspect ratio is and kinds of aspect ratios around your daily life. But actually, the common used aspect ratio in DVD/Blu-ray disc only have 2 kinds: 4:3 and 16:9. If you want to directly change the aspect ratio by yourself, here is a way for you - rip the DVD/Blu-ray disc with changing the aspect ratio.
To rip DVD/Blu-ray, VideoByte BD-DVD Ripper will be my first recommendation. With such program, you are able to convert your DVD/Blu-ray disc into video/audio formats such as MP4, MKV, AVI, MOV etc. and play the videos on any kind of protable devices. Also, it can easily maintain or change the aspect ratio of your DVD/Blu-ray disc or any other videos to get a better watching experience.
Install and launch the VideoByte Blu-ray Ripper on your computer, then insert the DVD/Blu-ray disc you would like to convert. Make sure that your computer got a DVD-ROM or you need to connect your computer to external hard drive before inserting the disc. Then click "Load Disc > Load BD Disc" to upload the files.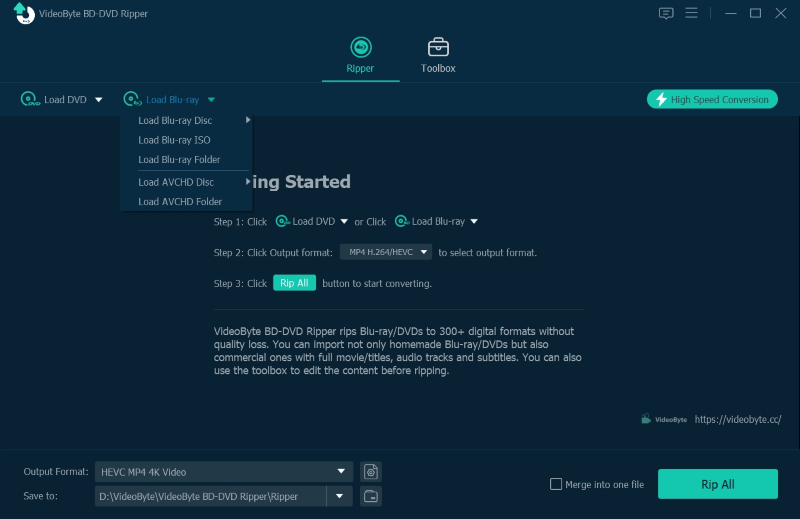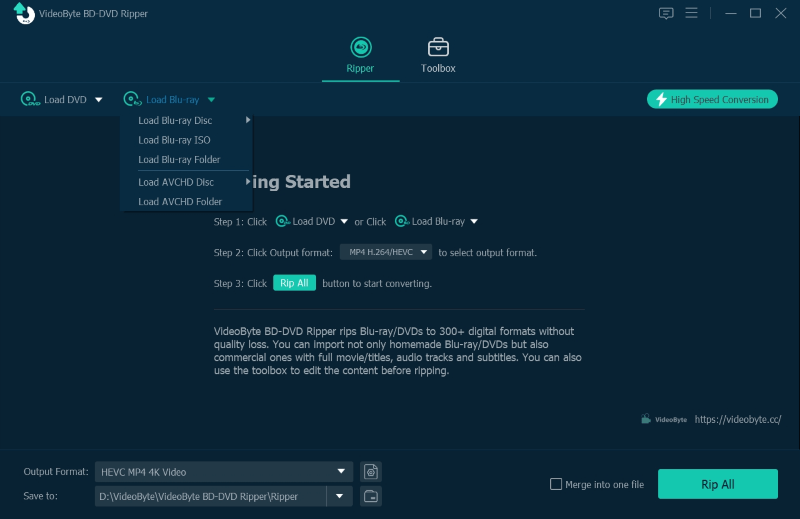 Step 2. Choose Output Format
In the "Profile" section, you can directly click it and choose the format you need from the drop-down list. There are all common video/audio formats like MP4, MOV, WMV, MKV, AVI etc. for you to select.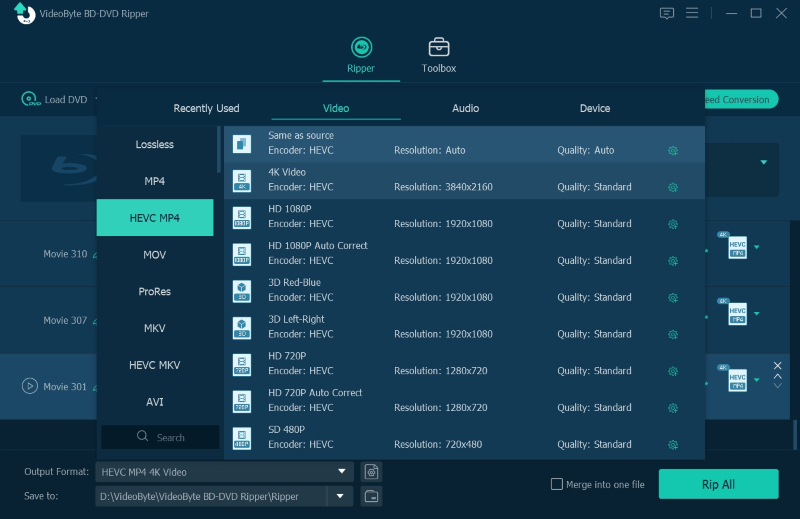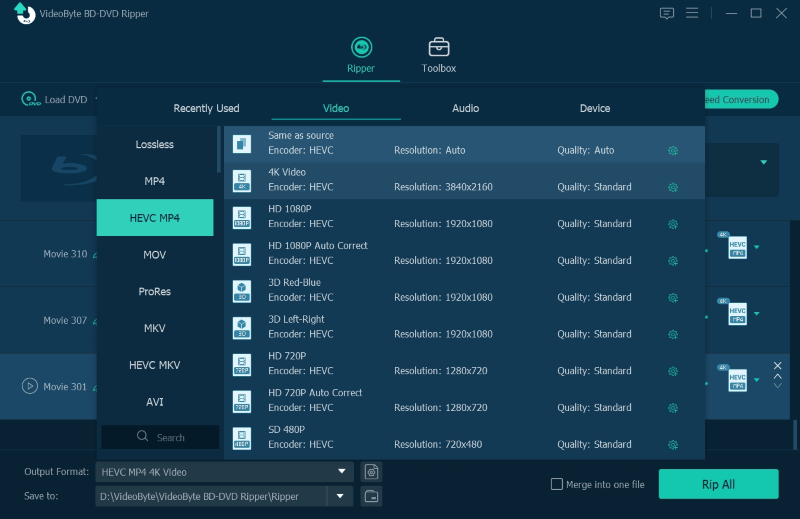 Step 3. Change the Aspect Ratio
In this step, you need to choose such aspect ratio by clicking the "Setting" button. From the below, you can select the proper aspect ratio under the "Aspect Ratio" item.
Note: Please pay attention not to choose the "Auto" option, or there will be black bars on four sides of the screen.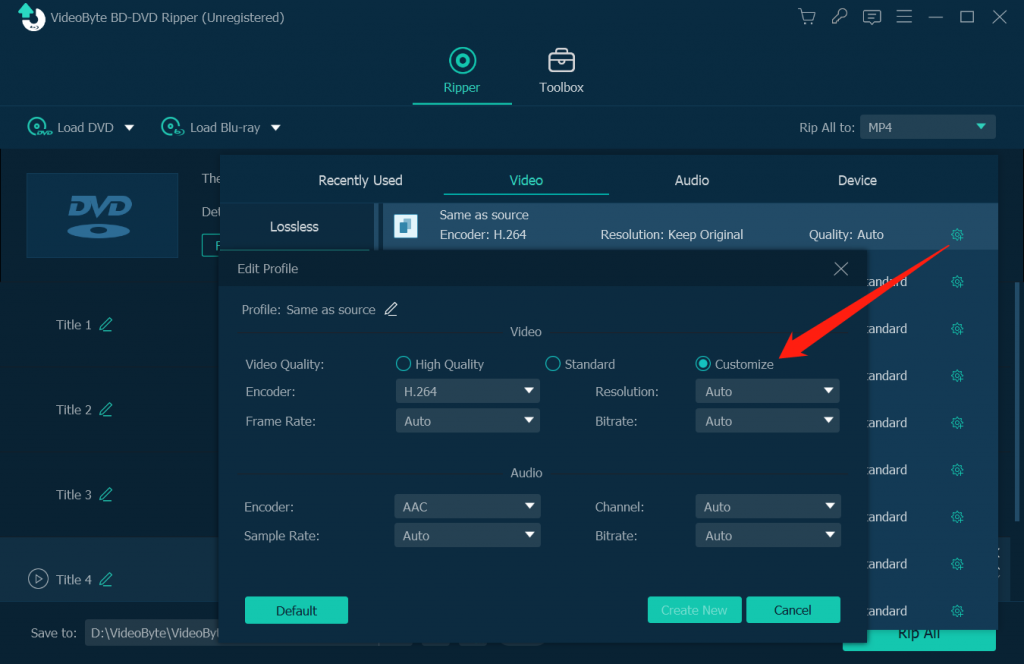 Step 4. Select Destination Folder
In the bottom, browse to choose a folder to save your ripped files.
Step 5. Convert Blu-ray/DVD
Then click "Convert" button to start converting your disc. After the conversion is done, you will get a digital file with good quality and the proper aspect ratio, and you can enjoy your movie now!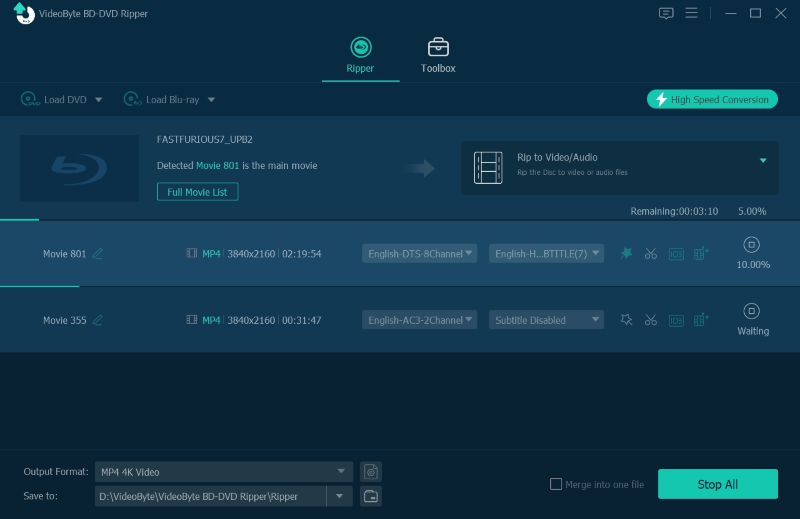 In summary, this is the article that can help you understand aspect ratio and the way to change them. If you are confused with the stretched or cropped image on the screen then you'd better get a right aspect ratio for you screen. Therefore, if you want to change your aspect ratio, VideoByte BD-DVD Ripper will be a good alternative. Well, do not hesitate to download and enjoy your movies with fantastic watching experience.