For people who want to play DVD on the mobile device, tablet, or the TV that without a hardware DVD player, you can rip DVD to regular video format such as MP4, and then copy the ripped DVD file to USB. And if you want to copy DVD to USB for transferring the file to another laptop that is lack of DVD drive, you can also copy DVD to ISO or DVD folder, which can fully maintain the original information of the DVD disc.
To do that, you do need some good assistants first. Here is the ultimate guide on how to copy DVD to USB easily. So please read this article patiently.
Rip DVD and Copy the Ripped DVD File to USB
A good utility is half done. VideoByte BD-DVD Ripper is no doubt the best professional utility to help you copy DVD to USB with ease. Even DVD under DRM protection can be ripped and copied easily with this program. By the way, for most of you would care, the quality of the DVD file is guaranteed. You are also allowed to edit your DVD files before ripping to USB, such as clip, crop, rotate and so forth. There are other wonderful functions waiting for you to discover. Enough talking, let's see how to copy DVD to USB below.
A Mac/Windows computer with an internal DVD drive or an external DVD drive.
Download and install VideoByte DVD Ripper to your Mac/Windows computer. If you like it, you can register and get a full version of this program.
A USB flash drive. It's best to be 16GB so that even the file of a DVD R DL Disc can be placed into it completely.
[Optional] an On-The-Go cable to connect USB to your tablet/smartphone, if want to play DVD on phone and tablet.
The Windows version of VideoByte BD-DVD Ripper released a new version which has big changes compared with the old version. But the new version for Mac is still under the development. That means the interface and the operation of Windows and Mac will be different.
Step 1. Load DVD Disc in the Program
Lunch VideoByte DVD Ripper on your computer. And you can begin it with your DVD discs inserting into the DVD drive. Then click "Load DVD" to input your DVD disc or DVD files.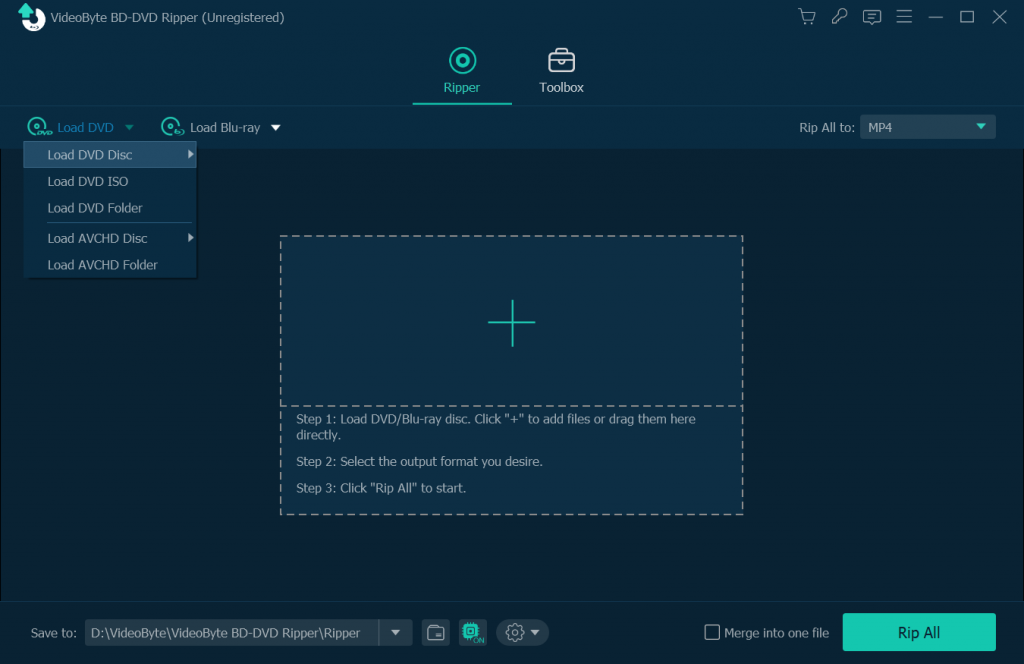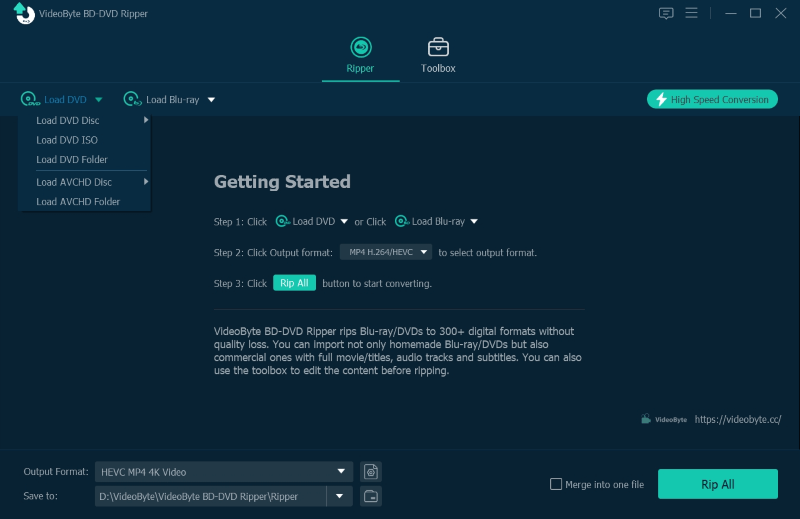 Step 2. Choose Output Format
Search down the main face, and you can see "Rip All to" at the top right cornor. Click the drop-down icon and select an output format according to you need.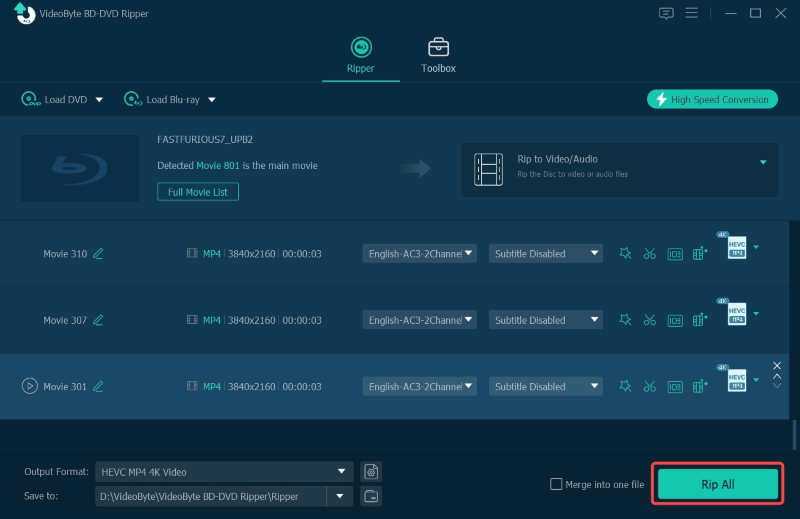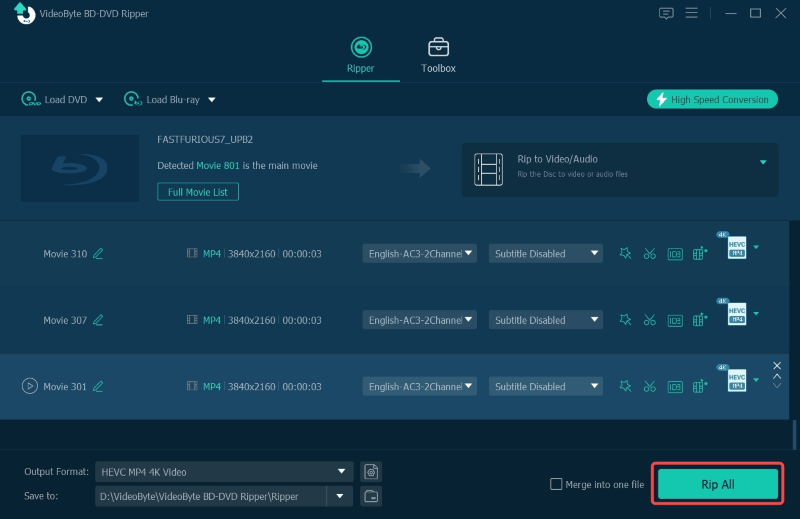 Step 3. Select a Destination USB Folder
Go to "Browse" and tab on it, so you can select your target destination folder in your USB rather than the default one. Now then it will become easier for you to locate your final DVD files.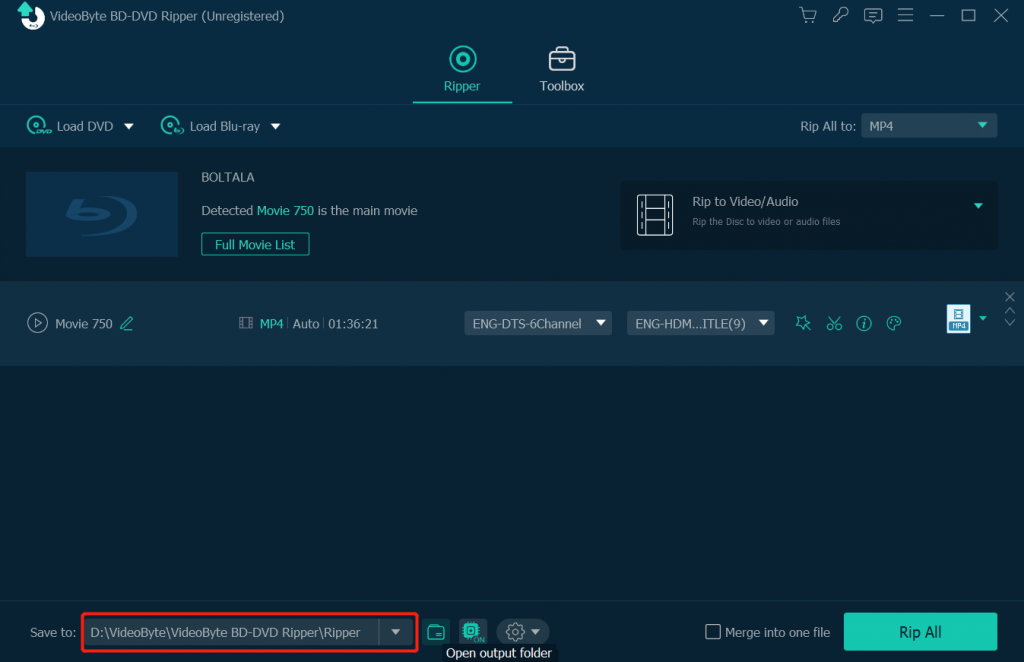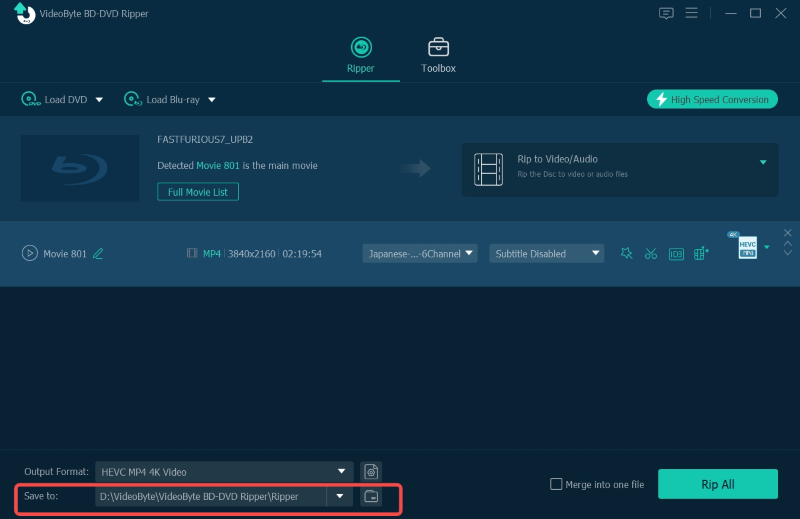 Step 4. Ripping and Converting DVD to USB
Last but not least, tab the "Rip All" icon and start to rip and convert the DVD files. Little time is needed for this process. So just relax and wait for it. During the conversion, you can choose to change some settings in "After done".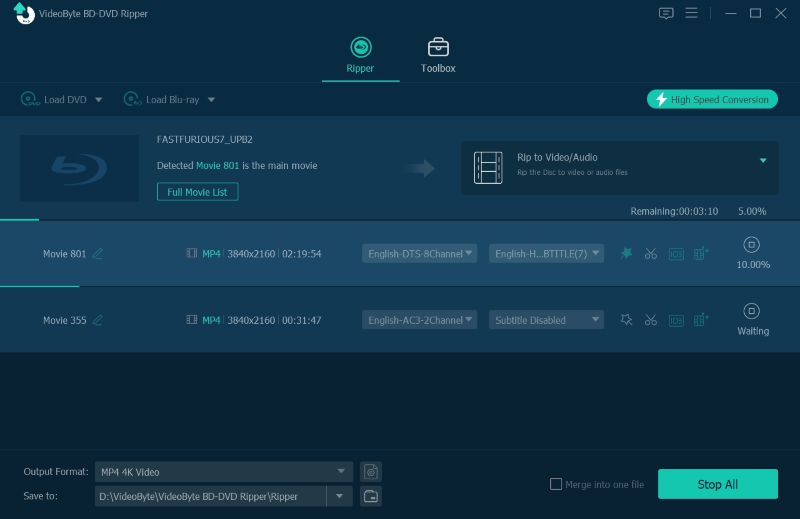 How to 1:1 Copy DVD Disc to USB Drive with Ease
Except for ripping DVD to regular video format, you can also copy DVD to ISO/folder for keeping the DVD file structure. VideoByte DVD Copy can help you copy DVD to DVD ISO image file or to DVD folder. You don't have to make 1:1 DVD disc clone, you can choose which DVD title you want to copy. The program provides "Main Movie", "Customize" and "Full Copy" modes.
Step 1. Load DVD Disc to the Program
Insert a DVD disc to the DVD drive, then launch VideoByte DVD Copy and click on "Free Trial". On the main interface, click on "File"-"Select Source" to load the source DVD disc.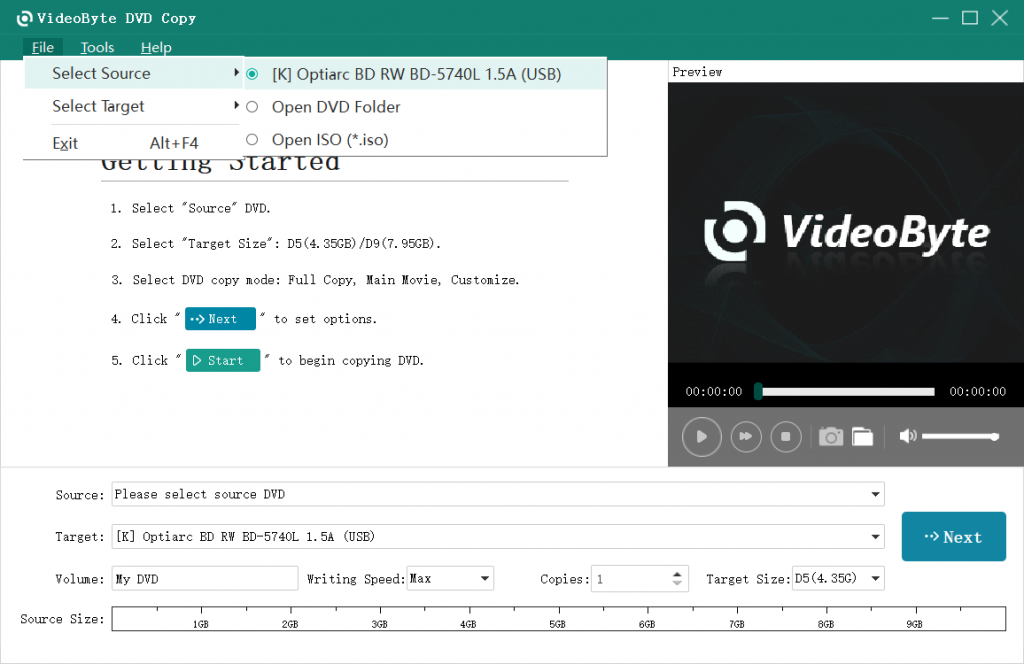 Step 2. Select the Target as ISO or Folder
After the DVD is loaded, you can click on "File"-"Select Target" to select "Save as DVD folder" or "Save as ISO (*.iso)".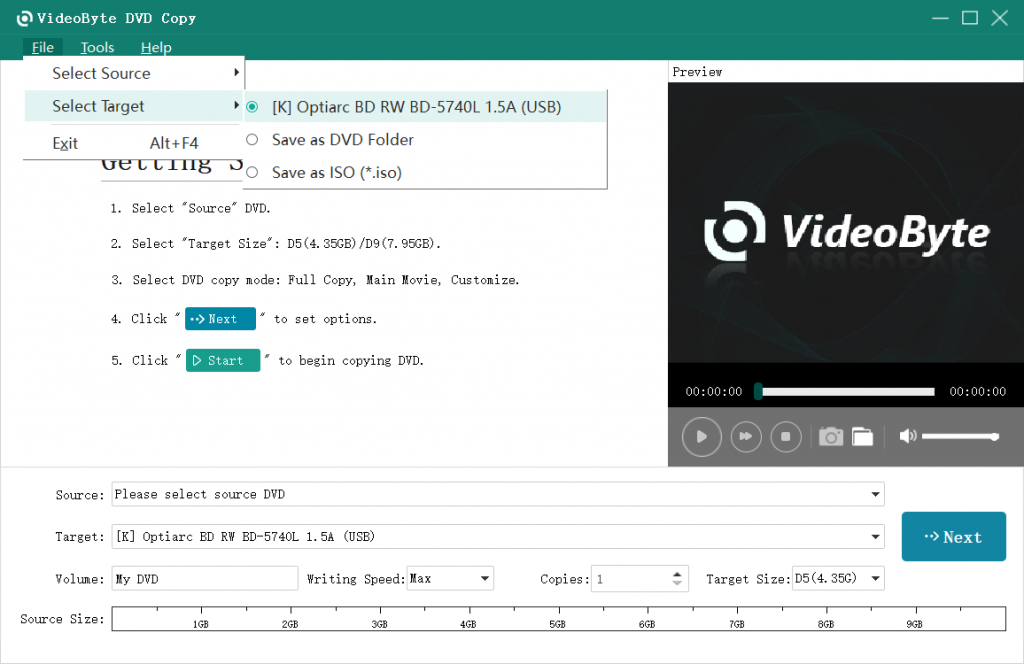 Step 3. Select a DVD Copy Mode
You can see there are three modes: "Full Disc", "Main Movie", and "Customize". If you click on "Main Movie", VideoByte DVD Copy will automatically check the main movie for you.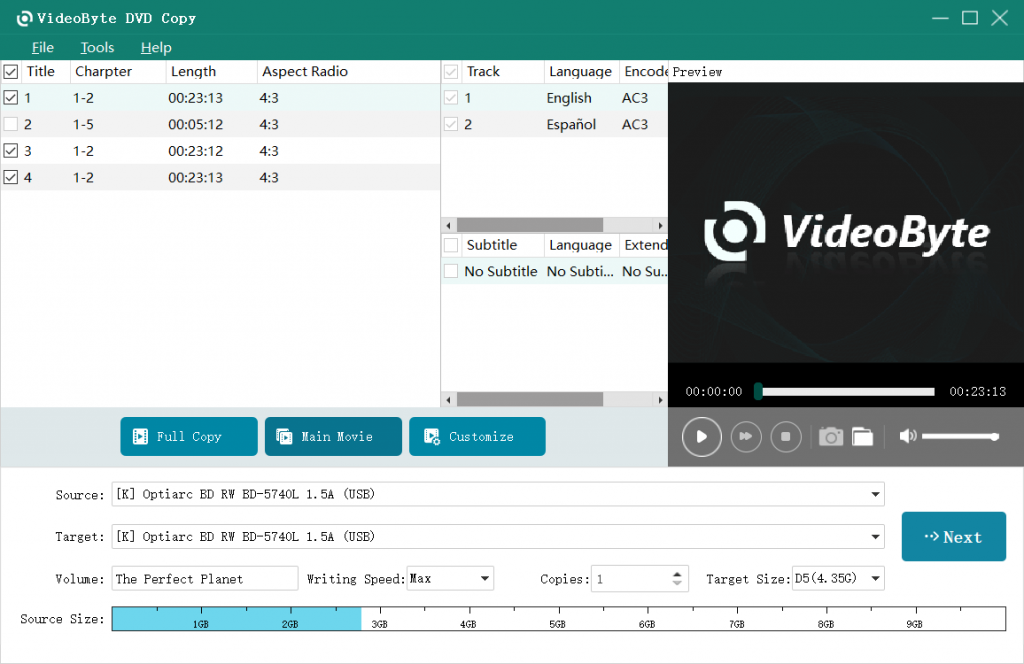 Step 4. Start to Copy DVD Disc
Click on "Next" and then click on "Start" to copy the DVD disc to ISO/folder. After done, you can copy the file to the USB drive.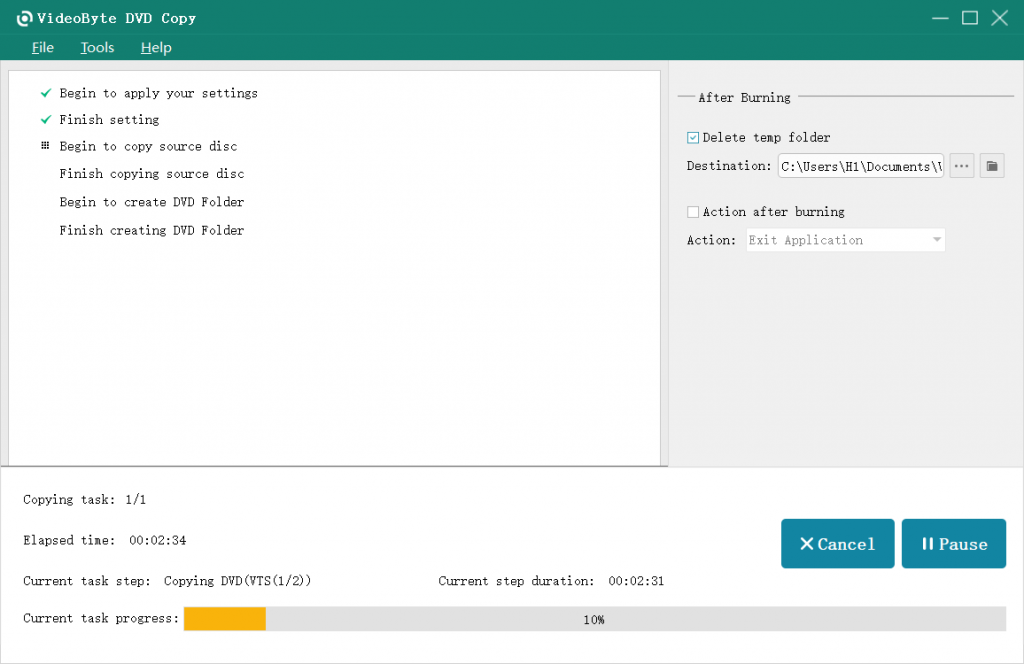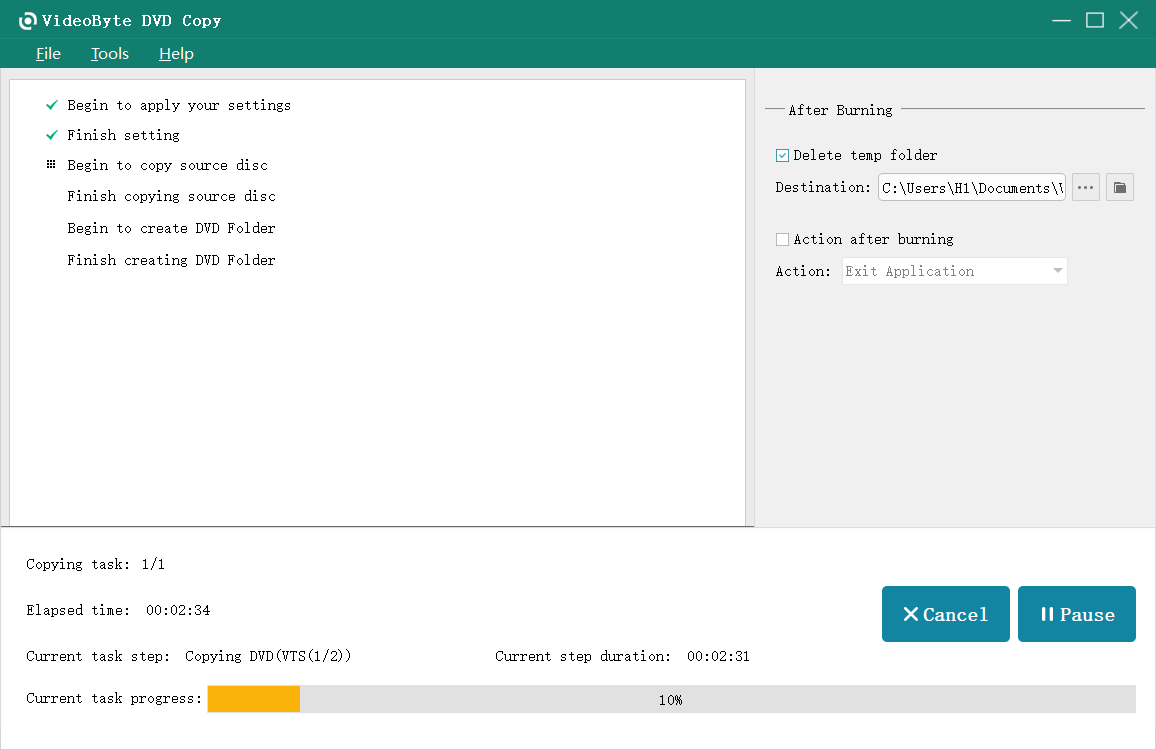 In short, VideoByte BD-DVD Ripper and VideoByte DVD Copy is the high-ranked DVD to USB converter. There will be no trouble to master these programs all by your own for their compact interface. And with your DVD files in your USB, you are free to play them at any time at any place without any restriction.