There is no doubt that Blu-ray discs get worse over time. Knowing this, you may want to consider copying Blu-ray disc to another Blu-ray disc in case your disc deteriorates and cannot be played on devices when you want to enjoy a movie in a nice and relaxing afternoon. But how, you may wonder? Here I would like to recommend you VideoByte Blu-ray Copy, which I believe is the best Blu-ray copy software for Windows system among some other similar Blu-ray copy applications available in the market. This software is equipped with multiple functions besides Blu-ray copy. It is definitely worth Blu-ray movie collectors' attention. Want to know why and how to copy Blu-ray on Windows? I suggest you read on to figure it out yourself.
VideoByte Blu-ray Copy: The Best Blu-ray Copy Software
VideoByte Blu-ray Copy is a professional and user-friendly Blu-ray copy software for the Windows system which can help you accomplish the Blu-ray copy task easily and efficiently. It is typical that Blu-ray discs are protected with some kinds of copy protection. However, with this practical tool, you can remove the Blu-ray copy protection effortlessly. Also, it can shrink BD-50 to BD-25 without quality loss at a high speed.
Sometimes, we don't necessarily need to copy the whole contents on the Blu-ray disc for a family movie night. In this situation, you can launch VideoByte Blu-ray Copy which provides users with four different modes on the main interface including "Full Disc" "Main Movie" "Clone" and "Write Data" and choose the "Main Movie" mode to just copy the main movie. In this way, you are allowed to copy your Blu-ray disc with better quality and faster.
What's more, it also supports different types of Blu-ray disc formats which are BD-R, BD-RE, BD-R DL, and BD-RE DL.
So, with this powerful software application, how can you copy Blu-ray on Windows? Move on to the guide below to master Blu-ray copy.
How to Copy Blu-ray on Windows
First, you need to click the button below to download and install VideoByte Blu-ray Copy to your PC.
If there are two Blu-ray drives connected to your computer, you can set the source as the original Blu-ray disc and set the target as the blank writable Blu-ray disc to complete the copy process directly with VideoByte Blu-ray Copy. However, most people need to operate a few more intermediate steps due to their computers lacking two Blu-ray drives.
Step 1. Load the Original Blu-ray Disc into VideoByte Blu-ray Copy
After completing the installation, insert the original Blu-ray disc into the Blu-ray drive. Launch VideoByte Blu-ray Copy and click yes to load source Blu-ray automatically and wait for the loading process.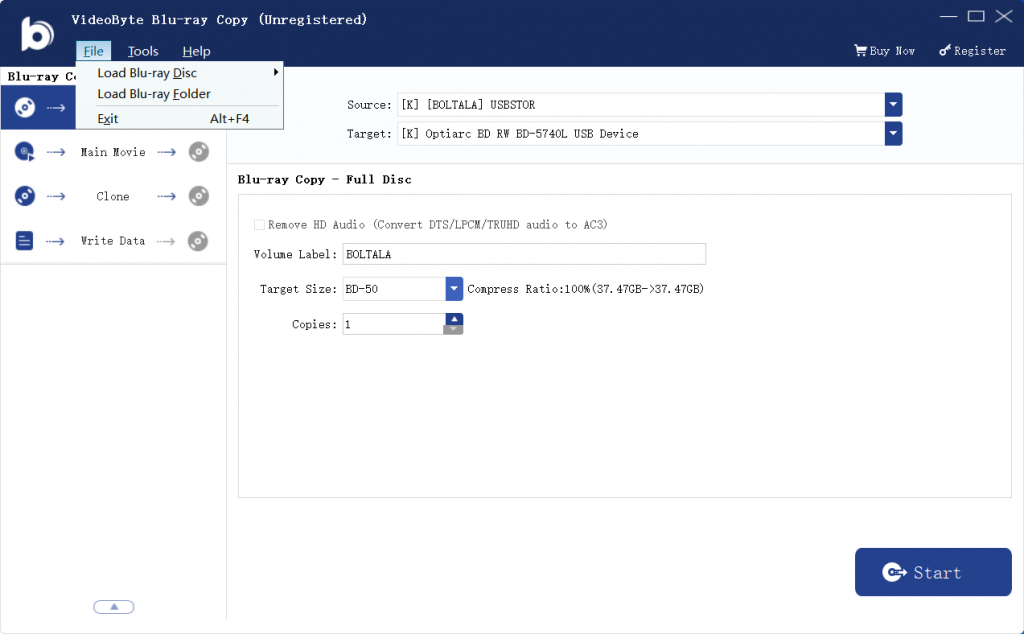 Step 2. Select a Mode to Copy Blu-ray
When the source is loaded in, you have four copy modes offered to choose from. You can select Full Copy mode to copy all the contents on your Blu-ray disc and choose "Save as BD Folder" or "Save as ISO" from Target option according to your needs, and then select a path to save your BD Folder or ISO.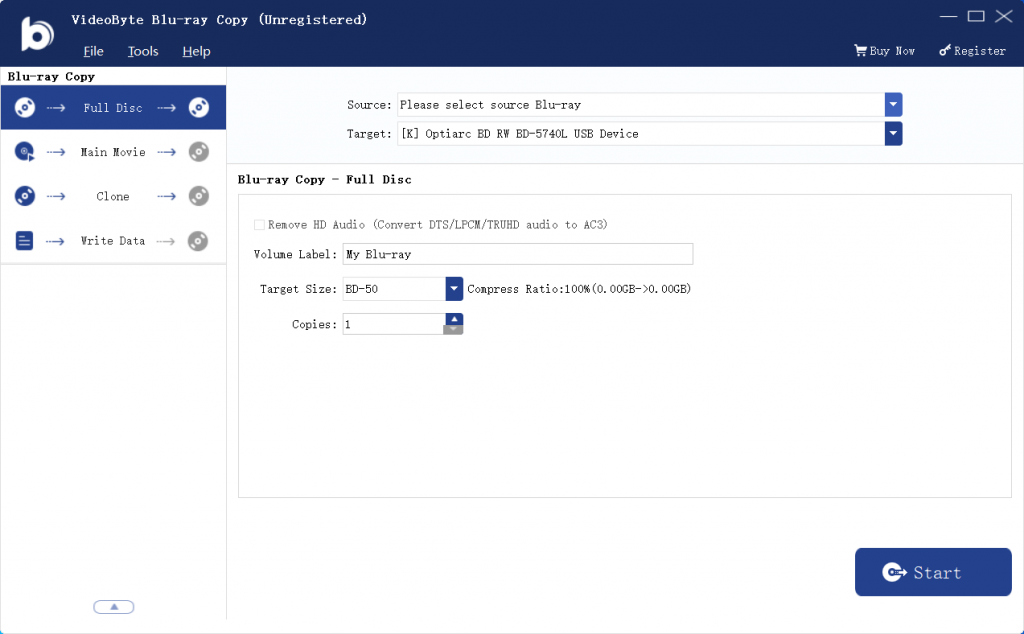 Or you can just select Main Movie mode to copy the main movie on the target Blu-ray disc.
Step 3. Copy Blu-ray disc as a BD Folder or ISO File
Click the Next button at the bottom right corner and then click Start button to copy your Blu-ray disc as a BD folder or ISO file. Then you just need to wait for the copying process.
Step 4. Copy BD Folder or ISO File to a Blank Blu-ray Disc
Lastly, pop up the source disc and insert a blank Blu-ray disc, and select Full Disc mode. Choose the folder or ISO file that completes copying from the Source option and choose the drive with the blank disc in it from Target option. Then, click Start to burn the folder or ISO file to the target disc.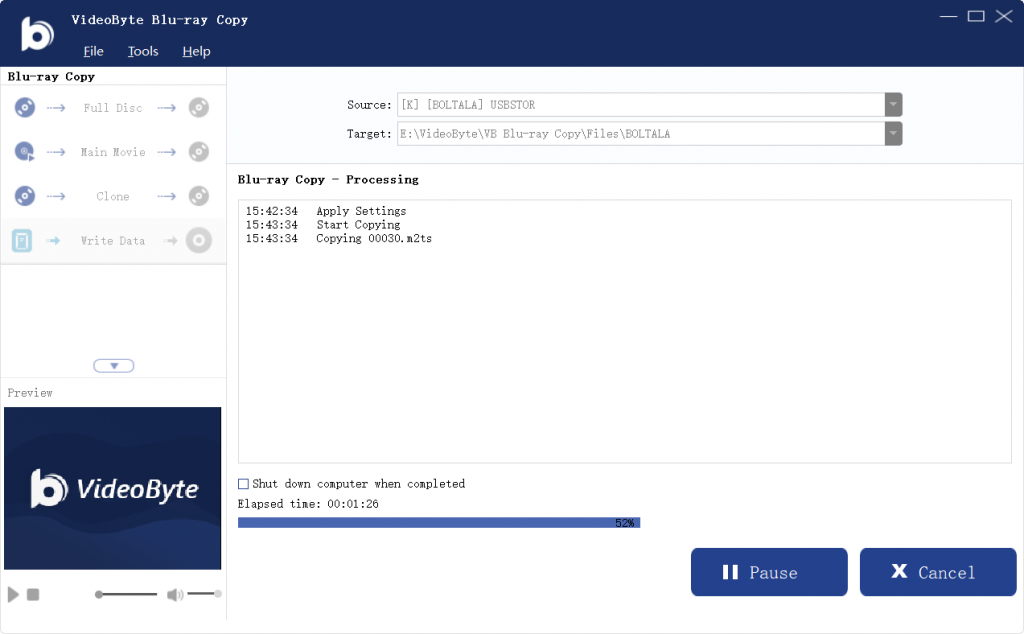 Blu-ray copy is just that easy with VideoByte Blu-ray Copy. Now you can play the successfully copied Blu-ray movie on devices, no need to worry about disc damage. So why not give VideoByte Blu-ray Copy a chance? But, remember not to use it for any illegal purposes.