How to Copy 3D Blu-ray [3D Effects Retained]
Nowadays, you can find as many available Blu-ray copy programs as possible in the market right now. But when it comes to 3D Blu-ray movies, you may worry about losing 3D effects while duplicating 3D Blu-ray discs.
Don't worry now! In today's post, an ultimate guide on how to copy 3D Blu-ray with 3D effects retain will be introduced with detailed manipulation guidance provided. Scroll down and master the procedures to do it properly!
Before moving down to the proper way to copy 3D Blu-ray, you probably wonder what are the exact differences distinguishing 2D and 3D movies. Please walk through the definitions below.
2D vs. 3D Blu-ray Movie: What Is the Difference?
A rough understanding of the core difference between 2D and 3D should be the dimensions they have. 2D only contains 2 dimensions whereas 3D will deliver more vivid visual effects, showing a realistic look on the characters and objects through 3 dimensions, including the length, height, and width combined (while 2 dimensions will only contain length and width).
Since the most classic 3D movie, Avatar has ushered in the new era on how to deliver better visual effects to audiences in theaters, 2D movies are actually declining, and are mostly replaced by 3D. Moreover, 3D movies are also encoded into discs for selling, and that's why the requirements on copying 3D Blu-ray Discs are also soaring.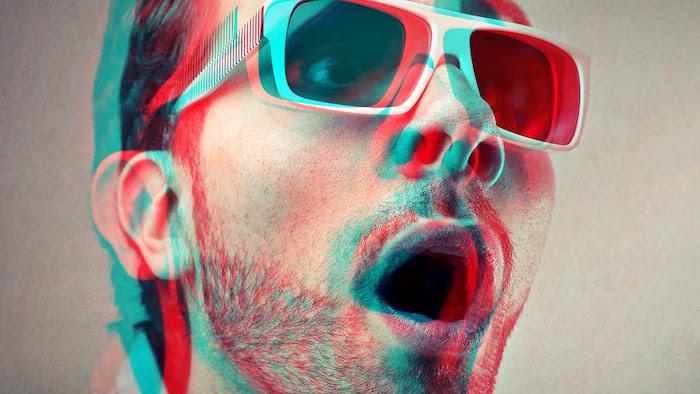 What Are the 3D Movie Effects?
To realize a vivid visual effect in 3D movies, there are actually different effects invented for applying to them. Here are the most commonly-seen 3D movie effects you may experience while watching a 3D Blu-ray video at home or in cinemas:
Anaglyph 3D:It is an old school way to watch 3D content. The images will be designed in Red/Cyan, and you will need a red/blue glasses to watch the content on screens or print it out.
Side by Side 3D (SBS 3D):It is also defined as SBS 3D, which mainly creates the effect to you by suiting two horizontal sides of contents to your left/right eyes respectively.
Top and Bottom 3D:It is also known as SBS 3D, which will divide the entire frame to two parts in top and bottom respectively, and each of them will be displayed to your left/right eyes separately to create the 3D effect.
How to Copy 3D Blu-ray disc to Blu-ray disc
Mastering how 3D movies deliver vivid visual effects to us, now we move on and walk through the way to copy 3D Blu-ray, without losing these special effects and retain a good streaming experience later. Here, you will need assistance from a 3D Blu-ray copying program, named VideoByte Blu-ray Copy.
VideoByte Blu-ray Copy is developed with a series of sparking features, ensuring the lossless quality to copy Blu-ray through very simple manipulation. It can support copying all types of discs on market today, including Blu-ray of special effects. Its advanced techniques can detect full 3D effects, and keep them for you accompanying the copying process. 
With VideoByte Blu-ray Copy, you can retain original 3D Blu-ray effects without affecting your streaming experience after duplicating the disc to another one.
Now, please walk through the great features attributing to high reputation of VideoByte Blu-ray Copy before staring using the program:
Lossless quality to copy Blu-ray movies -retain a 1:1 ratio and full visual as well as audio effects to copy Blu-ray for you.
Support regular Blu-ray formats -the most commonly-seen Blu-ray formats such as BD-R, BD-RE, BD-R DL, BD-RE D and discs types like BD50, BD25 can be well supported by the program.
Smart compression technique -to save the storage of the disc, the program is equipped with a talented compression method to smaller the Blu-ray media size, without affecting the quality at all.
Optimal modes and settings to copy Blu-ray -you can customize the Blu-ray copying settings to enable duplication, including determining the copying modes and also selecting titles, audios, subtitles to copy.
Next, please take one more minute and sense how simple it can be to copy 3D Blu-ray disc with VideoByte Blu-ray Copy without losing any 3D effect:
Step 1. Load 3D Blu-ray Disc into VideoByte Blu-ray Copy
Insert the 3D Blu-ray disc that you want to copy into the Blu-ray recorder drive. Launch VideoByte Blu-ray Copy and click yes to load source Blu-ray automatically. To copy it to another disc, you will also need to insert the blank disc to the computer at the same time.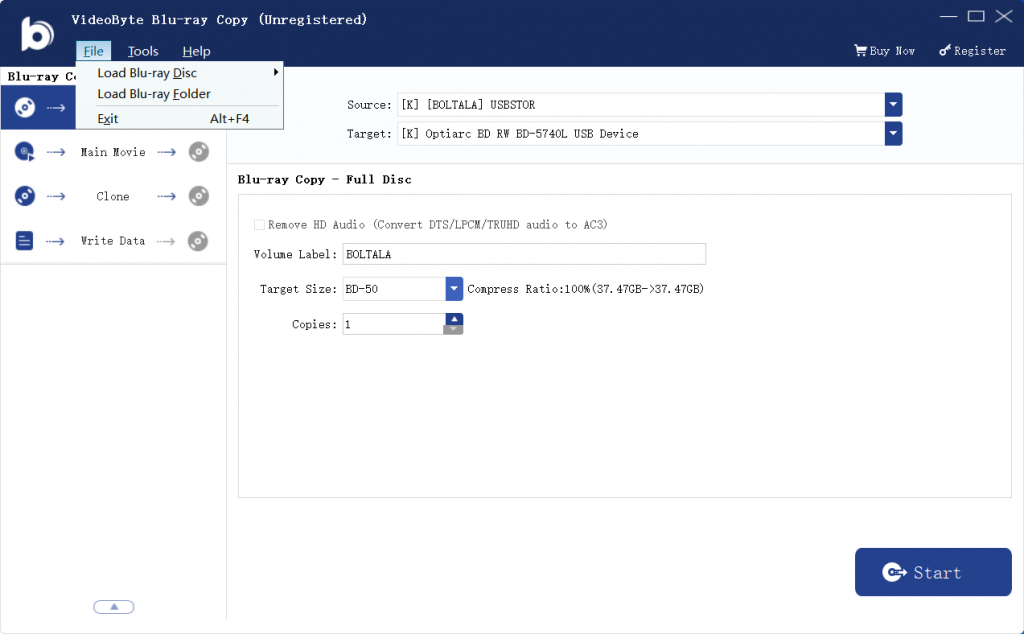 Step 2. Select a Copy Mode
Once the 3D Blu-ray movie is loaded in the program, please continue selecting a copying mode in preference to copy the disc.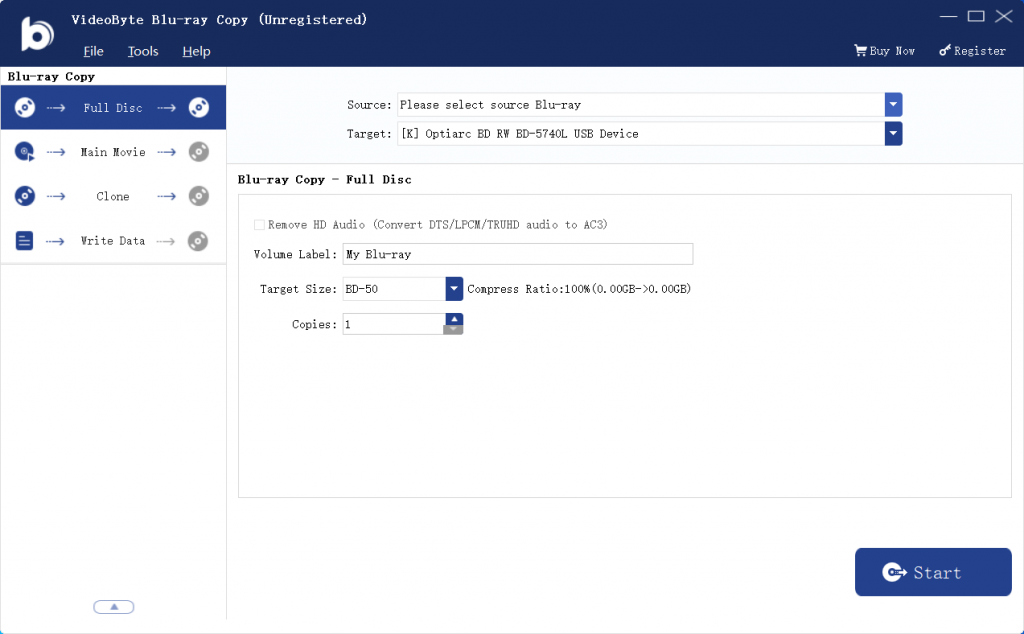 Step 3. Customize Copying Settings
After selecting the copying mode, subsequently, you can do more settings before proceeding with the Blu-ray copying on the right workplace, such as selecting the Volume Label and Target Size in preferences.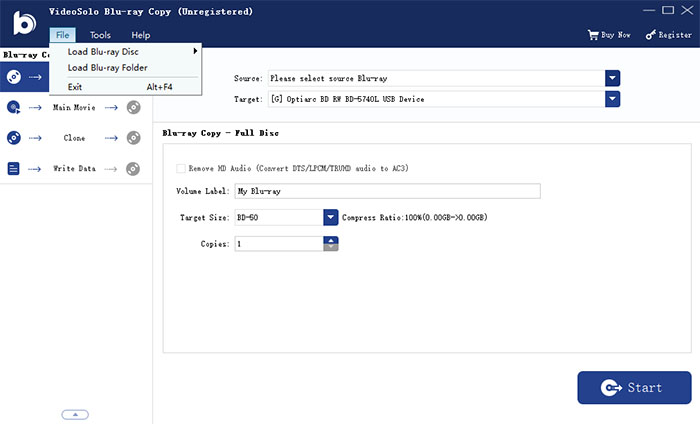 Step 4. Copy 3D Blu-ray Disc
Once complete all settings, please tap the Start button to copy 3D Blu-ray disc with full effects retained to the blank disc in no time.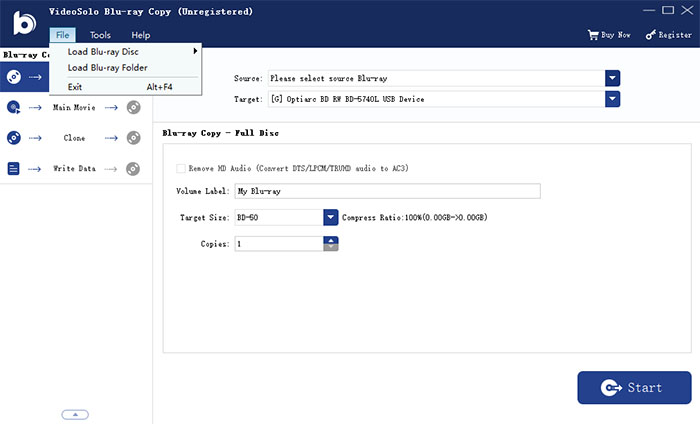 How to Copy 3D Blu-ray to Hard Drive
Replacing backing up and copying 3D Blu-ray to another disc, you probably wish to copy 3D Blu-ray movies to hard drive without losing the 3D effects, and make it more convenient to play on different devices without carrying a disc everywhere. How to convert Blu-ray to digital with original quality?
Actually, to rip and copy 3D Blu-ray from disc to regular formats, then transferring to a hard drive, you only need assistance from a trustworthy Blu-ray ripper. VideoByte BD-DVD Ripper offers outstanding help to convert Blu-ray to digital at 1:1 ratio, with full visual, audio effects, and original chapters, soundtracks, and subtitles retained, ensuring an original experience of playing 3D Blu-ray movies after completing the ripping.
The program has simplified manipulation, which can be quite handy to use. Let me show you how it works to copy 3D Blu-ray simply by taps:
Step 1. Insert the 3D Blu-ray disc to computer and run VideoByte BD-DVD Ripper. You ought to click on Load Blu-ray >> Load Blu-ray Disc to select loading the 3D Blu-ray movie in the program.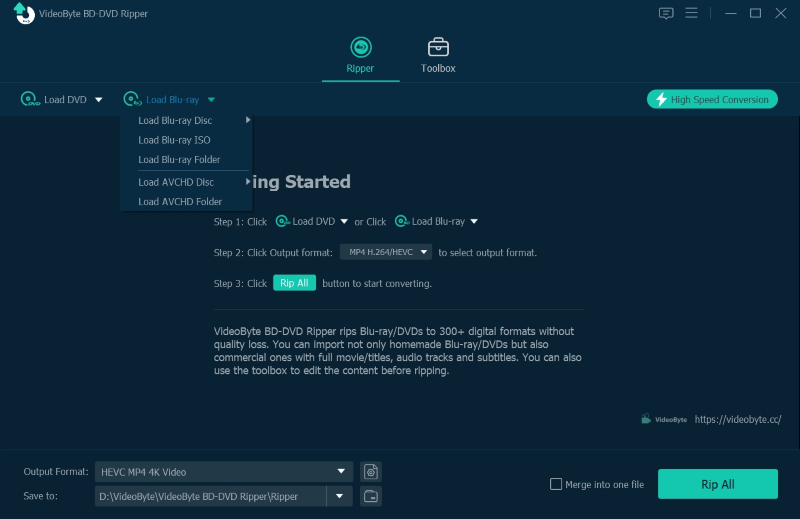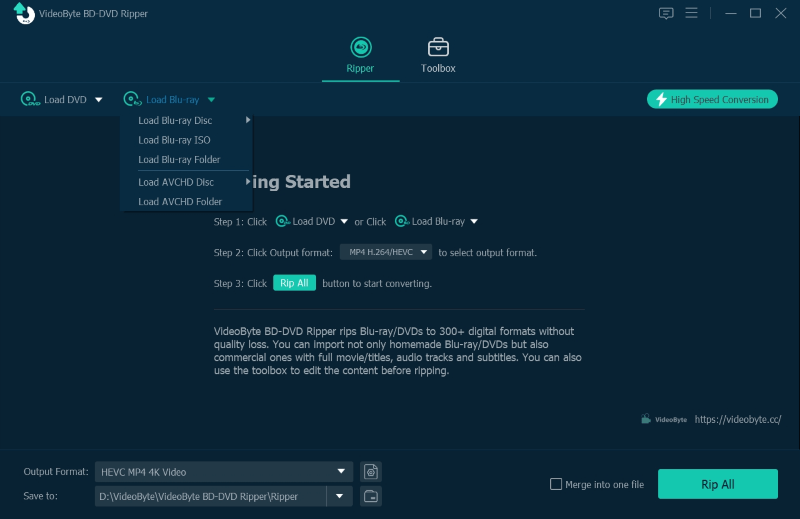 Step 2. Subsequently, you can choose the audio track and also subtitle beneath the loaded media in preferences before copying it to digital format.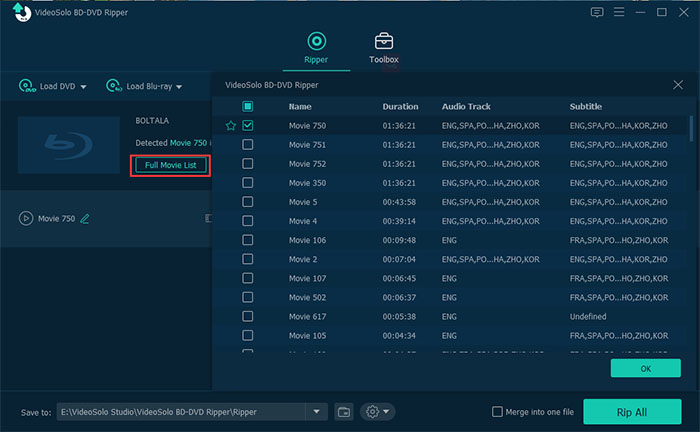 Step 3. Now, please move to the Rip All to menu and select a regular video format as well as definition to export the 3D Blu-ray movie.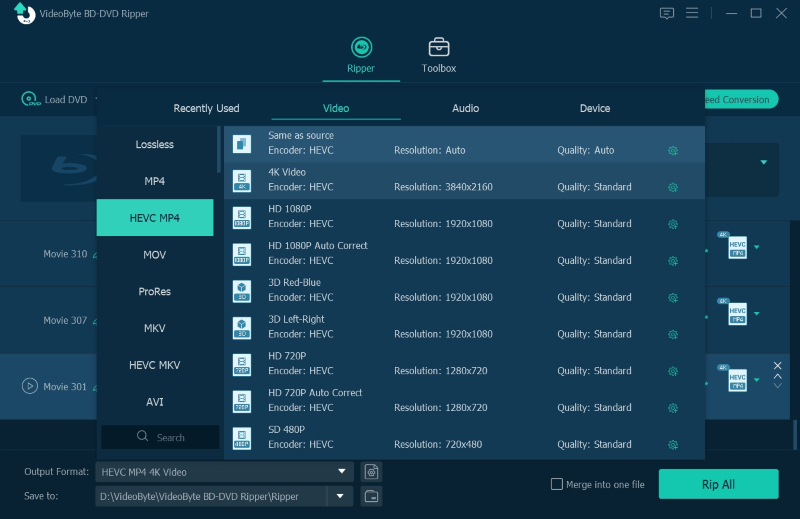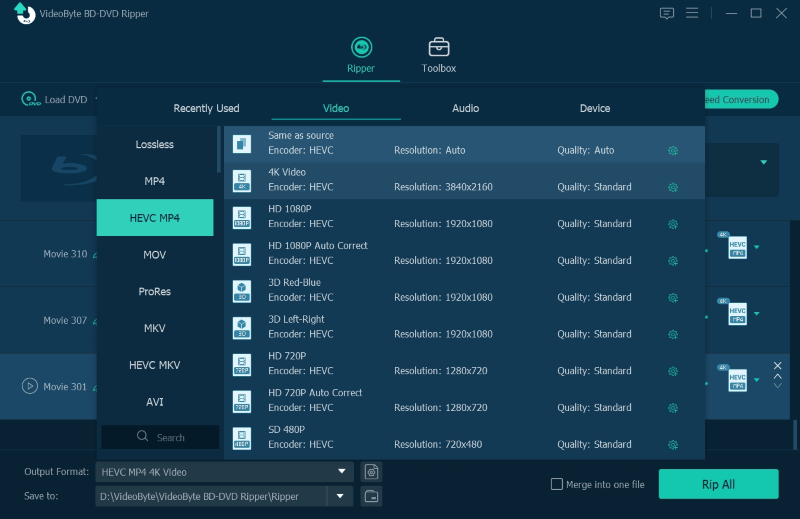 Step 4. Simply tap the Rip All button, then the program will proceed with the 3D Blu-ray disc ripping for you in no time!
FAQs About Copying 3D Blu-ray
Let's also walk through these FAQs if you still have confusion on copying 3D Blu-ray movie on computers.
Can I Play a 3D Blu-ray on a Regular Blu-Ray Player?
Generally, a regular Blu-ray player can only play 2D Blu-ray movies, as such a player lacks compatibility for delivering special 3D effects. To play a 3D Blu-ray, you need the player claiming support for 3D techniques.
What Do I Need to Watch 3D Movies at Home?
To enjoy 3D movies playback at home, you will surely need to prepare the 3D Blu-ray discs. To play it, a 3D-supported Blu-ray player, and also a 3D TV or 3D-supported device will need to be prepared in advance. Don't forget the 3D glasses to ensure to receive the 3D effects while watching!
When you successfully copy 3D Blu-ray movies with VideoByte Blu-ray Copy, now you can grab some snacks, play the 3D Blu-ray movie on any 3D device and wear your 3D glasses to prepare for the awesome 3D effect on your couch. But remember not to use it for any illegal purposes.