As Plex Media Server offers a high-quality video streaming experience, a disappointing fact is that it fails to read and play DVD file structure (Video_TS). As a result, the only way for you to enjoy DVD with the service is to rip DVD for Plex, which is to convert DVD to the formats that Plex supports to stream. Also, ripping DVD to Plex Media Server is able to free up space and bring them everywhere to enjoy. So in this article, there will bring you the best way to rip a DVD for Plex.
1. Best Format to Rip DVD for Plex
Before starting to rip DVD for Plex, you should first know what formats are supported by Plex, and what will be the best format for converting DVDs? This table briefly shows you the formats and the corresponding codecs supported by Plex Media Server.
| | | |
| --- | --- | --- |
| Format | Video Codec | Audio Codec |
| MP4, MOV | H.264, MPEG4 | AAC, AC3, EAC3, MP3 |
| MPEGTS | H.264 | AAC, AC3, EAC3, MP3, MP2 |
| ASF | VC1, WMV3, WMV2 | WMAV2, WMAPRO, WMAVOICE |
| AVI | MPEG4, MSMPEG4, MJPEG | MP3, AC3, EAC3, MP2 |
| MPEG | MPEG1 video, MPEG2 video | MP2, MP3, AC3, EAC3 |
| MP3 | / | MP3 |
Based on the table and also the fact that most DVDs would commonly use MPEG for saving videos and audio, the best format for ripping DVDs for Plex should be MPEG (video), MP4 (widely supported), or MP3 (audio). Now, when the format is decided, you just need to select a reliable ripper to help rip DVD to MP4, MPEG, or MP3.
2. Best Way to Rip DVD for Plex
Finding a DVD ripper to rip DVDs for Plex is not a difficult thing anymore, because options are varying on the Internet. There are also free software programs provided for ripping DVDs for free, such as MakeMKV and HandBrake.
Why Choose Paid Programs Over Handbrake or MakeMKV?
Free products would come with some unexpected disadvantages. Although MakeMKV and HandBrake are two big brands providing DVD ripping services, they have shortcomings that may be unhelpful for some people.
MakeMKV disadvantages: Obviously, MakeMKV is only available for ripping DVDs to MKV format as its name tells. However, MKV is not the most suitable supported format for streaming with Plex.
HandBrake disadvantages: HandBrake supports more output formats, which also include MP4. But this software will create ripped videos in large sizes. Worse still, the ripping process will be stuck if the ripping DVD movie is too large.
Rip DVD Without Losing Quality
VideoByte BD-DVD Ripper provides a reliable DVD ripping service to let people easily rip DVDs for Plex in original quality for enjoying the best streaming experience offline. No matter you are having homemade or commercial DVDs, VideoByte BD-DVD Ripper is able to rip and convert the content to common formats.
VideoByte BD-DVD Ripper Features:
Offers simple UI so users can easily learn how to rip DVDs

Supports more than 300 output formats for ripping DVD and Blu-ray discs to

Provides 6X faster speed to quickly get DVDs ripped to common video files

Supports to rip DVD for Plex at 1:1 ratio with original quality

Allows people to edit ID3 tags of the ripped videos freely

Supports compressing ripped video files for saving your device storage
To simply learn how VideoByte BD-DVD Ripper works, this easy guide is provided for you. You can easily see how to rip DVD for Plex's supported format.
Step 1. Load DVD Disc to VideoByte DVD Ripper
After running VideoByte BD-DVD Ripper, click to "Load DVD Disc" for importing the content you want to rip for playing back in Plex to the ripper.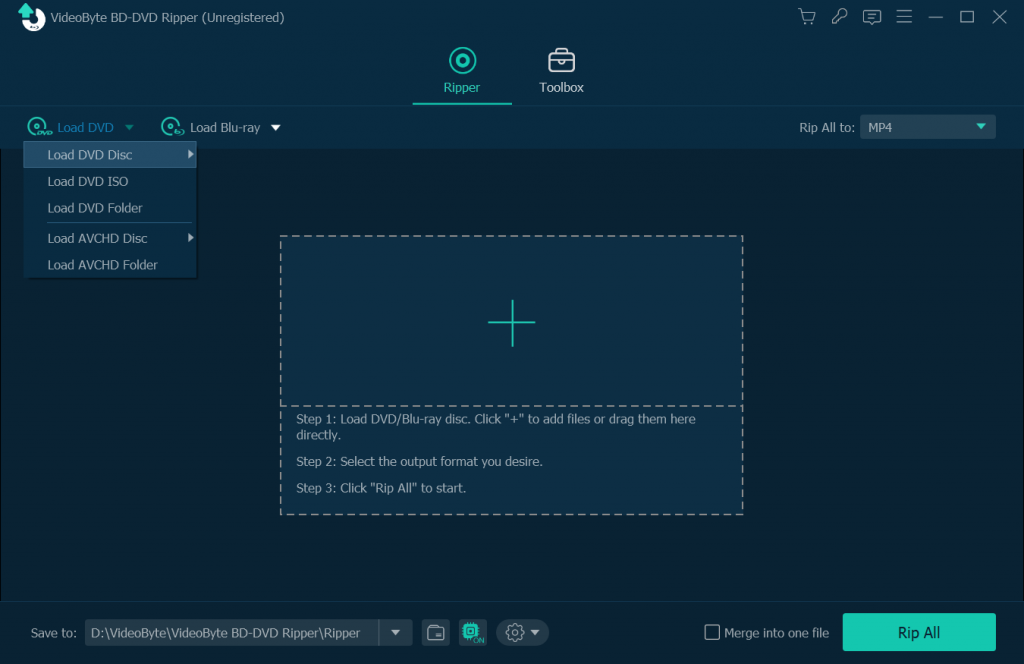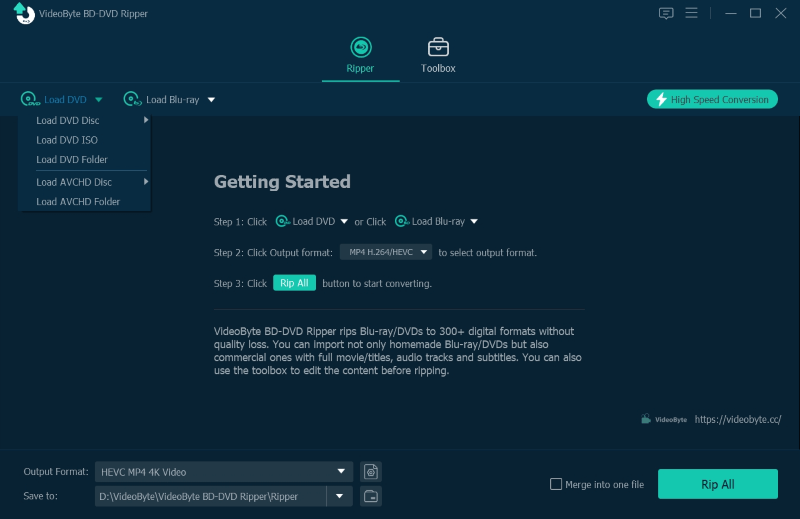 Step 2. Select DVD Videos
When the main DVD video list is loaded in the ripper, click the "Full Movie List" to see the video list for selecting the ones you want to rip for Plex.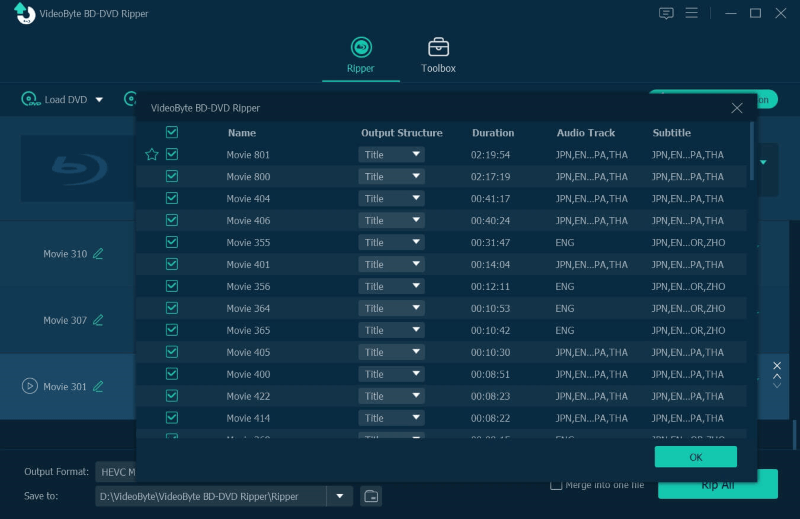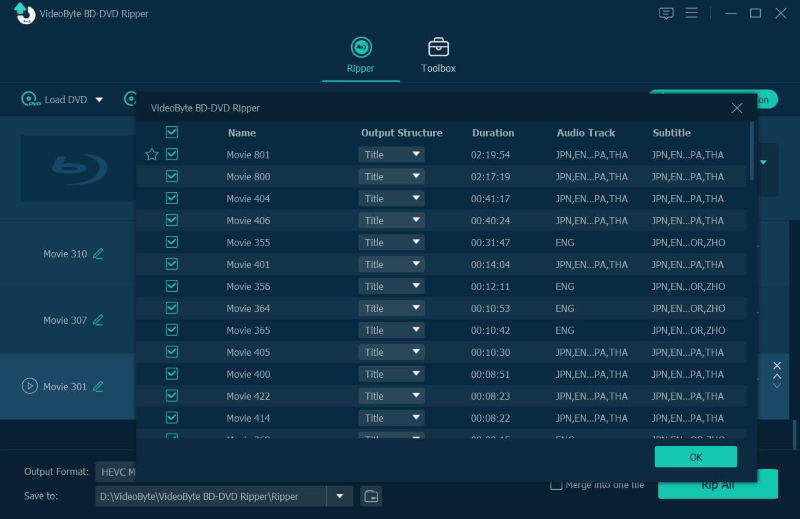 It is also available for people to select audio tracks and subtitles for ripping together with the video.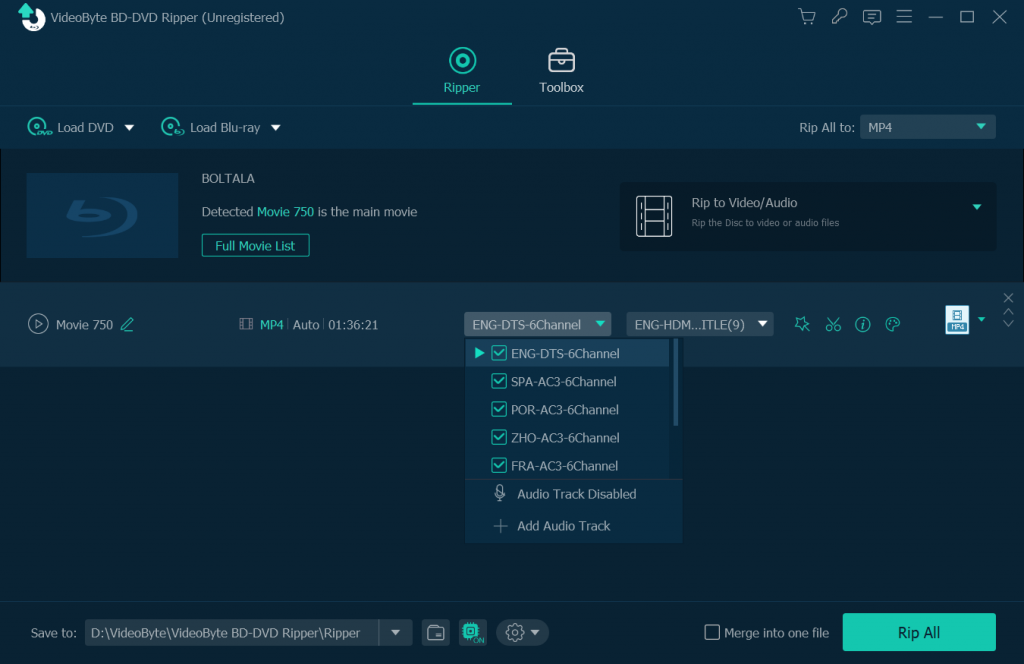 Step 3. Select the DVD Output Format for Plex
Now, you should select a specific output format to rip DVD videos. Remember to select the format supported by Plex such as MP4 and MPEG. You can also select the quality in the format selection menu.
After clicking the "Rip All" button, and the DVD videos will start to be ripped to your selected format. When you get the ripped videos, you can play them with Plex Media Server offline.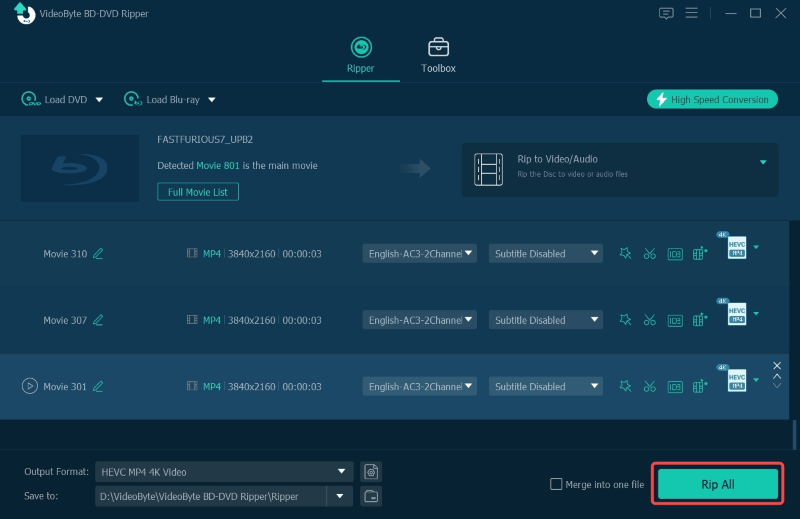 After that, you could get a ripped DVD movie file on the computer hard drive that you've selected before easily. Then you could stream DVD movies to Plex Media Server.
VideoByte has just released VideoByte DVD Ripper to be the alternative to VideoByte BD-DVD Ripper. It's a dedicated DVD to digital ripping program that supports input of DVD or related files, and keeps all DVD ripping features of VideoByte BD-DVD Ripper. If you just need a tool to rip DVD without ripping Blu-ray features, this lightweight DVD ripper is a reliable choice.
Tips: The only difference between VideoByte DVD Ripper and VideoByte BD-DVD Ripper is the former does not support the Blu-rays.
3. How to Make the DVD Videos Look Like "A Real DVD" in Plex
Q: How to Rip DVD to play "like a DVD"?
This is usually being asked in the Plex Forum. We will guide you on how to install Plex and upload DVD to Plex in detail. But before this, let's focus on how to rename your converted DVD file before uploading to Plex, so it can act like a real DVD in Plex.
After you rip DVD to Plex with VideoByte DVD Ripper and upload DVD to Plex in a right way, the DVD movie in Plex will look like this: it has selectable audio tracks and extras (DVD playlists).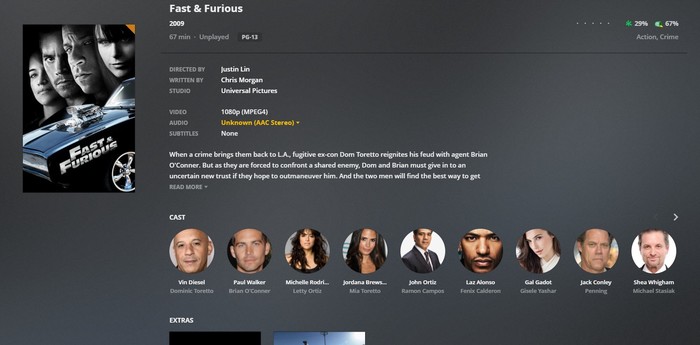 1. Create a folder on your computer name "Movies". In this folder, create a folder name as your DVD name + (release year), such as "Fast and Furious (2009)".
2. Name your main movie as same as the movie folder and name your extras DVD playlists base on the extra type:
-behindthescenes
-deleted
-featurette
-interview
-scene
-short
-trailer
-other
So, the ultimate folder structure can be like this:
/Movies
/Fast and Furious (2009)
Fast and Furious (2009).mp4
Bar Fight-deleted.mp4
Fight-scene.mp4
…
You can also read this if don't feel clear enough:
Plex official- How to separate the Local Media Assets – Movies
Now, let's install Plex and add the whole DVD video folder to Plex!
Step 1. Just download Plex Media Server from Plex official site and install. During the installation, sign in your Plex account on its website.
Note: you should download from "Plex Media Server" but not "Apps & Devices". "App & Devices" is for installing Plex Player.
Step 2. After installation, launch Plex Media Server, then right-click the icon of Plex Media Server and clip on "Open Plex".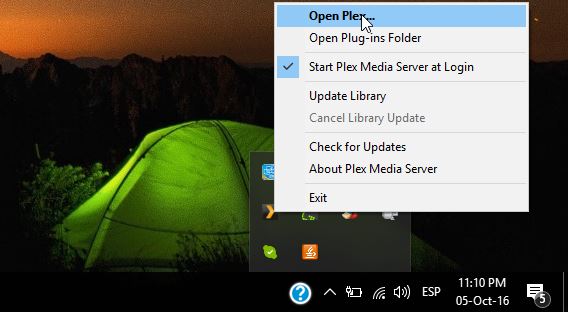 Step 3. Its main interface would appear on the web page. Click on "Movies-Edit-Add folders" to add DVD to Plex.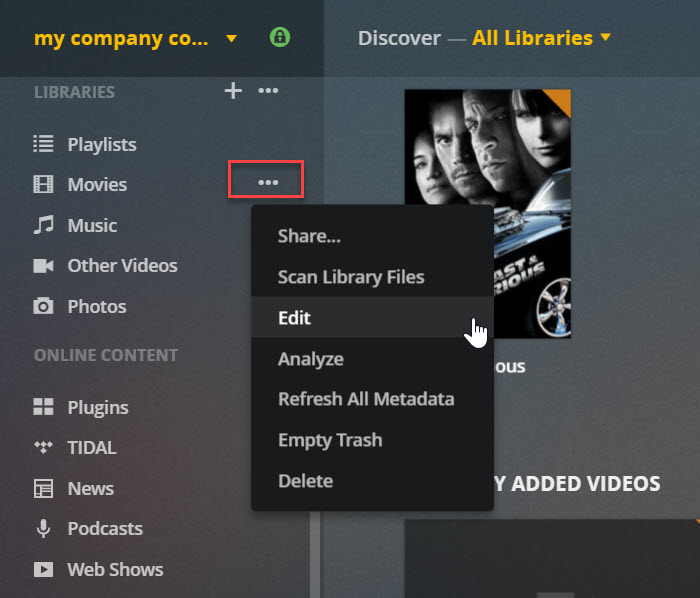 Step 4. Click on "Browse For Media Folder" and choose the whole DVD movies folder "/Movies" and then click the "Add LIBRARY" button. Wait a while, Plex will need some time to load the DVD movie information from its database.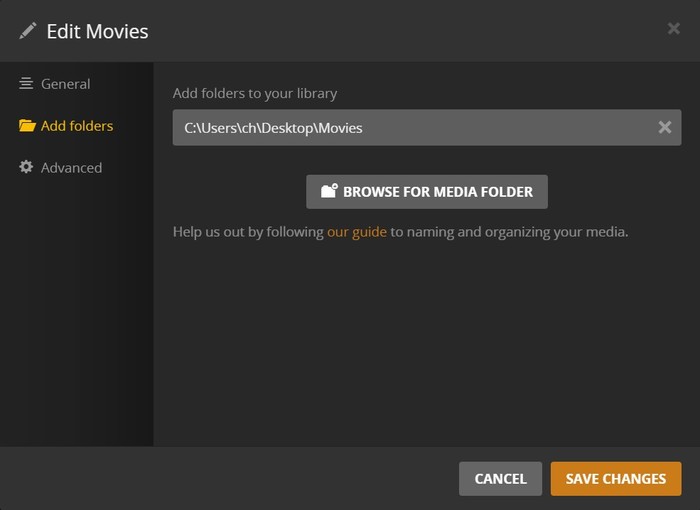 Now, you have finished the process of convert DVD for Plex and upload the DVD movie to Plex. Plex gives you the ability to access all your media files on TV, computer, phones no matter where you are. So, for example, if you have installed Plex Player on your iPhone, you can play DVD with Plex directly without importing the DVD to iPhone.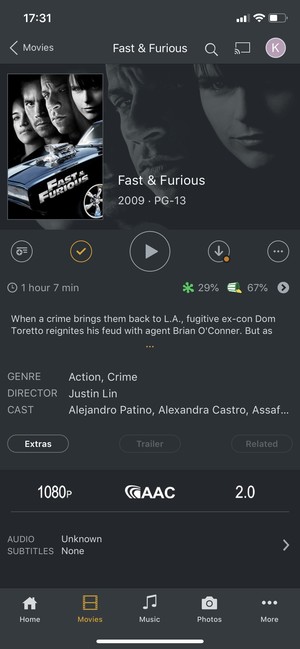 If you use your computer as Plex Media Server, the computer must be turned on while you watch a DVD movie on other devices. Because of this, some people will install Plex Media Server on NAS. NAS was designed to run 7*24 hours uninterruptedly.
Lastly, let me take a minute to sum up the main points of the whole text. People try to convert DVD to Plex Media Server since that they want to play DVD files on various devices anytime and anywhere. Many people choose to use HandBrake when they encounter the problem of ripping DVD. Yet they're unable to rip DVD with copy protected and particularly the newest DVDs by using HandBrake. If using an application like VideoByte BD-DVD Ripper, it ensures a fluent, high-quality, and stable DVD ripping process. What's your opinion?