4 Best Ways to Rip DVD to MKV Losslessly [2023 Latest]
You may want to rip the classic DVD discs to digital formats for flexible playback. MKV could be considered because it is a frequently used format for DVD ripping and provides a high-quality viewing experience. But you may find it aimless as you will need extra software to help do it on computers. No worries. This blog will mainly introduce the 4 best ways to rip DVD to MKV losslessly. You will find both lossless and free options below. It's free for you to select the ideal pick based on your personal requirements. Now, let's get started.
Why Choose to Rip DVD to MKV?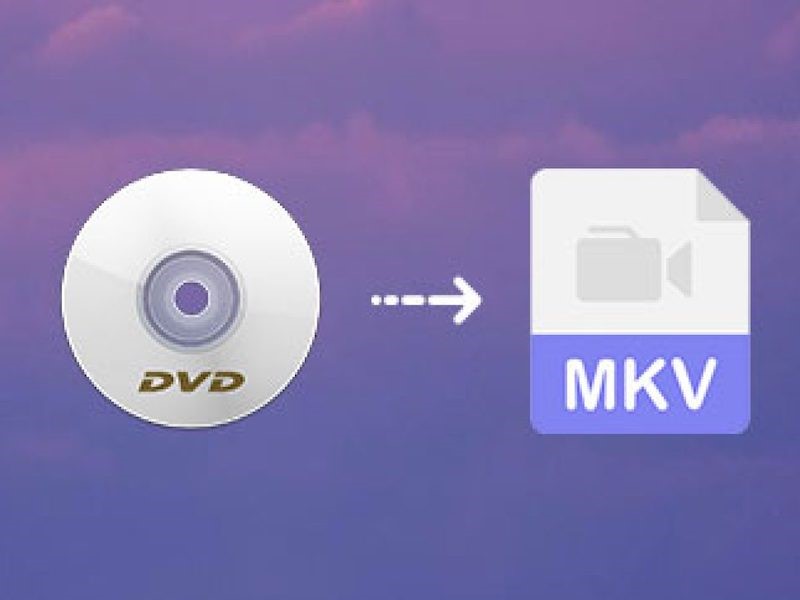 Ripping DVD to MKV Preserves All DVD Content
MKV is a lossless and uncompressed format that preserves the original quality of the video content on DVD discs. If you choose to back up your DVD in MKV format, you are able to preserve all the detailed chapter information, titles, multiple audio tracks, subtitles, attachments, and metadata. This is a practical way to prevent DVD data loss.
MKV is Frequently Used and with High Compatibility
MKV format is highly compatible, so it is commonly used in video converting and streaming as MP4. If you rip a DVD to MP4, you will get a digitalized file in hundreds of MB but with much quality loss. Only the conversion of DVD to MKV balances well on the file size, video quality, and ripping speed.
How to Rip DVD to MKV with VideoByte BD-DVD Ripper (Best Way)
If you consider ripping any homemade or protected DVD to MKV in lossless quality, VideoByte BD-DVD Ripper will be an ideal option for you. This software supports ripping all types of DVD discs on Mac and Windows. No matter how your DVD is encrypted, VideoByte BD-DVD Ripper can decrypt it and rip the DVD to lossless MKV and other common formats at 1:1 ratio. The full chapters, subtitles, audio tracks, and metadata will all be well preserved in the ripped files.
Meanwhile, VideoByte BD-DVD Ripper also employs advanced hardware acceleration tech, greatly speeding up the ripping performance to 6X faster and you won't spend much time on waiting. With the software, you are actually getting the fastest and quality-lossless way to rip DVD to MKV.
Highlighted Features of VideoByte BD-DVD Ripper
Homemade and commercial DVD discs of all protection methods supported;
Compatible with DVD and Blu-ray Disc/Folder/ISO image ripping;
Built-in video editor to adjust video/audio quality freely;
Extra toolbox available to enhance or manage videos flexibly;
Intuitive and user-friendly interface with brief beginner's guides.
VideoByte BD-DVD Ripper is compatible with both Blu-ray and DVD ripping. If you consider the software with DVD ripping functionality only, VideoByte DVD ripper is able to suit your demand.
Below is the detail of ripping DVD to MKV via VideoByte BD-DVD Ripper: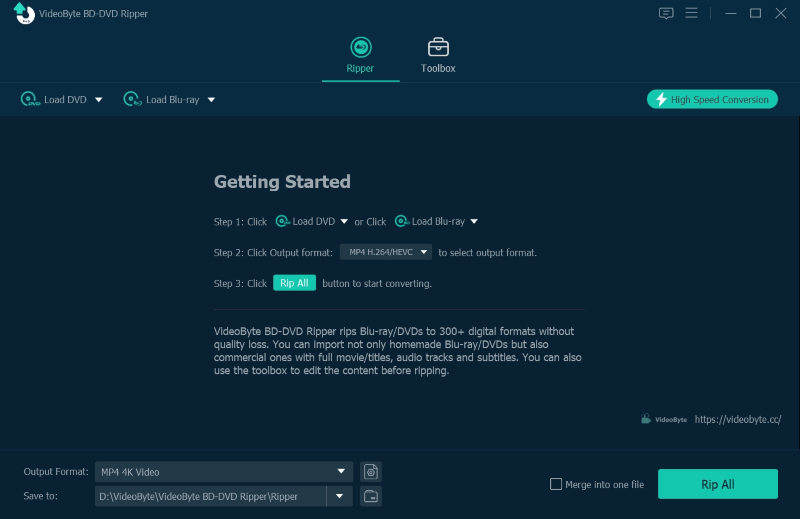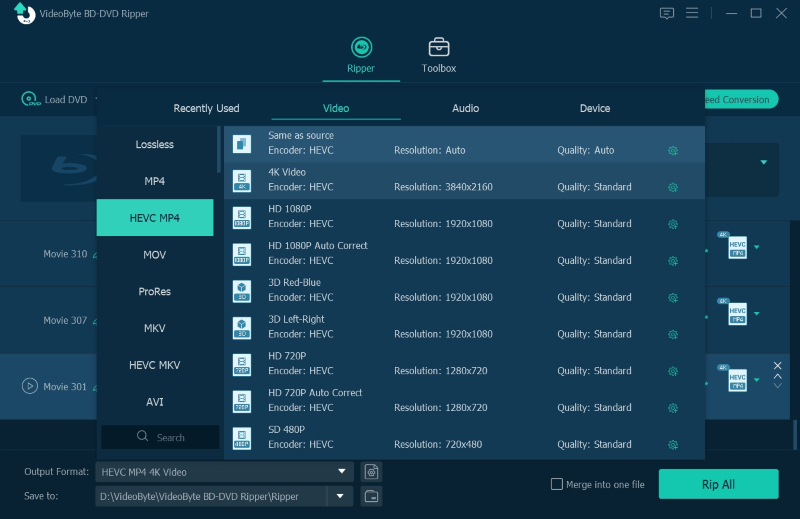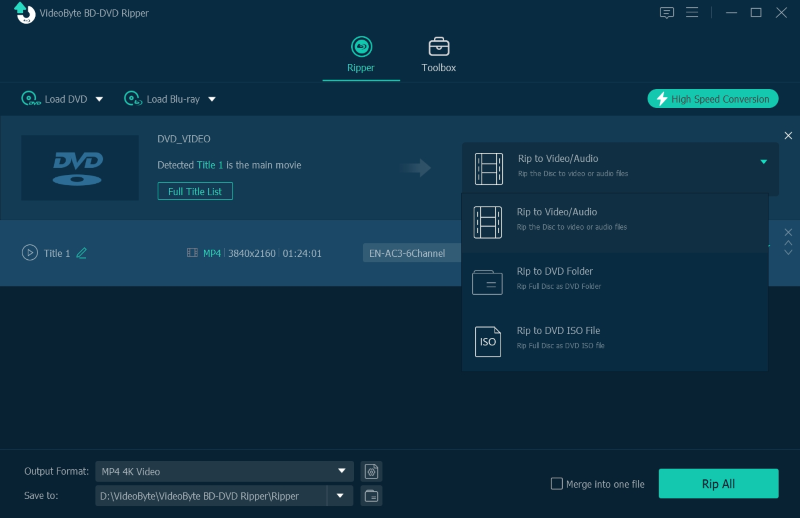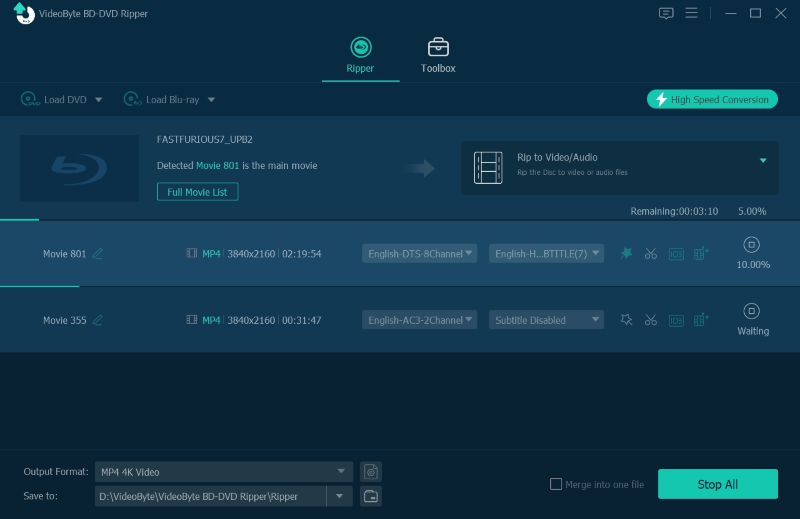 For more detailed usage, you can have a look at the video tutorial below.
The whole process is extremely easy. The converted DVD video will be saved in the output folder. You may find the output MKV video files have the quality nearly intact as that source DVD file with the same content, owing a good deal to the powerful VideoByte BD-DVD Ripper.
How to Rip DVD to MKV with Handbrake (Universal Method)
Though VideoByte BD-DVD Ripper as a professional DVD to MKV tool can meet all your needs, you may consider a free option. (Actually, VideoByte also provides a full-featured free trial.) Here Handbrake offers a cost-free way for you. This open-source freeware is designed for ripping DVD to MKV losslessly on macOS, Windows, and Linux. However, open-source also indicates it is not very stable. Sometimes the software may fail to keep the original video&audio quality.
Plus, Handbrake doesn't support decrypting protected DVDs itself. You may need to install the libdvdcss file before ripping. The following brief guide will show you the correct way to rip DVD to MKV via Handbrake:
STEP 1. Launch Handbrake once installing it on your computer. Meanwhile, insert DVD to let the software detect the disc.
STEP 2. After reading the DVD disc in Handbrake, you are able to select the title or chapters you desire to convert to MKV.
STEP 3. After that, navigate to "Preset" > "Matroska" and select MKV as the output format. You are able to select the option with your desired resolution here.
STEP 4. Simply hit the "Start Encode" icon on the top menu bar and Handbrake will process ripping DVD to MKV losslessly for you. Compared with VideoByte, it would take a longer time to complete, so just wait for the conversion to be done patiently.
Limitations:
Complicated process to rip protected DVDs;
Slow ripping speed.
How to Convert DVD to MKV with MakeMKV (Born for MKV Format)
Another ideal pick to rip DVD to MKV losslessly is MakeMKV. This software only supports MKV as the output format to preserve converted DVD videos. It will maintain lossless quality and is also available to save full audio tracks and chapter and metadata info. However, with no built-in compressor, the ripped files it generates will take up a lot of storage space on your computer.
The good news is that MakeMKV has freely provided the DVD ripping functionality with a free key(needs to be updated every 30 days) in its BETA version. However, you usually don't get the beta key update on time, so it's not guaranteed to be free all the time.
Here comes the guide to process the DVD to MKV conversion:
STEP 1. Insert the DVD disc and load the content in MakeMKV.
STEP 2. In the workplace, select the titles, audios, and subtitles you desire to rip to MKV files.
STEP 3. Select an exact output folder to save the ripped MKV on your desktop as well.
STEP 4. Hit the "Make MKV" icon, then MakeMKV will perform ripping the DVD to MKV losslessly.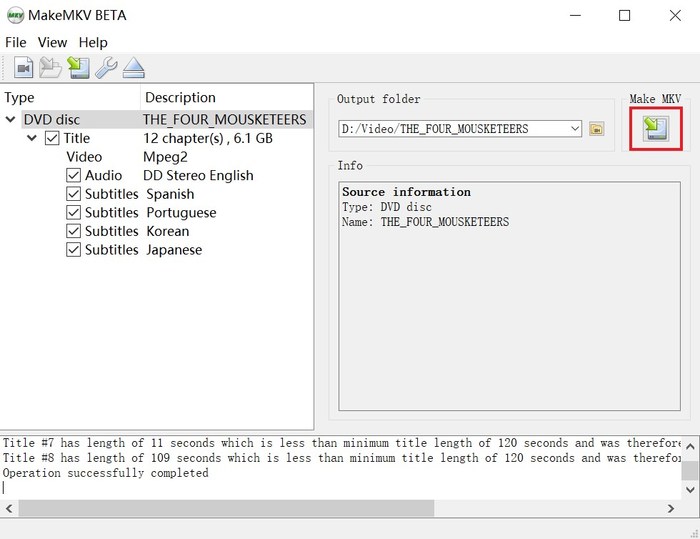 Limitations:
No customized quality options;
The outputted MKV files would be in very large sizes.
How to Convert DVD to MKV with Freemake Video Converter (Free to Use)
While Freemake Video Converter(also named Free DVD Ripper) also empowers the intuitive interface and stable conversion speed to perform the DVD ripping, it becomes a nice pick for many users to rip DVD to MKV as well. Freemake Video Converter is also freeware specially designed for Windows users to process the DVD ripping smoothly and losslessly. The only downside of the software should be the fact that it will add a watermark to the ripped MKV video unexpectedly.
Now, also see how Freemake Video Converter performs to rip DVD to MKV within several easy clicks:
STEP 1. After inserting the DVD disc into your computer, open Freemake Video Converter and hit "+DVD" on the menu bar to load the disc.
STEP 2. When the DVD content is loaded, select "to MKV" from the bottom output options.
STEP 3. In the pop-up window, you are able to customize the encoder, size, and output folder based on your requirements. To remove watermarks from the videos, extra payment is required.
STEP 4. Give it a go by hitting the "Convert" icon, then Freemake Video Converter will process ripping DVD to MKV losslessly for you.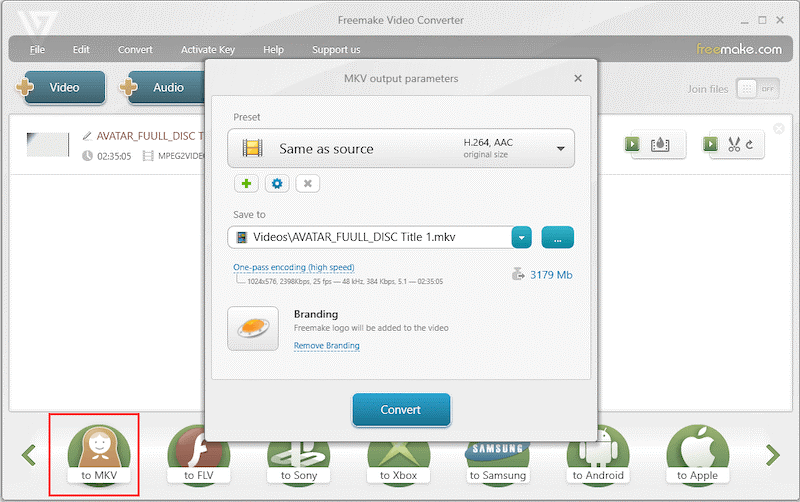 Limitations:
Watermarks exist in output videos;
Payment required to remove watermarks (not totally free);
No editing tools available.
Only compatible with Windows System
FAQs About Converting DVD to MKV
Here come some FAQs about converting DVD to MKV. If you are also confused about the following questions, just read on to find a solution.
Q: Can I also rip Blu-ray to MKV?
A: It would be based on the software you select. For example, VideoByte BD-DVD Ripper supports ripping both DVD and Blu-ray to MKV. However, MakeMKV is only compatible with DVD ripping, which will not help convert Blu-ray to MKV for you.
Q: Are ripped DVDs free of copy protection?
A: For sure. Once the media is ripped from DVDs to regular media files, they are not protected anymore and are able to be streamed in any way you desire.
Whether you are seeking a lossless or free way to rip DVD to MKV, this post provides optional methods for you. VideoByte BD-DVD Ripper may be the best choice for its strong and professional ripping experience. Simply select the ideal pick based on your requirements to process the lossless DVD to MKV conversion without hassle!