Blu-ray is a digital optical disc data storage format, which is used to store videos in high-definition or ultra high-definition. In other words, you can enjoy videos in good quality. And thanks to Blu-ray, which has always been the perfect partner for Xbox all these years, you can enjoy playing exciting games at home. Every coin has two sides, we know clearly that it may be quite inconvenient to bring a Blu-ray disc everywhere, let alone play it on your devices. On the contrary, AVI can solve that problem for you, for it is supported by almost all devices. Therefore, it becomes necessary for you to rip and convert Blu-ray to AVI. And let me tell you the quickest way to do so and with no quality loss.
Why Convert Blu-ray to AVI
As I mentioned above, the reason why you need to convert Blu-ray to AVI is that it is not portable enough. And apart from this, you may just try to rip and convert Blu-ray to AVI because you want to have some backup files. So you don't need to worry about any damage to your Blu-ray disc anymore. Besides, you can save more space for your hard drive storage. As AVI introduced by Microsoft in 1992, which is the initial of Audio Video Interleaved, is a multimedia container format like Blu-ray. In a word, it is a wise choice for you to rip and convert Blu-ray to AVI for whatever reasons above. Next, I will tell you how to use the best converter - the VideoByte Blu-ray Ripper to do that, promising no quality loss at all for real.
How to Rip and Convert Blu-ray to AVI with VideoByte Blu-ray Ripper
VideoByte BD-DVD Ripper is a great tool for you to rip and convert Blu-ray to more than 300 popular formats, which means you can absolutely rip and convert Blu-ray to AVI. Most importantly, VideoByte Blu-ray Ripper can complete the conversion within a short time and there won't be any quality loss. So just trust me, you deserve a VideoByte Blu-ray Ripper. The below procedure of the conversion can well explain what I mean. So let's take a look at it.
The Windows version of VideoByte BD-DVD Ripper released a new version which has big changes compared with the old version. But the new version for Mac is still under the development. That means the interface and the operation of Windows and Mac will be different.
To know the details about the new version, you can read on the article: A New Version for BD-DVD Ripper (Windows) Released! See What Changes
Step 1. Download and Install
Click the above link to download VideoByte Blu-ray Ripper and have it fully installed in your computer. Restrictions will be eliminated after you register for a full version.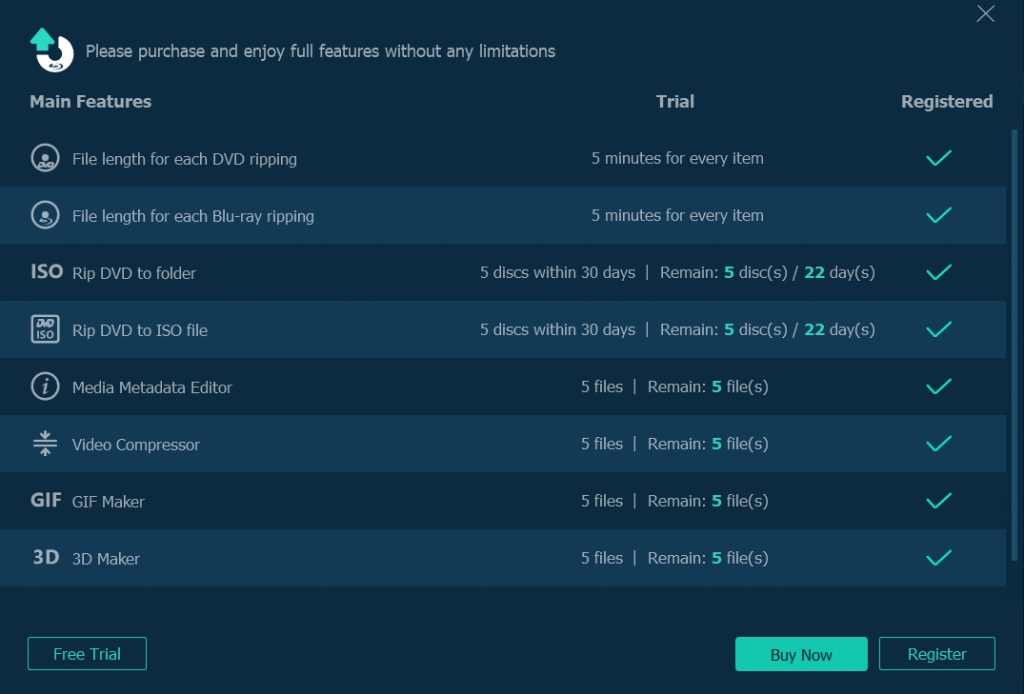 After inserting the Blu-ray disc to the Blu-ray drive, you can click "Load Disc" then choose "Load Blu-ray" button to start importing the files.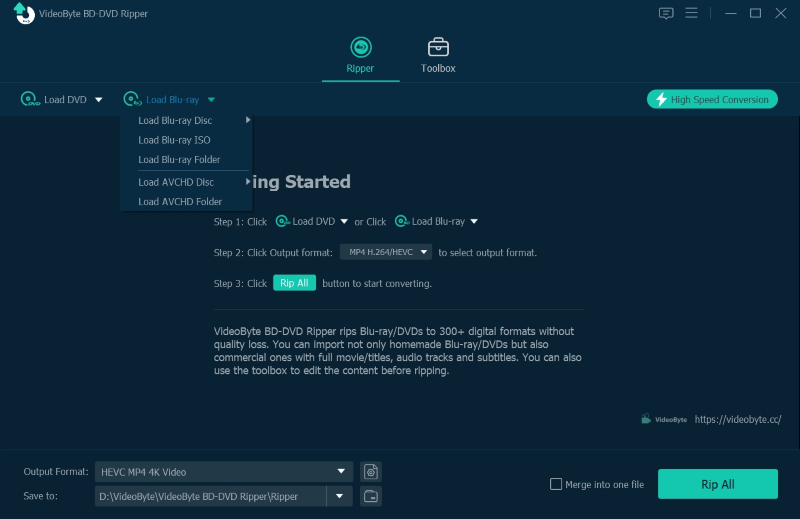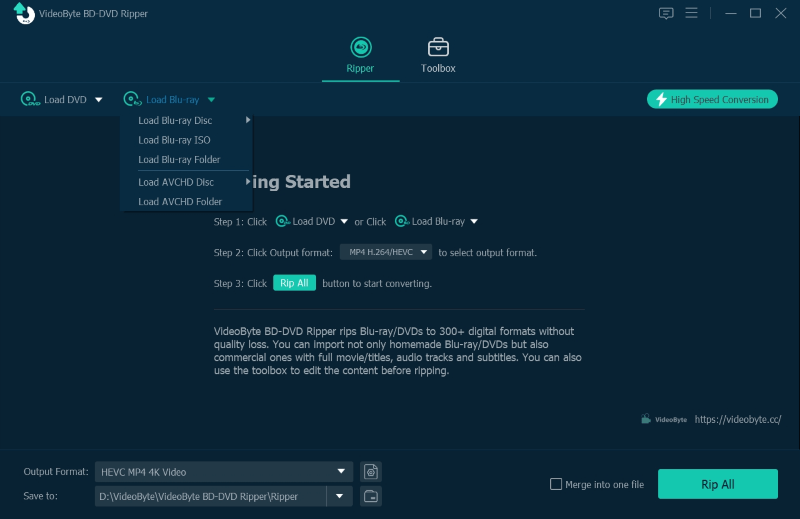 Step 3. Choose Output Format
Navigate to "Rip All to" and tab the drop-down icon to choose AVI as your output format. To avoid too many troubles, you can just type "AVI" in the searching bar and all results will be shown in the right.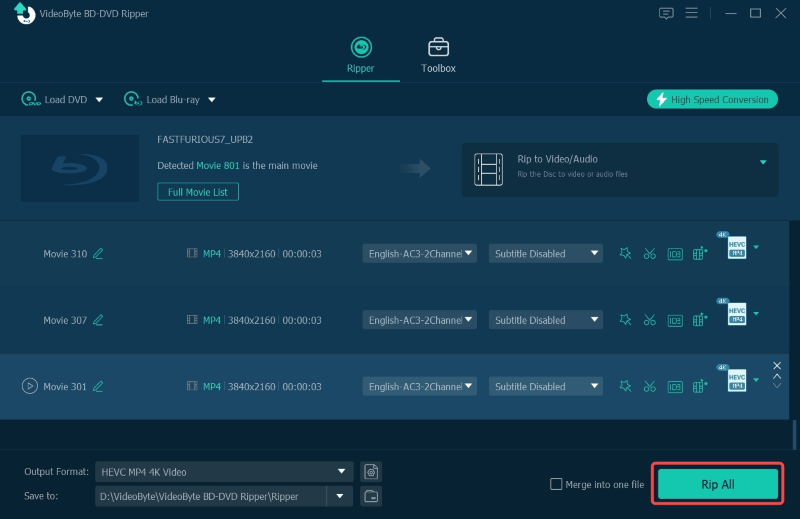 Step 4. Select Destination Folder
It would be so miserable if you get your conversion done but have no idea where your final work is. To stay away from this tragedy, I suggest you select another destination folder. Just press "Browse", and a pop-up window will help you do so.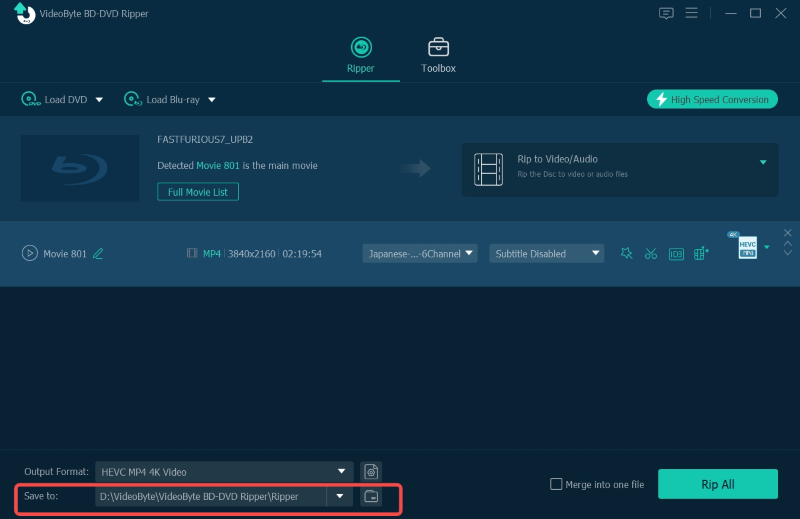 Step 5. Ripping & Converting Blu-ray
It is the last step of all, but it is also the key step of the whole procedure. After you make sure all the settings are right, you can now click the "Rip All" button and start the conversion.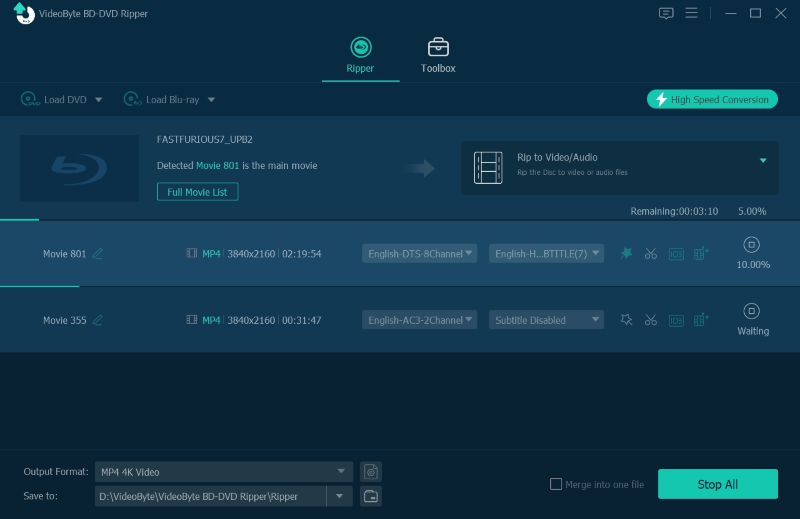 The quickest way to rip and convert Blu-ray to AVI with no quality loss is shown above. As you may find out, VideoByte Blu-ray Ripper with a compact interface is easy for you to master. 5 steps above can make everything come true to you. If you doubt that you can have a try by following the above steps.
All in all, VideoByte BD-DVD Ripper will be the best and also the quickest converter for you. What you need is just to spend little time waiting for the conversion. As most of you are concerned about its quality, I have to emphasize again that this utility will provide you files in lossless quality. Finally, I hope this article can help you. And if friends around you are suffering from the same problem, you can share this article or VideoByte Blu Ripper to them. Thanks for reading!