WMV, a quite popular multimedia format, is commonly used in Windows-based video programs, like Windows Media Player. There are a lot of WMV videos that have recorded cherished memory on my PC, so I once wished to store WMV videos in DVD Disc for better storage and enjoy watching these WMV videos with families or friends on a big TV screen. Have you thought about that, too? Now I solve the problem easily because I have downloaded the best WMV to DVD converter, VideoByte DVD Creator can create DVD disc from WMV videos and DVD folder or ISO file from various formats of videos.
WMV, stands for Windows Media Video, is the name of a series of video codecs and corresponding video coding formats developed by Microsoft. It is part of the Windows Media framework. WMV files use Microsoft's Advanced Systems Format (ASF) container format, so WMV files are very similar to another file format developed by Microsoft, ASF files. You can easily watch WMV videos on several media players, such as 5KPlayer, VLC, The KMPlayer, Mplayer, etc.
Why Choose VideoByte DVD Creator
As there are so many WMV to DVD converters on the website, it's not difficult for you to find one, but which converter to choose? I will show you the main three reasons of choosing VideoByte DVD Creator.
Reason 1: It can convert and burn virtually any video to DVD Disc easily and quickly with great flexibility.
Reason 2: You can create a DVD Disc with a distinctive personal style by editing videos and customize DVD menus.
Reason 3: You are allowed to change video parameters such as video brightness, contrast and more.
I believe once you use VideoByte DVD Creator, you will find it powerful and useful, so click the download button below to download this software now.
How to Convert and Burn WMV Videos to DVD Disc
Install and open VideoByte DVD Creator. With a trial version, you have only 3 chances to burn to DVD in 30 days and are not allowed to download online menu templates. So it would be better for you to purchase and register VideoByte DVD Creator before using this software.
Click the "Register" icon at the bottom right corner, then enter your email address and registration code in the pop-up window to register.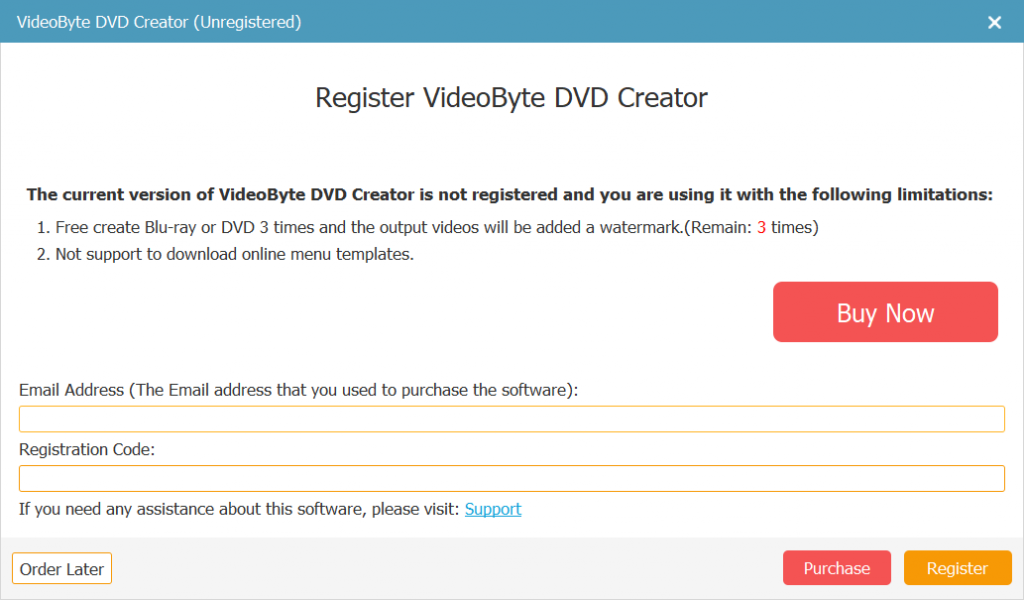 Step 2. Add WMV Videos to the Program
Click one of the "Add Media File(s)" icons at the middle interface and upper-left corner to add WMV videos to the program.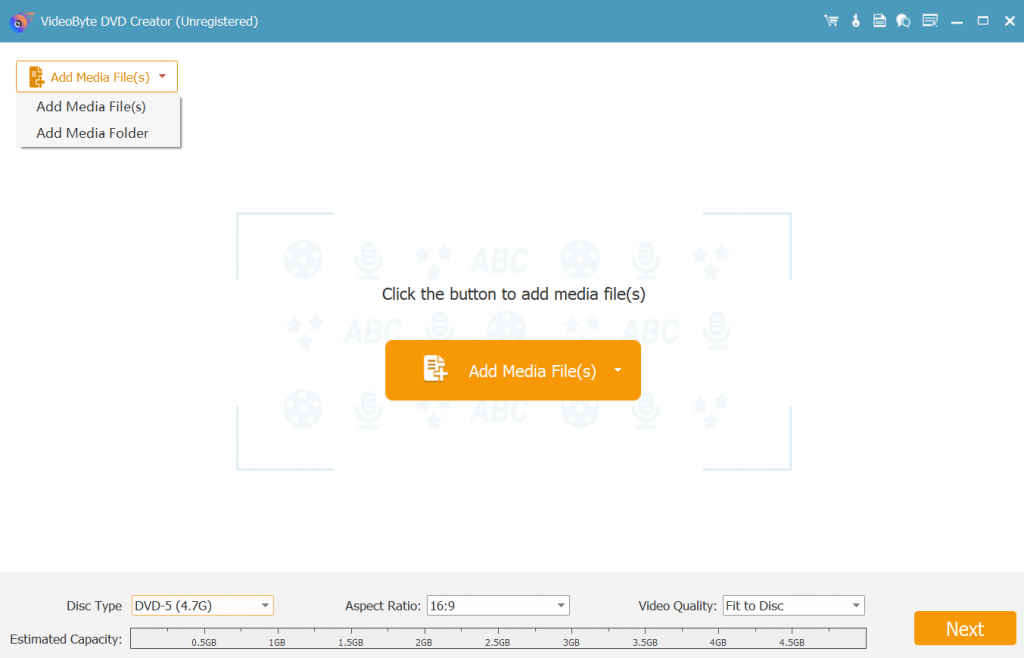 Step 3. Edit WMV Videos (Optional)
For a better visual effect, I suggest you add some special effects to videos, find and click "Magic Stick" icon at the right side of each video to enter into the editing window. You are optional to edit WMV videos by rotating, cropping, trimming, adjusting the brightness, adding filter and watermark as you like. When editing process is done, click "Apply" icon at the bottom.
What's more, you can change basic parameters of DVD disc such as Disc type, aspect ratio and video quality by selecting the parameters in the bottom of main interface. Next to "Magic Stick" icon, you can add and edit subtitle as you like. Then click "Next" icon at the lower-right corner.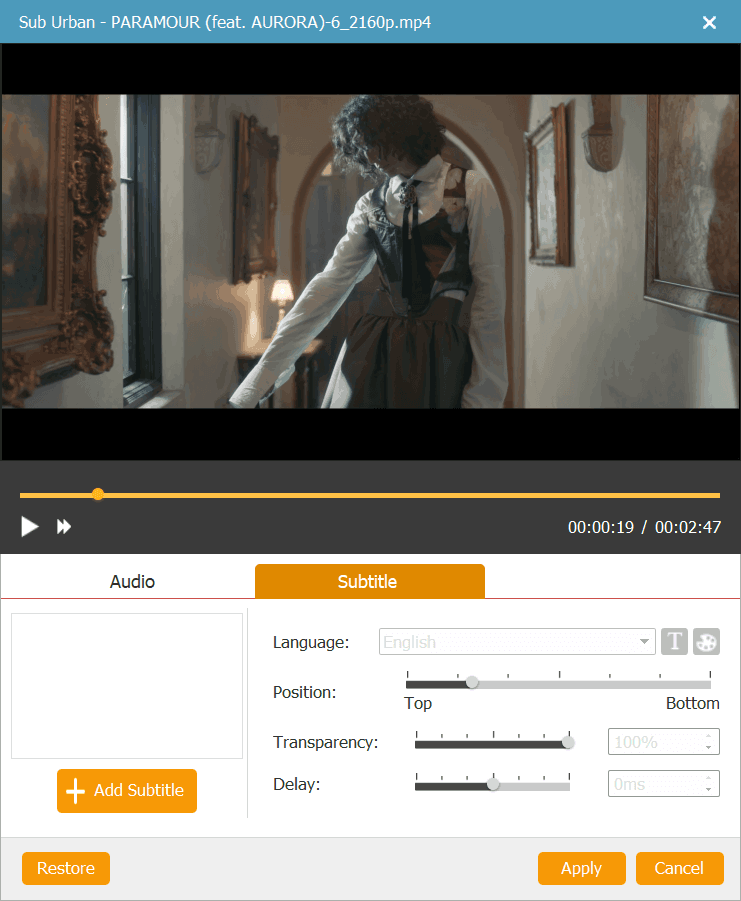 Step 4. Customize DVD Menu for WMV Videos
Besides, adding DVD menu can make your DVD better. Select your favorite menu from the Menu Templates. There are several theme of menu such as animal, scenery, festival, plant, etc., just choose the one that attracts you most. But if you don't want to add DVD menu, then just click "No Menu" at the lower-right corner. And you can change the title subject and add background music & opening film to your videos at the bottom. After all settled, click "Next" icon at the lower-right corner.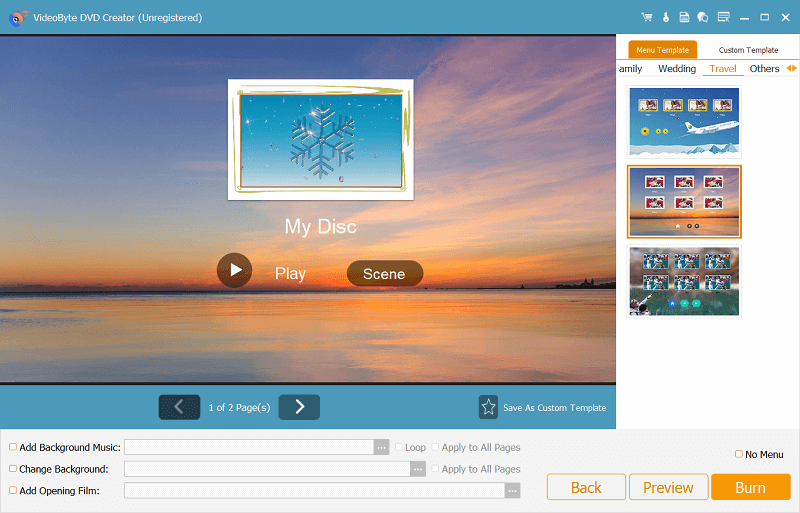 Step 5. Start to Burn WMV Videos to DVD
Before create DVD from WMV videos, you need to insert a blank DVD disc into DVD-ROM. Then click "Start" icon in the lower-right corner to burn WMV videos to DVD. When all are completed, click "OK" icon on the popup window. Then you can find converted videos in your DVD disc.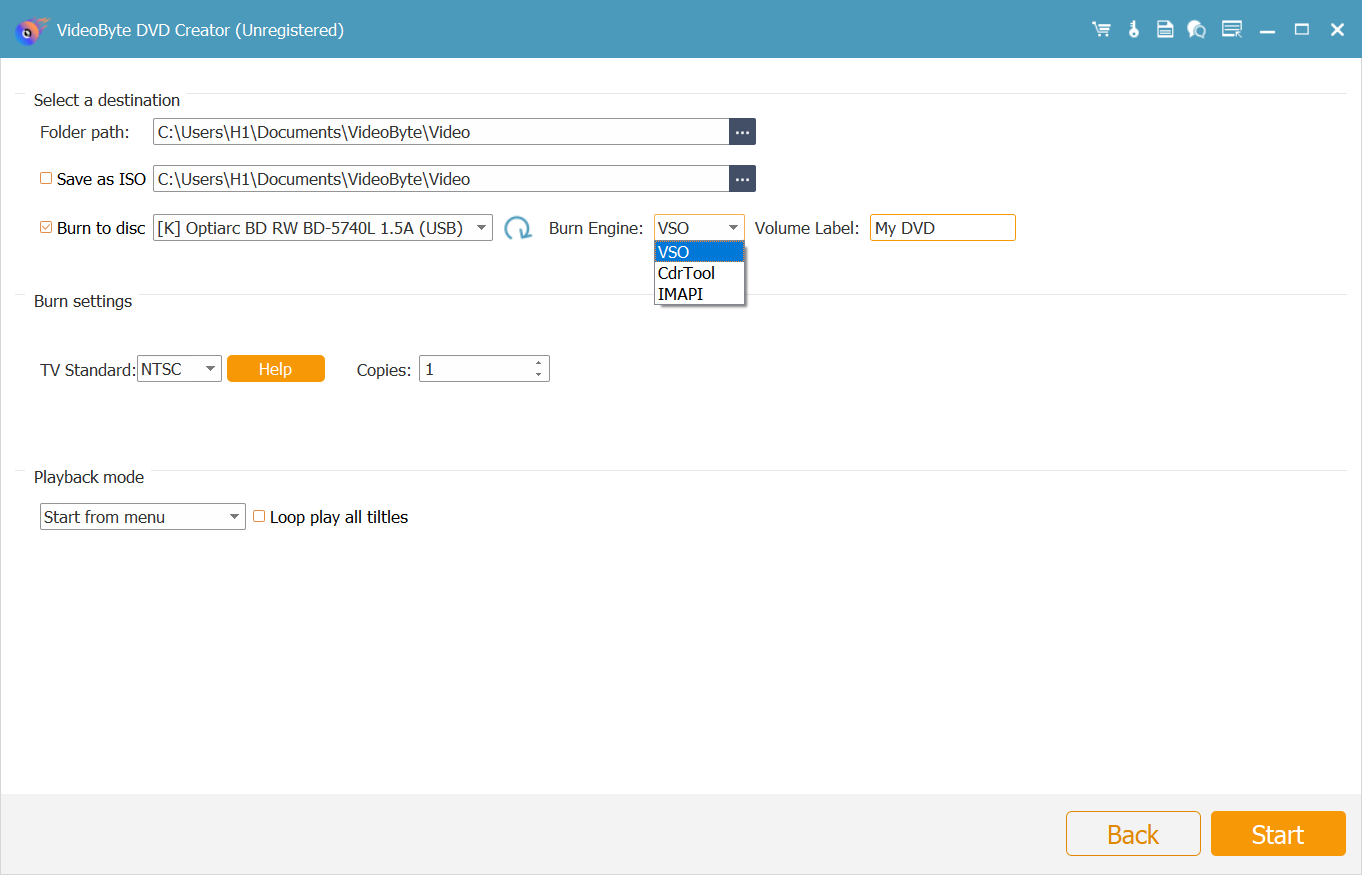 Finally, we can conclude that VideoByte DVD Creator is a DVD converter with so many functions. Why? Because it can not only convert WMV videos to DVD Disc, but also download online video and burn to DVD.