Have you ever had a headache because your HD camcorder is full of MTS files and you don't know where to save them? Have you ever felt annoyed because MTS files couldn't be played on Windows/Mac? Have you ever been upset because you find it difficult to show MTS videos to your friends by moblie phone? If you have neither of above problems, you really need a professional MTS to DVD converter.
Today's post will going to show you a great DVD Creator and how to burn MTS videos to DVD.
Videos shot by high definition digital video cameras are recorded in AVCHD (Advanced Video Codec High Definition) format and the file extension is MTS. If you export MTS files from HD camcorder to Windows/Mac by software like PMB (Picture Motion Browser), files extension will be changed to M2TS. MTS and M2TS files can't be played on Windows/Mac or any regular home DVD player, so you'd better convert and burn MTS/M2TS files to DVD disc so that you can enjoy watching videos on a big TV screen.
Before burning, you need to make sure that everything below is prepared.
(1) VideoByte DVD Creator (Windows/Mac)
(2) USB cable/Card reader/HDMI
(3) A computer running Windows/Mac
(4) A blank DVD disc
How to Burn MTS/M2TS Files to DVD on Windows/Mac
VideoByte DVD Creator, one of the best MTS to DVD converters, can help you convert and burn MTS files on Windows/Mac without losing quality. In addition to that, you can add some special effects to MTS files including editing MTS files and customizing DVD menu. So now you may ask how to download VideoByte DVD Creator? To do that, you need to click the download button below.
Step 1. Register VideoByte DVD Creator
Download, install and then open VideoByte DVD Creator. Free trial users are not allowed to use this software to burn videos to DVD for more than 3 times in 30 days, get any free technical support or upgraded versions. In order to have a better experience for burning MTS/M2TS files to DVD, you'd better to purchase and register VideoByte DVD Creator before burning.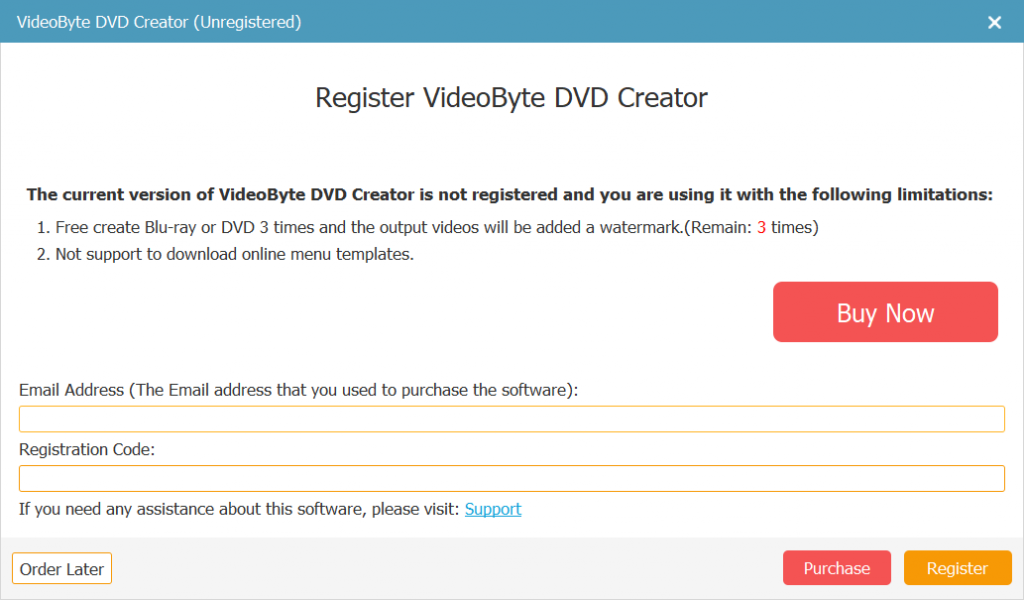 Step 2. Transfer MTS/M2TS Files to Computer and Import MTS/M2TS Files
Use USB cable/Card reader/HDMI to transfer MTS/M2TS files to computer, then find and click one of the "Add Media Files" icon at the middle interface and upper-left corner to import MTS/M2TS files to the program.
Step 3. Edit MTS/M2TS Files
It is optional for you to add some special effects to MTS/M2TS files, find a "Magic Stick" icon at the right side of each video, then click on it to rotate, crop, trim video and adjust the brightness, add filter and watermark. If you aren't satisfied with the edited video have wrong operation of the video, you can click "Restore" icon on the bottom. Click "Apply" icon on the bottom when the edited video meets your demand.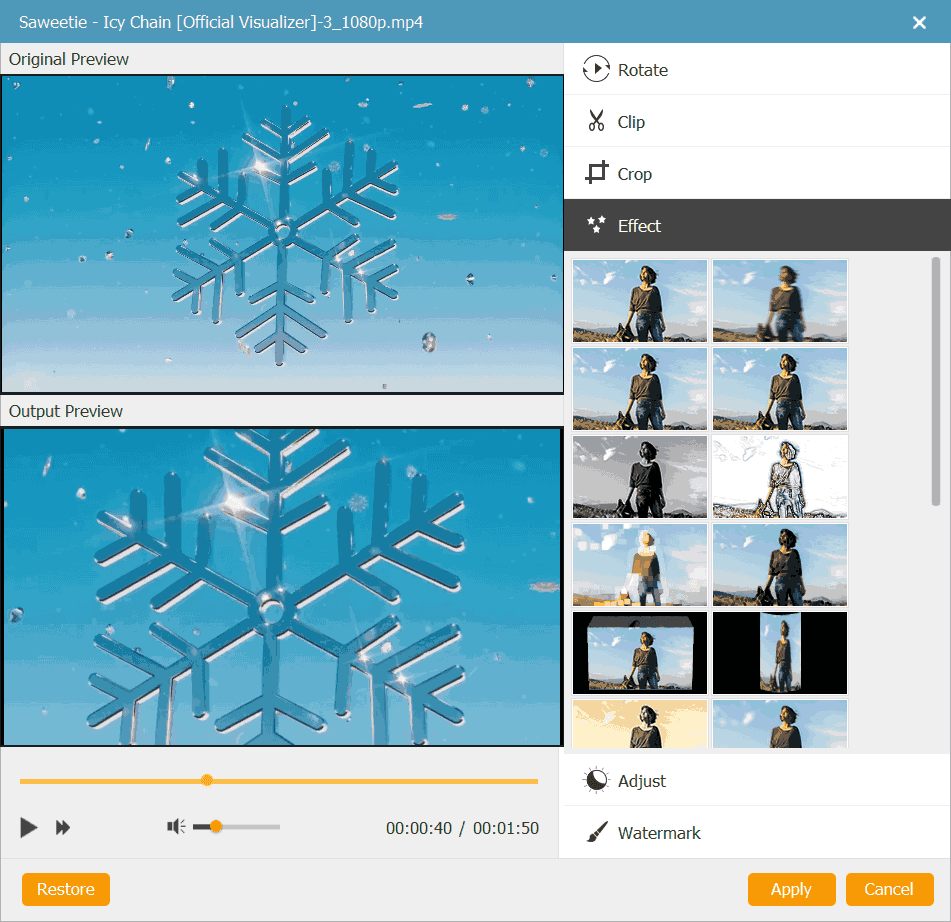 Besides, basic parameters of DVD disc including Disc type, aspect ratio and video quality can be changed as you like. You are able to select the parameters in the bottom of main interface and click "Subtitles" option next to "Magic Stick" to add and enter subtitle.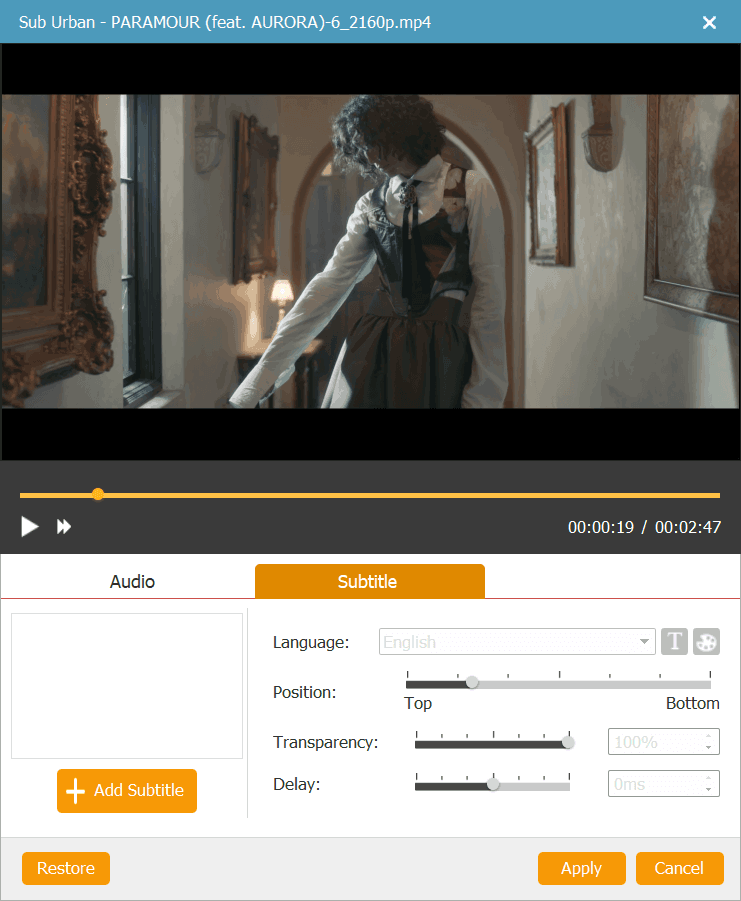 Step 4. Customize DVD Menu for MTS/M2TS Files
Press "Next" icon at the bottom right corner to customize your DVD menu. At the left side, you can see menu template in various style such as holiday, wedding, family, travel, etc., just select one as your menu or tick the box of "No Menu" if you have no desire to add menu for your DVD. In addition, if you want to edit title subject, add background music & opening film to your MTS/M2TS files and change background, find the options which are below the menu.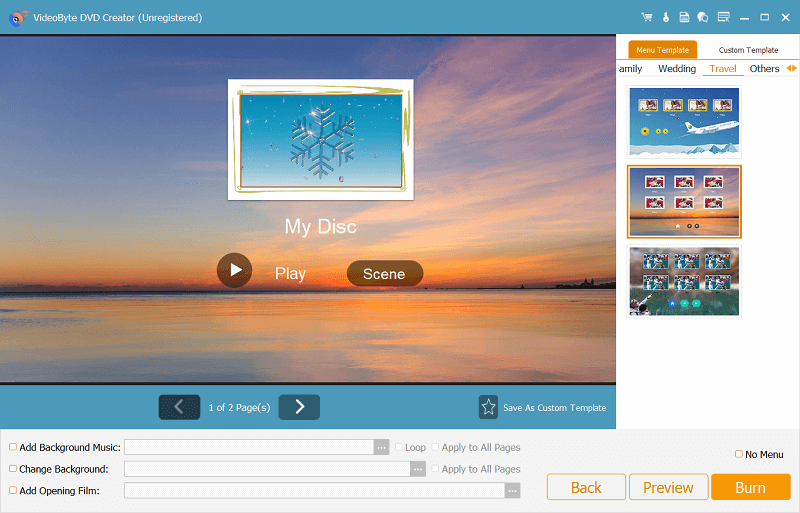 Step 5. Start Burning MTS/M2TS Files to DVD
Insert a blank DVD disc into DVD-ROM before burning, then click on "Next" icon at the bottom right corner. You can set TV standard and playback mode if you need. Finally, just click "Start" icon in the lower right corner to burn MTS/M2TS videos to DVD.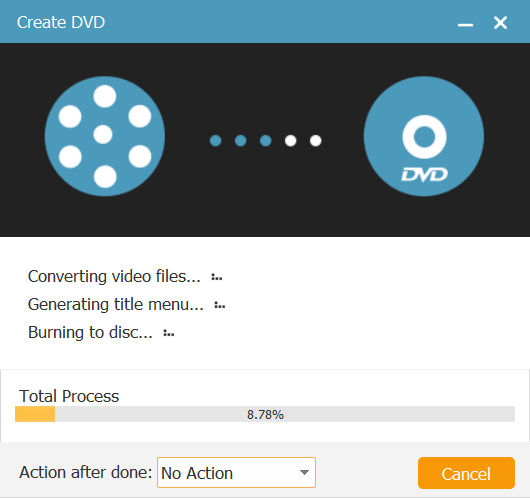 With VideoByte DVD Creator, you can convert and burn MTS/M2TS files to DVD on Windows/Mac easily. At last, I'd like to show you more features of VideoByte DVD Creator as below:
• You can preview the created videos before burning.
• You can create audio tracks.
• In addition to MTS/M2TS files, you can convert virtually all video formats to DVD.
• You can download and convert online videos to DVD.