"Can I burn a DVD with VLC media player?"
VLC is a very powerful and well-loved media player for any video enthusiasts. It can do more than just play files. If needed, you can convert files or rip DVD with VLC. Therefore, most people might even wonder if VLC Media Player can burn a DVD disc. Actually the DVD burning on VLC is not incompletely.
To burn DVD with VLC, it must be properly recoded the movie file into the DVD format first, which is MPEG 2. MPEG 2 is an audio and video codec standard that used to compress digital broadcast video and DVDs, and it is formatted PAL or NTSC. PAL is the standard in most Western Europe countries, Australia and some African, South American, and Asian countries. NTSC is the standard in the United States, Canada, Japan, and certain other countries.
VLC can convert and burn MPEG 2 to DVD, but it doesn't work for other video files without this format. So if you want to burn any video file formats to DVD, I recommend you to use a great VLC alternative DVD burner.
VLC Alternative - Burn Any Video to DVD Without Skill
VideoByte DVD Creator is a perfect VLC alternative DVD burner to help you convert and burn almost all popular video formats (including MPEG 2, MPEG 4, AVI, MP4, VOB, FLV, MKV, MOV, RMVB, etc.) to a complete DVD disc/folder/ISO file easily.
Apart from that, this powerful multifunctional program includes many essential options for creating and processing video: video editing, menu templates stylized, audio track customizing and much more. Using these versatile tools, you'll be able to create your own video like a pro!
The powerful editing fuction can make your DVD or ISO file personalized and incredible. This program also allows you to customize subtitle and audio track. Just free download the trial version from the button below.
But that's not all - you can also use it as a Blu-ray burner, ISO disc image creator, online video downloader and more.
How to Burn DVD with VideoByte DVD Creator
The following tutorial will show you step by step how to burn video files to a DVD with VideoByte DVD Creator. You will also find instructions for adding srt subtitles or audio track to your DVD.
Step 1. Preparing to Burn
Make sure your computer has a DVD drive. If not, you'll need to buy an external USB DVD drive.
Prepare a black writable DVD disc and video(s) to burn.
Download and install VideoByte DVD Creator on your Windows/Mac computer.
Step 2. Launch VideoByte DVD Creator
Launch the program and you will see the interface is very simple and self explaining. There is a field for adding media files and the size bar which indicates occupied disc space.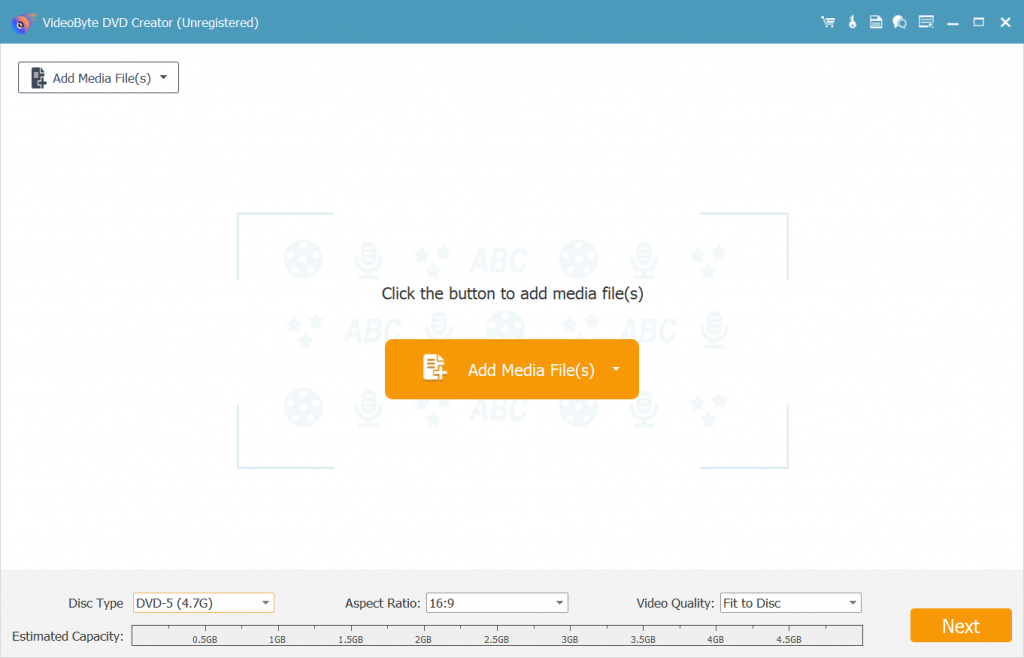 Step 3. Add Video to the Program
Now hit the "Add Files" button to add videos to the program. This smart DVD creator can read and write almost any type of disc and supports all popular video formats. Drag-and-drop feature is also supported.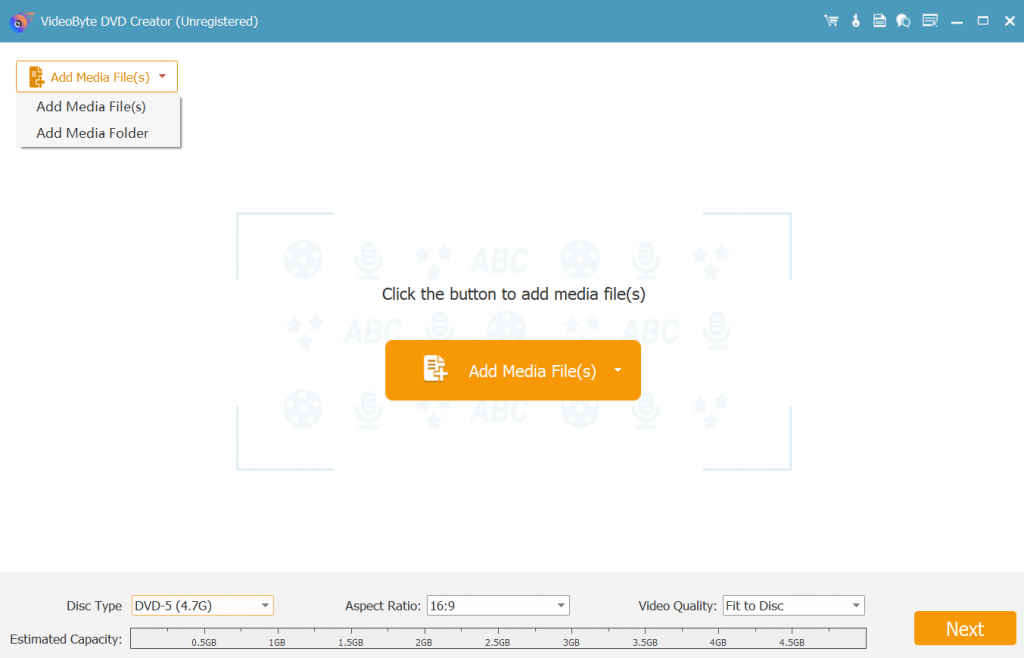 Step 4. Edit Video before Burning to DVD (Optional)
More than a DVD burner, this program comes with some basic editing features (trim, crop, add watermark, adjust brightness, saturation, contrast or hue settings, etc.). Just click the "Edit" button to edit your video.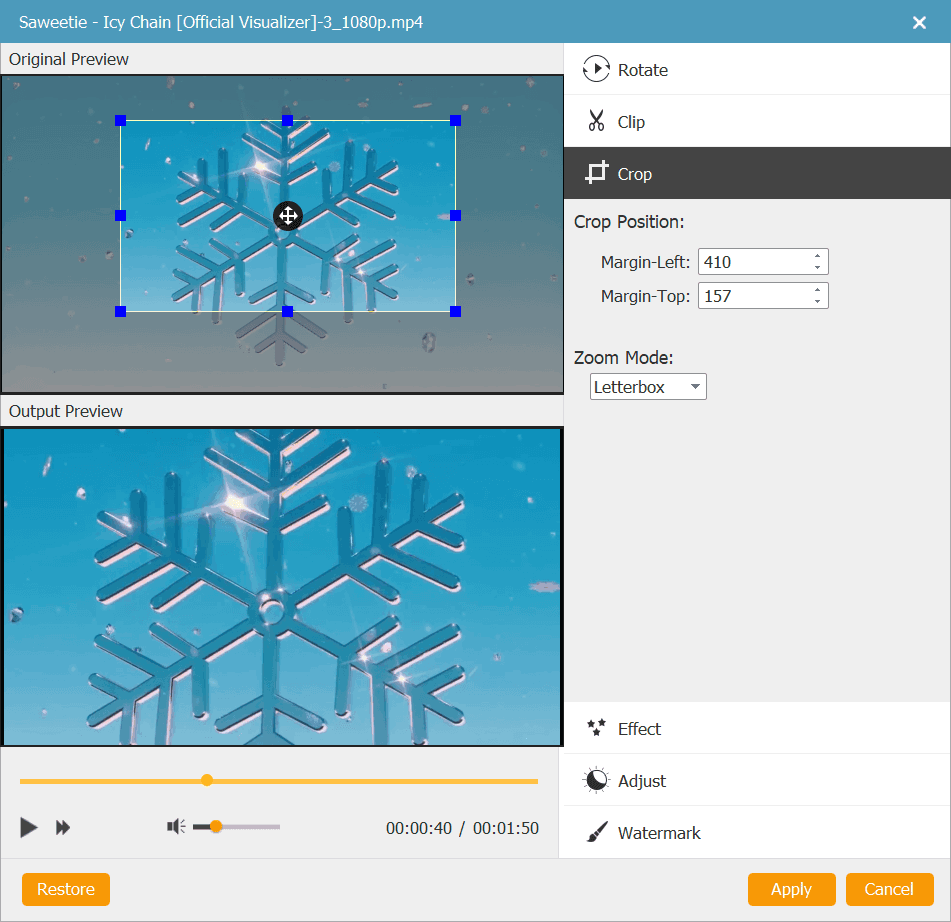 Step 5. Add Subtitle and Audio Track
If you want to add subtitles or audio track to your DVD, click on "ABC Subtitle" or "Audio Track" button. From the pop-up window, you can select the srt subtitle file (stored on your computer) or add audio track for your video. After that, you are able to modify parameters like volume, latency, encoder, bitrate, channels, etc. If everything's set the way you want, then click on "Apply" button.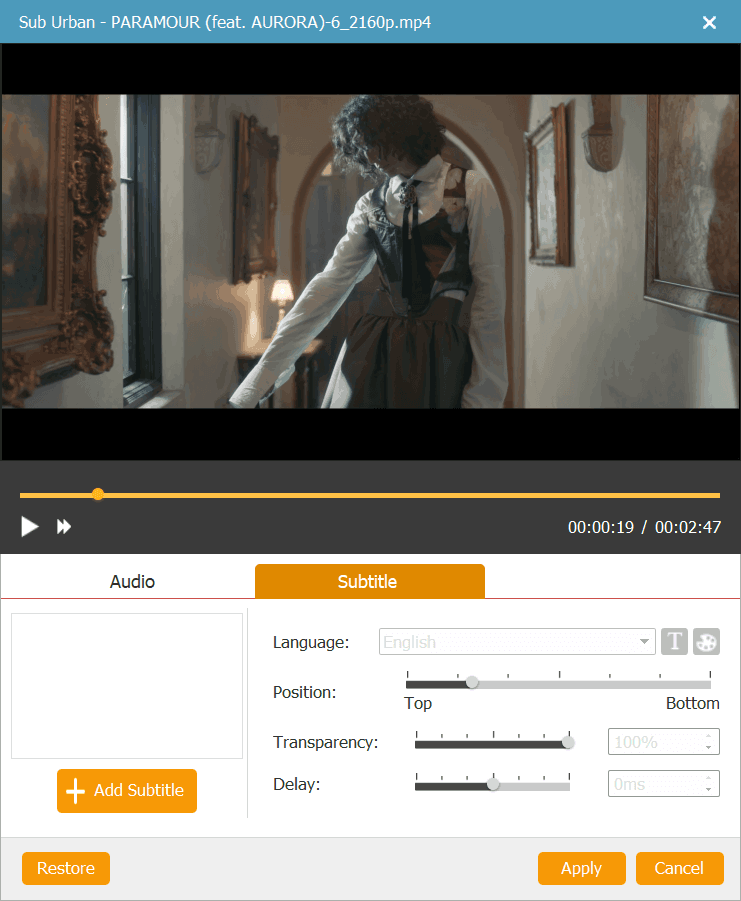 Step 6. Create a Custom DVD Menu (Optional)
It's amazing to add some atmosphere to your creation with a beautiful personalized menu. Just go to "Menu" section and start with the "Edit Menu" button. In VideoByte DVD Creator you'll find tons of free add-on styles, including animal, scenery, festival, plant, etc.
After choosing the theme, you'll be directed to the menu editing window, where you can select the menu frame, menu button and edit menu text in the way you like, and add background music, photo and opening film to your DVD if you want.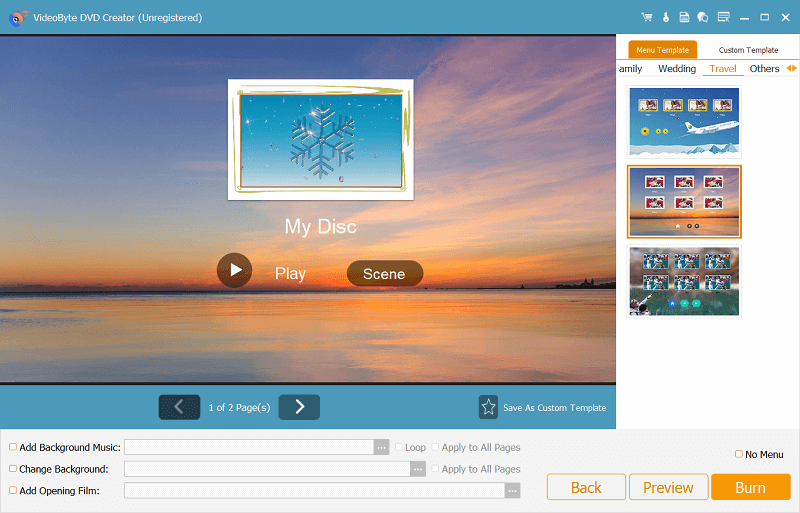 Step 7. Set Disc Parameters and Destination Folder
Click on "Next" button and a new window will pop up. Here you can select the TV standard (NTSC or PAL). NTSC or PAL depends on the region where you live.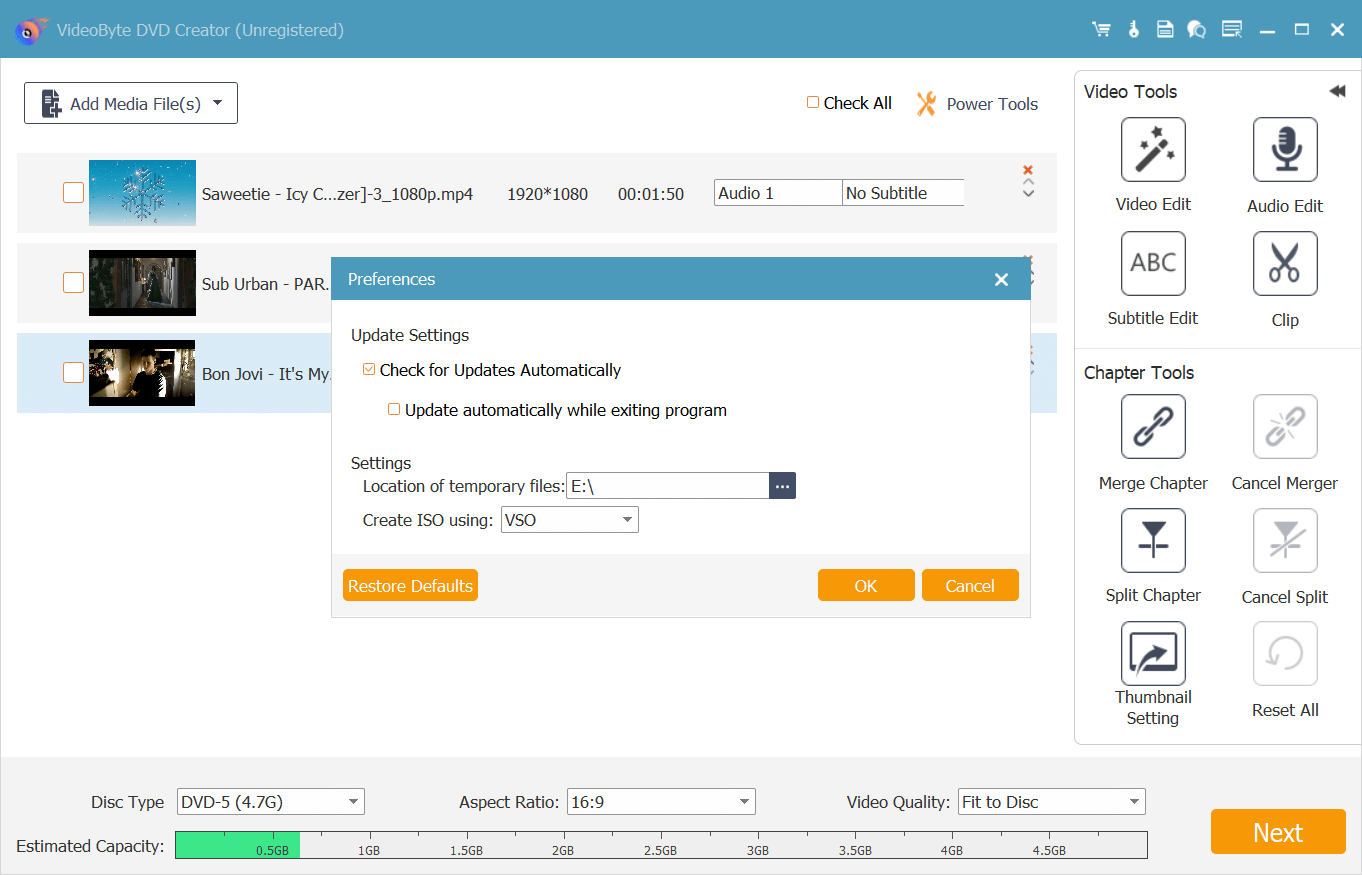 Step 8. Burn Video to DVD
After reviewing your settings, insert a blank disc into the drive and start the burn process by clicking "Burn" button. Wait while the DVD burning is in progress. Try to avoid using your computer while it is burning, as this could slow the process down or cause errors. Once the burning process is complete, you'll have a unique DVD disc.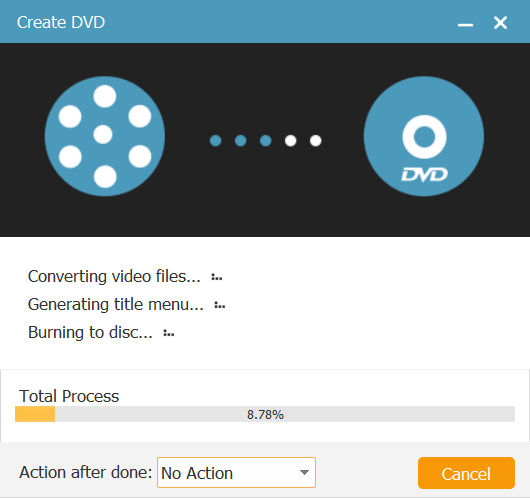 Note: VideoByte DVD Creator provides a trial version for 10 days, and then you can decide whether to purchase it.
VLC Media Player is a popular open-source tool for playing DVDs, but it has limitations on the burning job. If you do want a robust DVD burning tool, the previously-mentioned VideoByte DVD Creator is a good choice. You can use the above guide to create a DVD from each standard of MPEG 2 and almost all formats file you might have.
Besides, it offers many gorgeous functions for better DVD editing and customizing. In a word, for any work on DVD burning, VideoByte DVD Creator has you covered.