Do you want to watch DivX/XviD videos on a big TV screen? Have you ever thought of editing your DivX/XviD videos and adding a menu? If your answer is yes, I highly recommend you to burn DivX/XviD videos to DVD so that you can play them on any DVD players. Considering that you may not download and use any Divx/Xvid to DVD converter before, so I am going to show you a completed guide for converting with the best DVD creator: VideoByte DVD Creator, I believe that you can finish burning easily by following the steps below.
1. Brief Introduction for DivX
DivX is a brand of video codec products developed by DivX, LLC. The DivX codec is famous for its ability to compress lengthy video segments into small sizes but still maintaining relatively high visual quality.
There are three DivX codecs; the original MPEG-4 Part 2 DivX codec, the H.264/MPEG-4 AVC DivX Plus HD codec and the High efficiency Video Coding DivX HEVC Ultra HD codec.
2. Brief Introduction for XviD
XviD is a video codec library following the MPEG-4 video coding standard, specifically MPEG-4 Part 2 Advanced Simple Profile (ASP).
XviD is a primary competitor of the DivX Pro Codec. XviD not only is available for a limited number of platforms but also can be used on all platforms and operating systems for which the source code can be compiled.
How to Play DivX/XviD Videos
1.If you want to play DivX or XviD videos on PC, then you need to download a media player with built-in support for DivX/XviD video files such as VLC Media Player first.
2.You can also download and install DivX codecs or the XviD codecs, then you can be able to play the videos with Windows Media Player.
3.If you don't want to download VLC Media Player or install codecs, then you can convert DivX and XviD videos to DVD so that you can watch on a DVD player or PC with DVD-ROM.
How to Burn DivX/XviD to DVD
Step 1. Download and Register VideoByte DVD Creator
Before converting, you need to download VideoByte DVD Creator first. VideoByte DVD Creator can support almost all popular video formats like AVI, MPEG, 3GP, etc. Besides, you can adjust video brightness, contrast and more for a better visual experience. To download it, you just need to click the download button below.
Step 2. Add DivX/XviD Videos
In the main interface, you can find two "Add Media File(s)" icons at the middle interface and upper-left corner, just click one of them to add DivX/XviD videos to the program.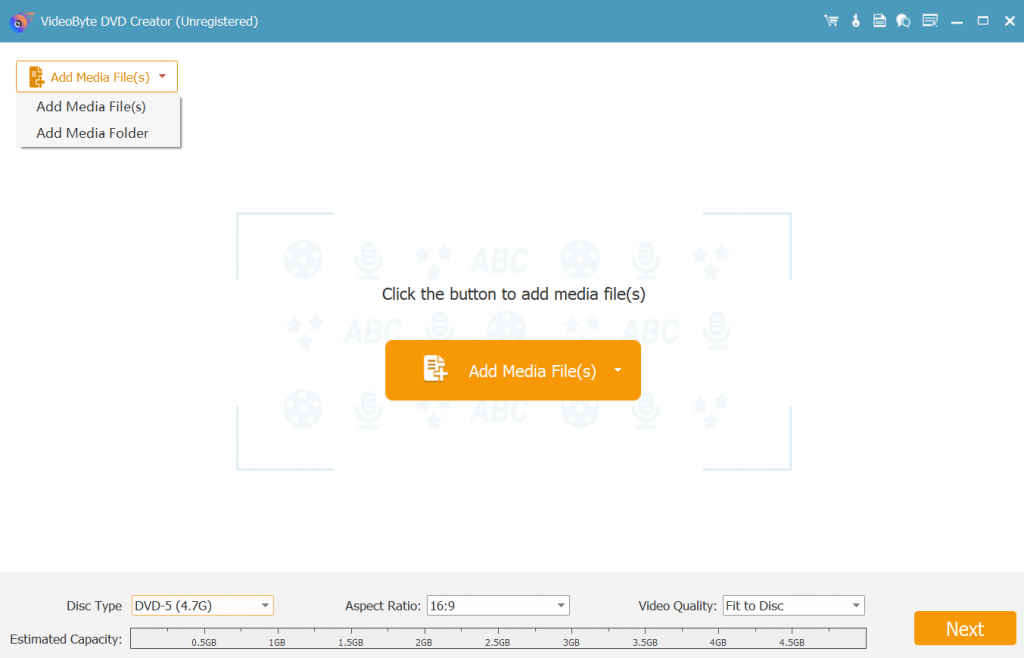 Step 3. Edit DivX/XviD Videos (Optional)
Though editing DivX/XviD Videos is an optional step, it is kind of important as you can add some visual effect to your videos. Then how to edit videos? Simple! Click "Magic Stick" icon on the right side of videos which you want to edit. Then you will find six editing options in the pop-up window: Rotating the videos, trimming the video length, cropping video, adjusting brightness, saturation, contrast or hue settings and adding watermark. When you finish editing, click "Apply" button to save the changes.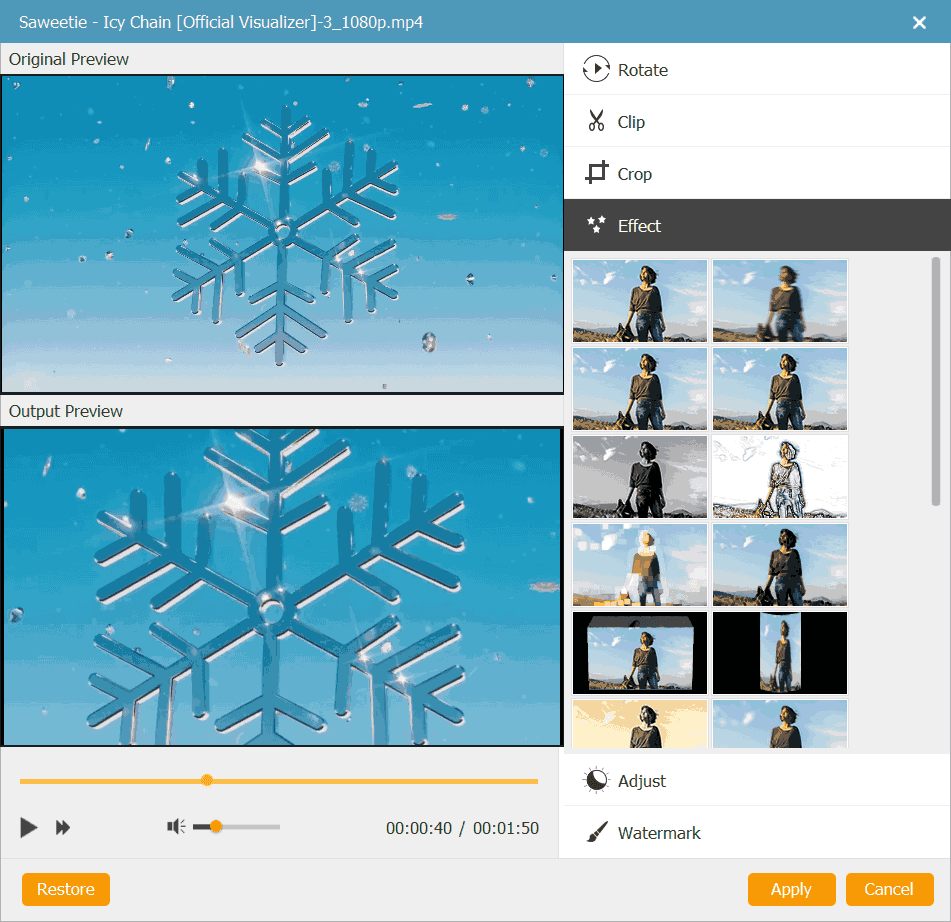 Besides, if you want to add an audio track, you need to click "Audio" button and select "Add & Edit Audio", then add an audio track, change language and adjust volume in the "Audio" section. To add subtitle, you can edit subtitles in the "Subtitle" section.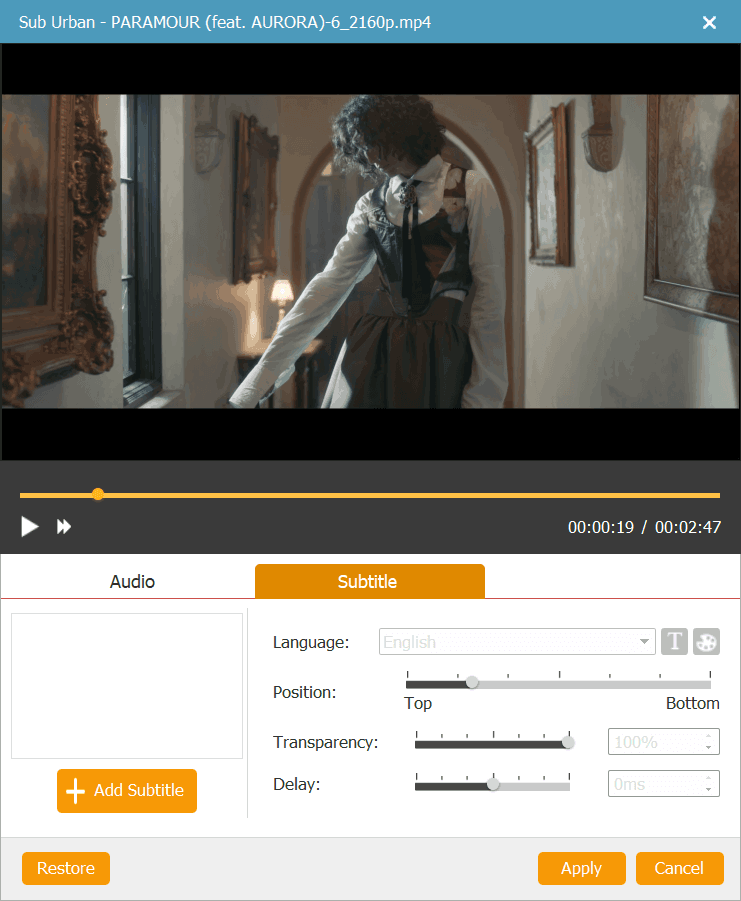 Step 4. Customize DVD Menu (Optional)
After editing videos, click "Next" and then you will find different menu templates. Customizing DVD menu is also an optional step but can make your DVD more special. To add DVD menu, you need to select one theme as your DVD menu, or if you are not satisfied with these menus, you can download more menu templates. But if you don't want to add any menus, then just click "No menu".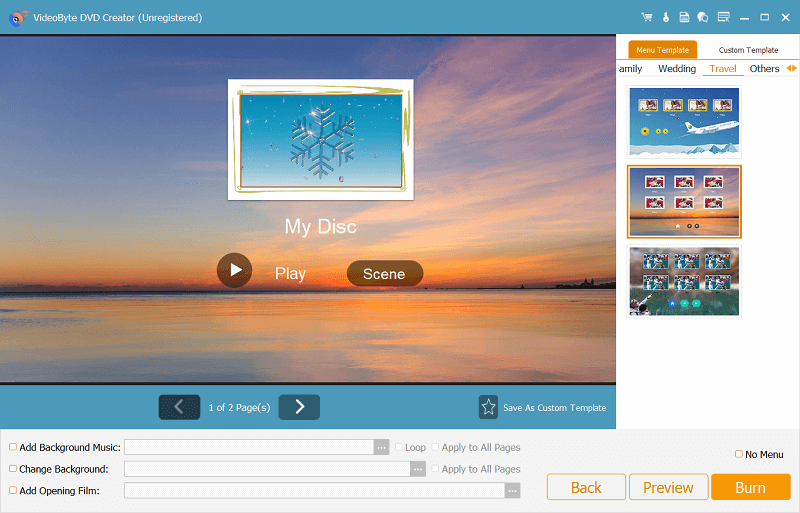 Step 5. Start to Burn Videos to DVD
At last, you just need to click "Start" to burn videos to DVD and wait a few minutes. When the conversion is completed, you will see a pop-up window, click "OK" icon. Then you can enjoy watching DivX/XviD videos on any standard DVD player. Remember that a blank disc is needed before conversion.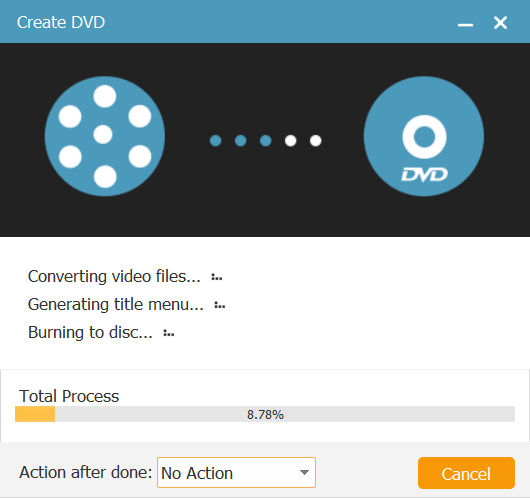 The completed guide for burning DivX and XviD to DVD with VideoByte DVD Creator is shown as above, whether you are a primary user or not, you can burn to DVD successfully by following the guide. Apart from DivX and XviD, VideoByte DVD Creator can also convert iTunes to DVD. Just download the software right now, you will be surprised by how functional it is.