Obviously, in order to play Blu-ray on Windows 7 computer, you will need a Blu-ray player software that perfectly works on Windows 7. Not only that, a good Blu-ray player should help you play any regions of Blu-ray discs, also support importing Blu-ray folder and Blu-ray ISO file. So, how to find the best Blu-ray player for Windows 7 and how to play Blu-ray on Windows 7? Read on for details, hope this article could help.
The Best Blu-ray Player Software for Windows 7
VideoByte Blu-ray Player is an excellent Blu-ray player software in the current market. It might be one of the best one. This program is specially designed for helping you play encrypted 1080P Blu-ray disc, Blu-ray ISO file, and BDMV folder on the computer including Windows 7 OS. It won't be restricted by the Blu-ray regions. The visual experience will never let you down when playing Blu-ray disc with it.
More than that, if you not only own Blu-ray disc but also have DVD disc, you don't need to find yourself a new DVD player for Windows 7, you can enjoy DVD disc by using VideoByte Blu-ray player without any trouble.
Detailed Steps to Play Blu-ray on Windows 7
Step 1. Install and Launch VideoByte Blu-ray Player
The free trial version is available for every user. You can directly click the "Download" button above to download the setup file and follow the instructions to install VideoByte Blu-ray Player on your Windows 7 computer. After finishing the installation, you can launch the program.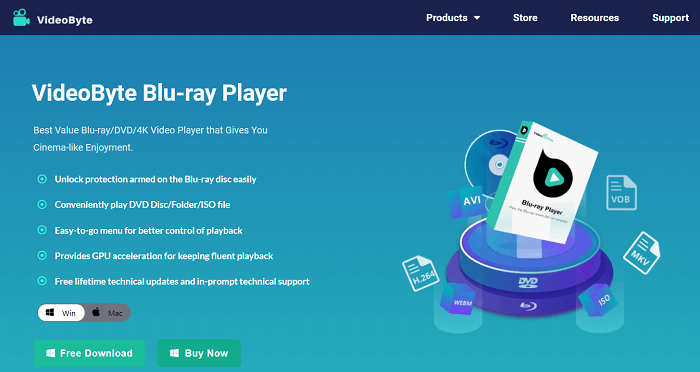 Step 2. Connect the Blu-ray Drive and Insert Blu-ray Disc
If you want to play Blu-ray disc, you will firstly need to connect an external Blu-ray drive with your computer USB ports, and then insert the Blu-ray disc into the Blu-ray drive.
Step 3. Load the Blu-ray Disc to the Program
On the main interface of VideoByte Blu-ray Player, there are two big buttons: "Open File" and "Open Disc". To open Blu-ray disc/BDMV folder/Blu-ray ISO, you need to click on "Open Disc". The "Open File" option is to play common video files such as MP4, MKV, VOB, etc.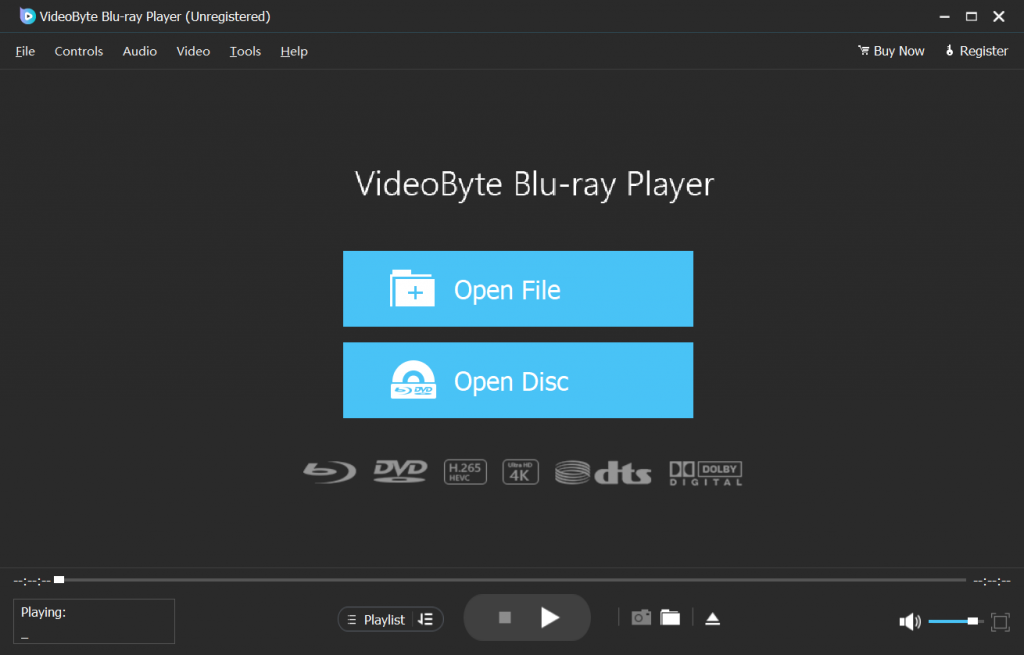 Step 4. Start to Play Blu-ray Movie on Windows 7
When this program finished loading the Blu-ray disc, you can see the menu below. Before playing, you can select another title, chapter, subtitle track, and audio track that you want to display. After that, you can click the "Play Movie" button to enjoy your Blu-ray movie on Windows 7 computer.
These are all steps to play Blu-ray on Windows 7 with VideoByte Blu-ray Player. After the installation of this Blu-ray player software, you can enjoy almost any Blu-ray movies regardless of protection and restrictions embedded in the disc with 4 steps. So what are you waiting for? Welcome to download and take a try.