Compared to DVD, Blu-ray Disc can store movies with higher quality for people to enjoy the best visual as well as sound effects during the playback. To prevent the Blu-ray Discs from being damaged or losing, people may want to backup them to a blank disc in advance. But this job can't be done directly. Instead, you would need the help of an extra tool, which is a reliable Blu-ray copy software. As a result, this article will introduce the 6 best Blu-ray Copy software of 2022 you can trust and use for backing up Blu-ray movies at 1:1 quality. Now, let's have a look.
Top 1. Best Choice: VideoByte Blu-ray Copy
VideoByte Blu-ray Copy should be the best choice if you are finding multifunctional and reliable Blu-ray Copy software. It provides a convenient Blu-ray copying function and the super-fast speed for people to easily copy Blu-ray movies from the original disc to another one without any quality loss. For all people, VideoByte Blu-ray Copy will be easy to use.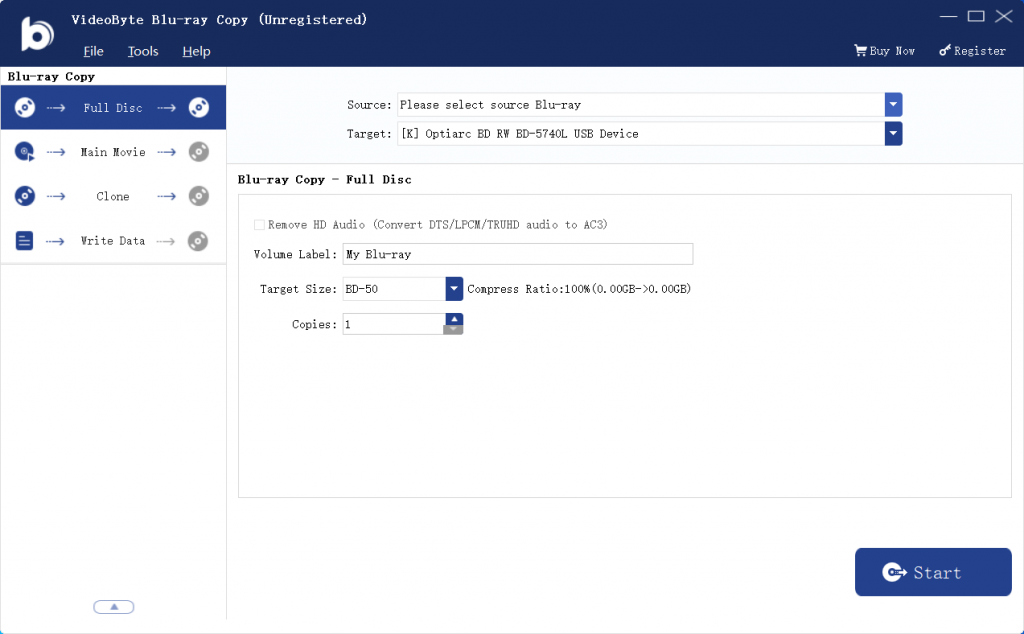 Features:
Manages different conversions: VideoByte Blu-ray Copy can clone Blu-ray movies (3D included) to hard drive or Blu-ray formats and discs.
Compresses Blu-ray Disc: VideoByte Blu-ray Copy will compress BD-50 to BD-25 without quality loss in a perfect way.
Provides different modes: Four Blu-ray copying modes supported: "Full Disc", "Main Movie", "Clone", and "Write Data".
User-friendly UI: VideoByte Blu-ray Copy is designed with a user-friendly UI, which also makes it simple to use.
Before installing VideoByte Blu-ray Copy, you need to know that the software is only supported on Windows computers now. The Mac feature is coming soon!
Verdict: VideoByte Blu-ray Copy will be the best Blu-ray Copy software with quick speed, original quality, user-friendly UI, and reasonable pricing.
Top 2. Leawo Blu-ray Copy
Operating System: Windows & Mac
Leawo Blu-ray Copy lets people easily unlock the protection added on the Blu-day disc and help copy the videos from the original discs to a new one at 1:1 quality. With a very simple UI, people will find the software very easy to operate, and the Blu-ray copying process will be finished with a quick speed. Also, Leawo Blu-ray Copy is supported on both Windows and Mac.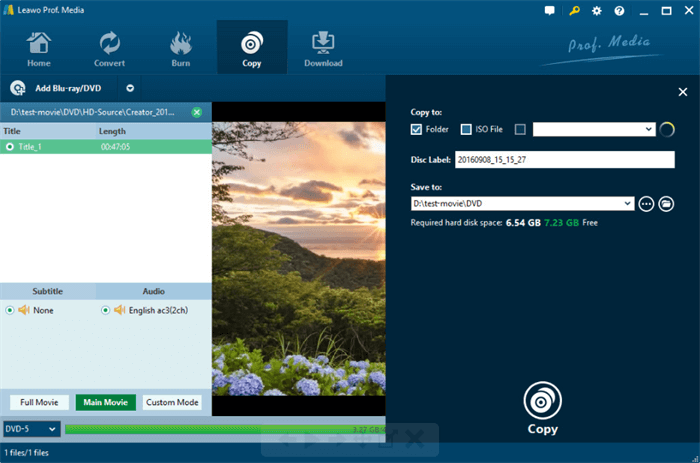 Features:
Supports copying Blu-ray at original quality
Removes protection from Blu-ray Discs automatically
Offers 6X faster speed
Provides different modes to copy Blu-ray
Verdict: Leawo Blu-ray Copy is a high-quality, easy-to-use, and reliable software for copying Blu-ray.
Top 3. DVDFab Blu-ray Copy
Operating System: Windows & Mac
DVDFab Blu-ray Copy is used by many people all over the world to copy Blu-ray on Windows and Mac. This powerful software can run fluently on both systems and provides a high-quality Blu-ray copying service to copy Blu-ray of all three formats, including disc (BD-R), folder, and ISO image file. DVDFab Blu-ray Copy is a professional tool to copy Blu-ray movies without losing quality.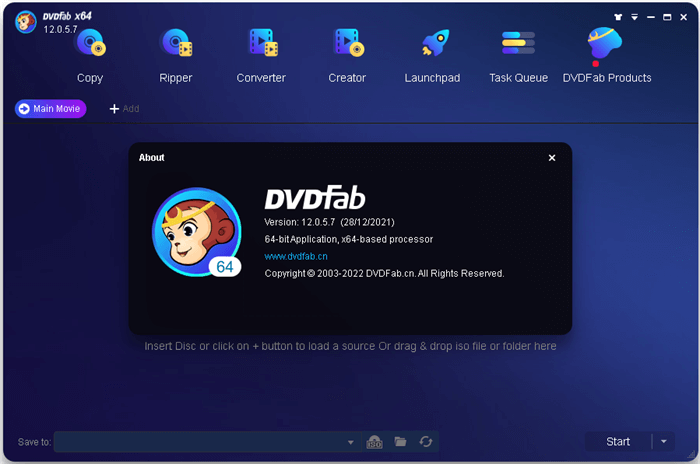 Features:
Needs very simple steps to copy Blu-ray on computers
Supports multiple languages
Provides preview window for checking the Blu-ray videos before copying
Supports to copy DVD and 4K Blu-ray as well
Verdict: DVDFab Blu-ray Copy comes with more professional features but also higher pricing.
Operating System: Windows
Blue-Cloner is also one of the most popular Blu-ray Copy software and has provided thousands of users to copy Blu-ray on computers. It supports all Windows models and is an easy-to-use software that people don't need much time in learning how to use it. Blue-Cloner can also copy Blu-ray at 1:1 original quality as the other software does. So it is also a good choice to copy Blu-ray professionally.
Features:
Supports four modes to copy Blu-ray based on people's needs
Works to copy protected Blu-ray Discs
Supports to copy 4K UHD movies
Provides free trial for all users to try
Verdict: Blue-Cloner brings effective and high-quality function to copy Blu-ray on only Windows. But the free trial provides very limited functions.
Operating System: Windows, Mac & Linux
MakeMKV may be known as the Blu-ray ripper in public, but you can also take it as Blu-ray copying software as it supports to easily copy the videos from Blu-ray Discs and save them in MKV files without losing quality. Thus, it's useful for blu-ray backup to MKV format, which is widely accepted for almost all popular video players. However, here comes the problem that this software is not updated frequently, for it has been years since its last update. But still, MakeMKV still works well to copy Blu-ray videos, and it is also a free software without the need to pay during the trial period.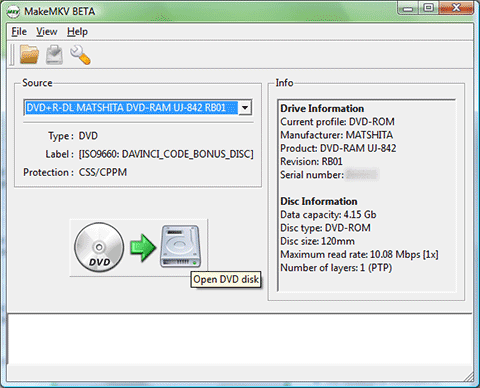 Features:
Needs no cost in using the software during the free trial
Supports Windows, Mac, and Linux at the same time
Offers stable Blu-ray copying service
Supports Blu-ray ripping as well
Verdict: Combines both Blu-ray ripper and copy in one software. But it only provides MKV as the output format.
Operating System: Windows
BurnAware is a full-featured tool providing fluent services to copy Blu-ray Discs of all types in an easy way. With BurnAware, you can easily backup Blu-ray movies at home without doing any complex jobs. The fastest Blu-ray copying speed can reach 10X faster, so you can save much time in doing the process and quickly get the copied Blu-ray content for saving.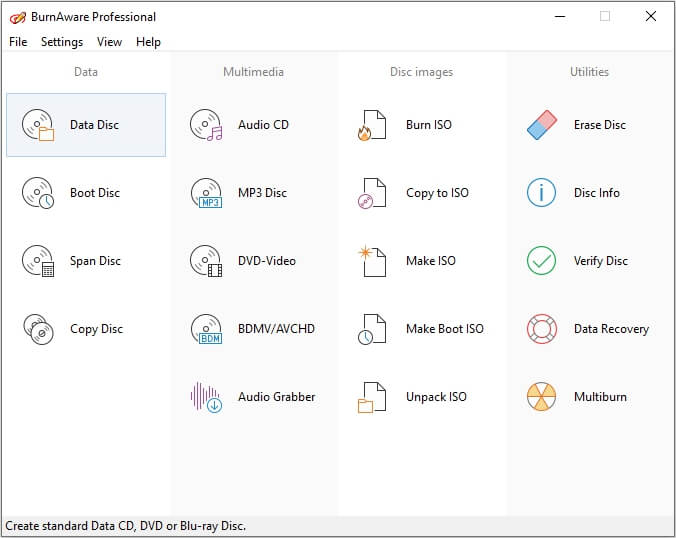 Features:
Supports to create CD, DVD, Blu-ray Discs
Saves the content in high quality
Supports data recovering to protect information
Provides the user-friendly UI
Verdict: BurnAware allows to copy different types of discs in only one software. But you can only backup the unprotected Blu-ray Discs.
FAQs on Blu-ray Copy Software
Finally, before making up your choice to select the best Blu-ray copy software to backup Blu-ray videos, you can also preview these FAQs to have a clearer understanding about this action.
As we know, Blu-ray Discs will have the protected and unprotected versions. It would be legal to copy them for saving as your personal collections or for watching personally. But if you use the content for commercial purposes, you may be against the copyright law.
How can I copy Blu-ray movies to a Blu-ray disk?
Let's take VideoByte Blu-ray Copy as an example to see how to copy Blu-ray movies to a Blu-ray Disc:
Step 1. Connect your computer with the Blu-ray drive and insert the disc to it. Then you can open VideoByte Blu-ray Copy and click "File" to "Open Disc".
Step 2. Select a mode to copy your Blu-ray movies to. If you need to copy to the disc, just choose "Full Disc".
Step 3. Then click "Start", the Blu-ray movies will be copied to a Blu-ray folder on your computer.
Step 4. Now, insert a new blank Blu-ray Disc to your computer instead and switch to "Write Data" mode in VideoByte Blu-ray Copy. You should select the inserted Blu-ray Disc as the "Target".
Step 5. Finally, press the "Start" button and the Blu-ray folder will be copied to the Blu-ray Disc.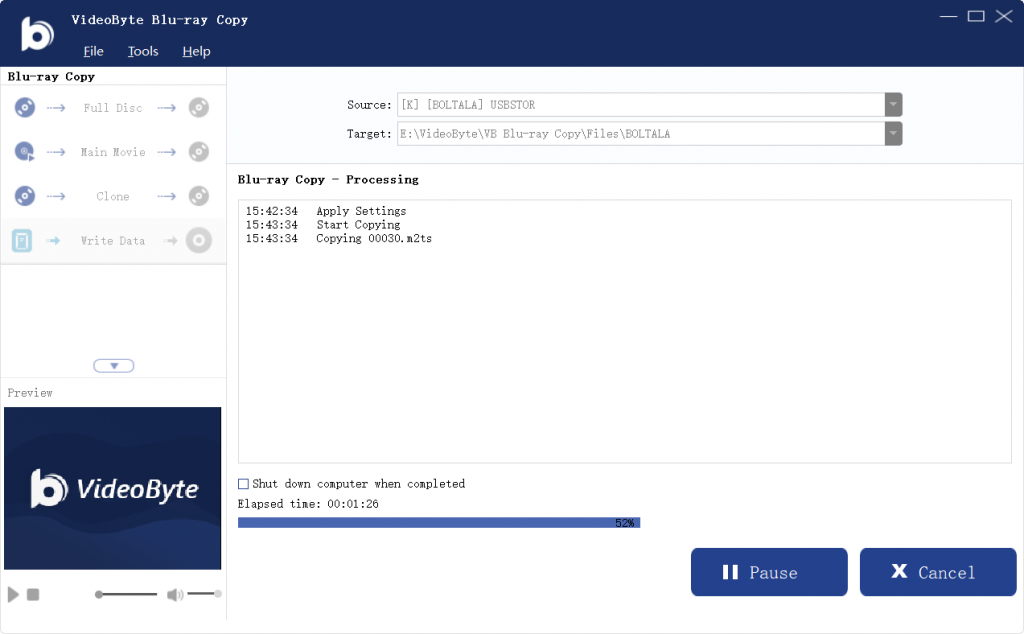 What is the difference between blu-ray ripping and copying?
Blu-ray ripping and copying have only very small differences. Copying means that the Blu-ray Disc will keep its original structure without changing, and you are just duplicating it from one disc to another disc or an ISO file. But ripping will change the media structure. The Blu-ray Disc will be ripped to other streaming digital formats like MP4, MOV, and more, which has a completely different data structure as the Blu-ray Disc.
Copying a Blu-ray movie for backup is not difficult if you get the right software to help. These 6 best Blu-ray copy software are all reliable tools to help you solve this problem. Try any of them if you need.