Physical discs are gradually replaced by virtual drives today. As we know, an ISO image is simply a virtual copy of an optical disc, storing the physical disc content. Therefore, it's necessary to find the best ISO mounter software to help beforehand because it's required to mount the ISO file before visiting the content. With it, you can directly access ISO files via a virtual drive on the computer instead of burning the ISO file to CD/DVD.
However, many people still don't know where to find the best ISO mounter software on the market and how to mount an ISO file. Moreover, although more and more sources that can be found online are saved in ISO files, not every computer can open ISO files natively.
No worry. Today we will tell you the 8 best ISO mount software for various systems here. Then, you can select one and use it on your computers without any hassle.
8 Best ISO Mounter Software You Should Not Miss
If you are looking for the best programs to mount ISO files for Windows and Mac, please keep on reading. Here is a list of the best ISO mounting software that can quickly enable a virtual drive and mount an image file.
✨Features: It offers a neat UI interface with advanced services.
💻Supported OS: Windows
DAEMON Tools Lite is one of the most well-known free virtual drive and optical disc authoring programs for Microsoft Windows and Mac OS to mount ISO files. Currently, the latest version could be DAEMON Tools Lite 11, which includes basic features (Free) and advanced features (Purchased separately).
This program can enable you to mount up to 4 disc image files simultaneously. Moreover, its advanced mounting features allow you to configure the mounting point, letting virtual devices connect to the physical ones.
Also, it supports a large number of image formats that you can use to create an image from a physical CD, DVD, or Blu-Ray disc or to burn an ISO image to a physical DVD disc. Additionally, DAEMON Tools Lite also offers many practical features to meet the needs of more people, such as a PC Image Scanner, Image Encipher, an app for sharing files, and more advanced features that require payment. If what you need is a good all-in-one ISO mounter software, then this one is for you.
Pros:
Skilled at mounting and managing ISO files quickly.
Easy to use.
Offers a well-designed user interface.
Offers a variety of advanced solutions, like Image Editor, iSCSI Initiator, Disc Burner, and so on.
Cons:
Advanced features are needed to purchase individually.
Comparatively complex to master mount ISO files for beginners.
Price:
Basic: Free
Advanced: Start with $5
✨Features: It is extremely easy to master for newbies as one of the best ISO mounter software
💻Supported OS: Windows
Just like Daemon Tools, Virtual CloneDrive is also the oldest and most popular software to mount ISO files. This software focuses on image mounting-related services with a concise and clear UI design, making no abstraction for users. As such, Virtual CloneDrive is extremely easy to use.
Moreover, it supports a variety of different image file formats like ISO to mount a virtual disc and allows up to 15 virtual drives at the same time. Once you install the software, all you need to do is double-click on the image or right-click and mount them.
Besides, this free ISO mounter software also works as an alternative to burning ISO images to a DVD or CD. Although Virtual CloneDrive doesn't have various powerful functions, it fits people who only need basic services to mount ISO images on Windows devices.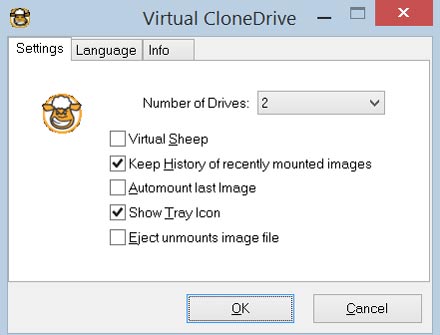 Pros
Extremely easy to use.
Keep the recently mounted history for easy access.
Supports the most popular images including ISO, IMG, and BIN.
Cons
Only for Windows devices.
Unstable ISO mounting performance.
Supported mounting formats are less than other similar software.
Price: Free
✨Features: It supports all the popular standard image file formats.
💻Supported OS: Windows, Mac, and Linux
As its name suggests, the PowerISO is a powerful and free disk image utility with a lot of superb features which can open, burn, create, edit, compress, encrypt, mount, and extract ISO files. If asking for the best ISO Mounter software, this software is definitely on the list.
It's said that PowerISO is friendly for new beginners, even for those who have never used similar software before. With it, you can open ISO files easily with a virtual drive on your computer.
What's more, this simple and advanced image processing tool can also perform extraction and edition of the data files. Then, you can extract the ISO images with a single click and burn ISO files to DVD, CD, and Blu-ray Discs with ease.
Besides, it also supports other image file formats in addition to ISO formats. Therefore, if a versatile image dealer is what you want, pick up PowerISO for the first try.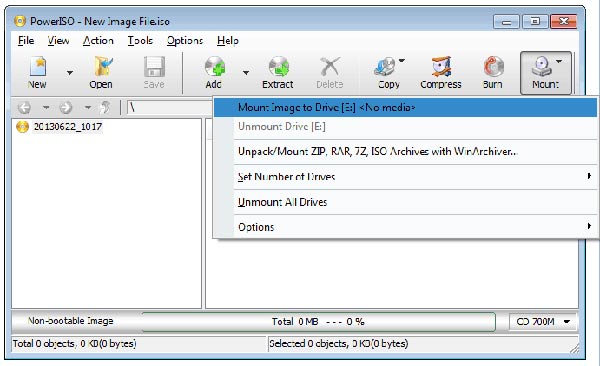 Pros
Professional solutions to deal with ISO images.
Easy to use even for beginners.
Support a wide range of image types.
Supports various helpful tools such as BIN Converter, Audio CD Ripper/Creator, and Bootable USB Drive Creator.
Cons
The free version can not deal with large files over 300MB.
Installer contains hidden malware.
Offers out-to-dated UI interface design.
Price: $39.95 one-time payment for premium on 1 device.
✨Features: It is portable to use via USB without prior installation.
💻Supported OS: Windows
WinCDEmu is an open-source utility for mounting disk image files in Microsoft Windows 10/8/7. If you have an ISO image and want to use it without burning it to a blank disc, WinCDEmu is the easiest way to do it. Unlike other similar programs, it is a one-click mounter of ISO, CUE, NRG, MDS/MDF, CCD, and IMG images.
Meanwhile, it supports an unlimited number of emulating virtual drives. Moreover, the best part of using WinCDEmu is that you can create ISO images through a context menu in Explorer, which makes the mounting process much more convenient.
Additionally, WinCDEmu is extremely small and lightweight(less than 1MB) so you can make sure it will not take up too much space and drag down the performance of your computers. And this ISO mounter software only runs when you need it rather than running all the time in the background.
Therefore, if you need portable and easy-to-use ISO Mounter software for Windows, try WinCDEmu.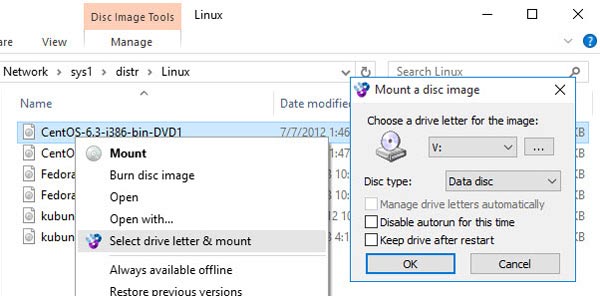 Pros
It's free of charge.
Supports all popular image formats to mount, such as ISO, BIN, and CCD.
No limitation on mounting ISO files to your Windows.
Drive letters can be managed automatically.
Cons
No technical support.
No software update for a long time.
Price: Free
✨Features: It is able to erase rewritable discs.
💻Supported OS: Windows 11 or earlier
Similar to WinCDEmu, gBurner Virtual Drive is also a lightweight software for creating and managing Virtual DVDs and CDs that can behave like physical discs. Like many best mounter programs, it also supports mounting and unmounting all popular CD/DVD image file formats, including ISO, GBI/GBP, BIN, DMG, and so on.
Moreover, this software can simultaneously read and mount up to 16 virtual drives so that users can easily access the data in ISO files on Windows, instead of swapping the discs constantly. In addition, gBurner also allows users to make some presets to get a better ISO file mounting experience, such as autostart, automount, and configuration.
Not only that, but gBurner Virtual Drive claims that this software is a novice-friendly disc image file processing software that can be a reliable image file player, creator, editor, extractor, converter, and burner. Moreover, it also has the ability to optimize file layout to save disc space.
For users who want to improve computer performance and mount ISO images, gBurner Virtual Drive suits them.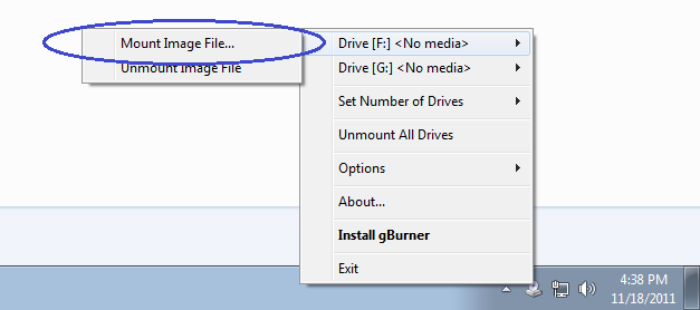 Pros
Well compatible with all disc types.
Supports up to 16 virtual drives at the same time.
Simple operations to mount ISO files.
Enable users to save videos, songs, games, software, or important data in image format.
Uses little or no system resources.
Cons
Too many limitations for free users to try out.
Designed for advanced and professional users.
Price: $39.95 for gBurner Pro lifetime license on 1 device.
✨Features: It supports not only mounting ISO image files but also downloading YouTube videos.
💻Supported OS: Linux
AcetoneISO is worth mentioning as well, especially for Linux users. It is specially designed as a small but useful open-source freeware of disc image management on Linux devices, able to mount, read and transfer common images or discs.
Working as the best ISO Mounter software for Linux, AcetoneISO is able to not only mount ISO images automatically but also save the recent 10 mounting histories for convenient reopening. Moreover, you can find a provided image database to manage the big collections. To deal with ISO file issues, you cannot miss AcetoneISO.
Besides, one more feature that should be mentioned is that AcetoneISO is also a powerful solution to download videos from YouTube and Metacafe, which other ISO mounters never have. For those who need both YouTube Video Downloader and ISO Mounter, AcetoneISO is what you need.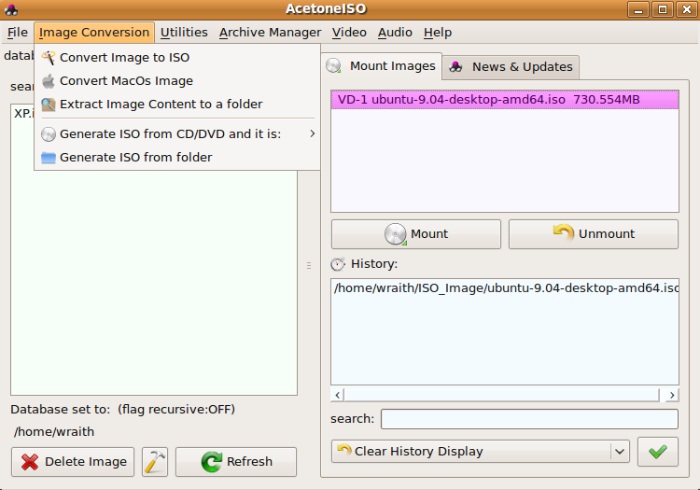 Pros
Offers auto services for mounting ISO, BIN, MDF, and NRG.
Displays history for all mounted images.
Able to quickly re-open recently mounted ISO images.
Supports downloading videos from YouTube and Metacafe.
Offers an image database for image collection management.
Cons
Copy protection mount does not support emulating.
Unable to mount the right multi-session images, only showing the first session.
Multi-session image to ISO conversion could cause data loss. Also, only the first session is successfully converted.
Price: Free
✨Features: It can keep the original structure and content.
💻Supported OS: Windows
ISO Workshop is a free desktop program to mount ISO files on Windows, serving as a professional tool to manage and convert ISO image files. To let beginners quickly master this software, it offers an add-free and intuitive UI interface with entrances for main services, including Make ISO, Burn ISO, Convert ISO, Extract Files, Backup Disc, and Copy Disc.
Then, users can easily select a proper service to mount ISO files on Windows 11/10 for later browsing.
Additionally, ISO Workshop can be your one-stop helper for your disc management as well. It supports all disc types, allowing users to burn, extract, create, and transfer ISO files to CD, DVD, or Blu-ray discs with ease. It can preserve the structure and content of the original disc while extracting, which can cause less data loss.
Thus, if you need the best and free ISO Mounter software for Windows with easy-to-grasp services, then ISO Workshop can be a satisfying choice to consider.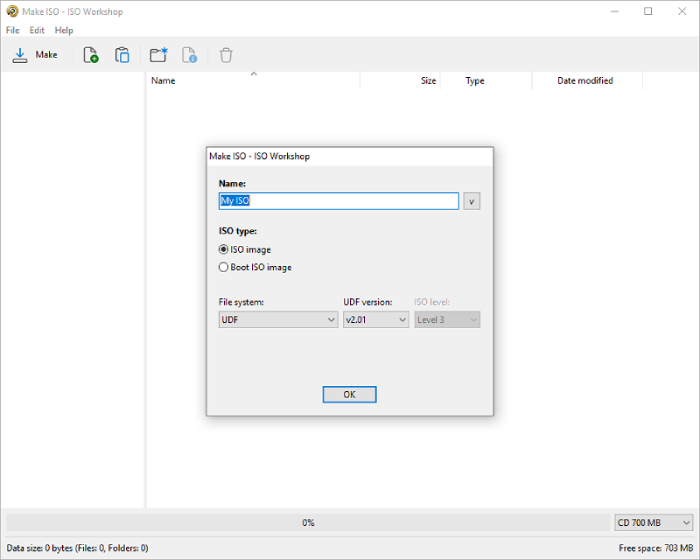 Pros
Easy for beginners to mount ISO files.
Supports a wide range of standard disc image formats.
Offers basic utilities for new hands.
Fairly clean interface design.
Few system resource usage.
Cons
Lacks advanced features.
Unfixed bugs may cause quality loss, even data loss.
Uncompetitive subscription price.
Only available for Windows.
Price:
US$29.95 for a single license with 1 year of free updates on 1 device.
US$89.95 for a lifetime license with a lifetime of free updates on 1 device.
✨Features: It supports users to share ISO files between DAEMON tools and mobile apps.
💻Supported OS: macOS
If you still haven't met the best one after reading the 7 best ISO Mount software mentioned above, then DAEMON Tools for Mac may be the one you're looking for. This software is specially designed for Apple computer users to mount all types of image files and virtual hard drives, as well as organize favorite images in a smart collection.
It allows users to set hotkeys beforehand to mount ISO files easier. Although it will take some time for beginners to get familiar with this software, once you get the hang of it, it's your best ISO file mounter software.
Moreover, one of the biggest advantages of this software is that users can share files between DAEMON Tools and mobile applications. If you want to share image files with friends when have USB or other portable hard drives, then you can try this very convenient feature.
Undoubtedly, this software combines the essential features for disk images with a wide range of tools for virtual drives, and thus, I will recommend you give it a shot.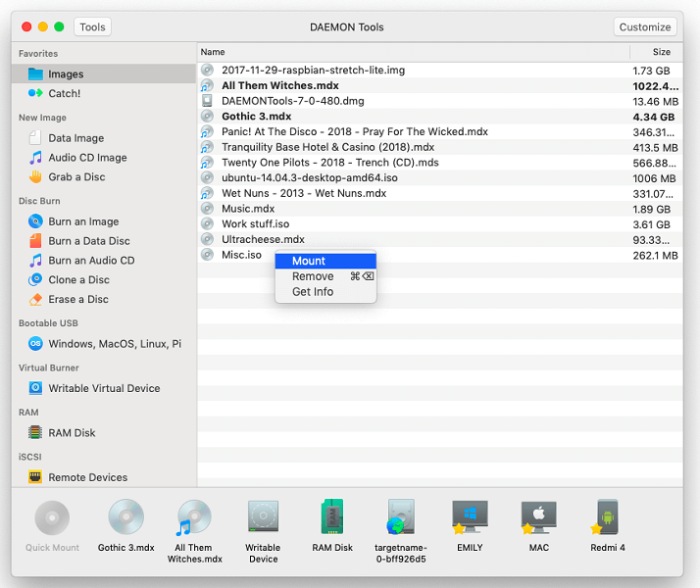 Pros
Let users deal with ISO files the same as with ordinary discs.
Supports hotkeys to mount ISO files easier.
Speed up Mac performance with low system resource usage.
Clear UI Interface design.
Cons
Possibly crash when burning image files.
Password-protected *.cdr files can fail to mount.
Comparatively, it's a bit complex for beginners
Price: Start with US$5 and US$18.99 for a full set of tools on one Mac computer.
Extra Tip: How to Mount an ISO File with PowerISO
Apart from the recommendations of ISO Mounter software for Windows, Mac, and Linux mentioned above, you may still wonder about the operation of how to mount ISO Files with an ISO mounter. To solve this issue, here an extra tip is offered for you to mount ISO files with PowerISO, taking as an example.
PowerISO has already become one of the most popular solutions for mounting ISO files at present. No complicated operations, no time waste. With this program, it's very convenient to mount an ISO file on Windows 11/10, Linux, and Mac. Moreover, there are 2 ways available for you to use this best ISO Mount program.
You can mount it using the main program, using the shell context menu, or using the PowerISO virtual drive manager. For people who start their first try, this section will show you how to mount an ISO image file with PowerISO step by step.
Preparation:
Download and install the PowerISO
Insert a disc into a PC's optical drive
Enough hard drive space
Before starting, please make sure you have completed the above preparations, otherwise, it may cause a failure to mount an ISO file. Once done, please move on to the following methods to start using this good ISO mounting program so as to mount ISO files.
Usage 1. Mount ISO File using the Main Program:
 Click the "Mount" button on the toolbar to show the ISO mounter menu. Then, select a virtual drive.
 Choose the ISO file you want to mount, and then click "Open" to mount it.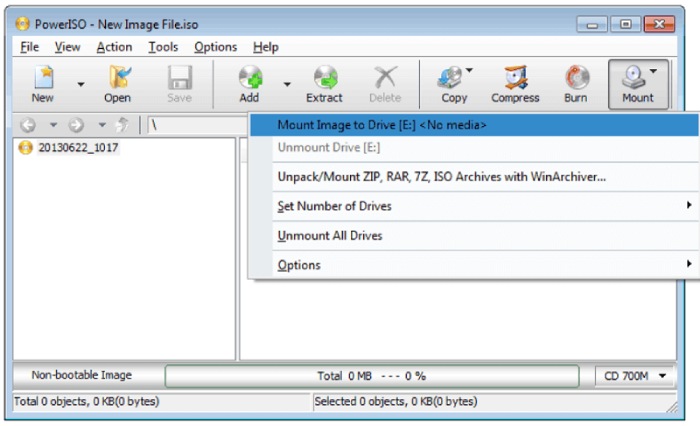 Usage 2: Mount ISO File using the Shell Context Menu:
With the ISO File
Open "My Computer" and select the ISO file which you want to mount.
Right-click on the file selected, then the shell context menu will pop up.
Choose "PowerISO" > "Mount Image to Drive[X:]" from the menu. (X is your virtual drive's assigned letter)
With the Virtual Drive
Open "My Computer" and select the virtual drive created by PowerISO.
Right-click on the drive selected, and then the iso mounter shell context menu will show up.
Choose "PowerISO" > "Mount Image to drive" from the menu.
Choose the ISO file you want to mount, and then click "Open" to mount it.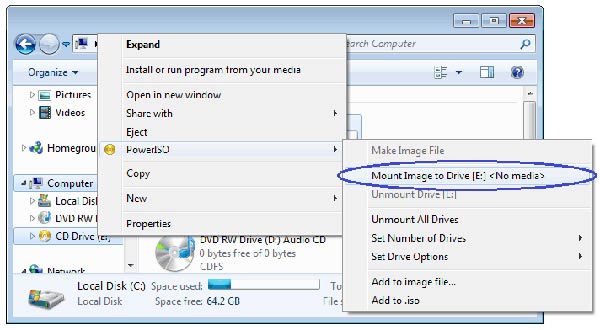 Usage 3: Mount ISO File using the PowerISO Virtual Drive Manager:
Right-click the PowerISO sys-tray icon on the bottom navigation bar, then PowerISO Virtual Drive Manager shows a popup menu.
Directly select a virtual drive from the popup menu.
Choose the ISO file you want to mount, and then click "Open" to mount it.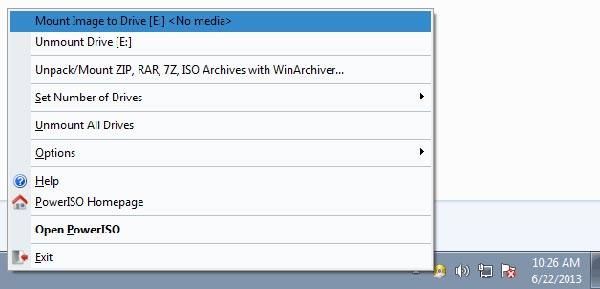 That's it! Now you've learned how to mount an ISO file with PowerISO. Then you can open ISO files with some powerful players, like VLC Media Player, and VideoByte Blu-ray Player.
So, these are the best pieces of program you can use for ISO mounting. While all the programs do have support for ISO-based image files, you can find multi-format support as well. In the light of my experience, PowerISO is the simplest and best ISO mounter software for various systems. Wish you have a great time setting up and using virtual drives!