Today, almost all commercial DVDs are protected by DRM protection, this brings trouble for the owners who want to copy them to the computer or another disc for backup and preventing them from being damaged. However, this work can't be done if you are not turning to some tools to help. Actually, the only software you will need is a reliable DVD copy software, which can unlock the protected DVDs and easily copy them to a blank disc or DVD folder. So, this article will introduce the 7 best DVD copy software to help you do this. They are all the popular choices of 2022. Let's have a look.
7 Best Free DVD Copier for DVD Backup
Each DVD copier introduced in the following would have similarities and also different advantages or disadvantages. Just based on your needs and choose the best option for yourself. Now, let's get started to check the 7 best free DVD copy software for backup DVDs on computers.
Best Option: VideoByte DVD Copy
VideoByte DVD Copy is a reliable DVD copier for both Windows and Mac with easy-to-use and user-friendly functions. It can unlock the copy protections added on DVDs so that people can back up almost all DVDs with the software. The clean UI also lets people operate VideoByte DVD Copy in an easy way to finish copying the DVD disc. You will also be surprised by its fast copying speed when it works.
Features:
1:1 quality to copy: VideoByte DVD Copy will keep the original quality to copy DVDs for keeping the content with its high quality while playback later.
Highly compatible: Supports to copy DVDs to ISO file or VIDEO_TS folder, and different DVD disc types such as DVD-5, DVD-9, DVD-R, DVD-RW, DVD+RW.
Compression and upscale: VideoByte DVD Copy can compress DVD-9 to DVD-5 or upscale DVD-5 to DVD-9 at 1:1 ratio.
l Unlock protection: The protection added on the commercial DVDs can also be unlocked during the copying process, so people can copy any DVDs with the help of VideoByte DVD Copy.
3 modes to select: VideoByte DVD Copy offers 3 modes for people to copy DVDs under different situations, including "Full Movie", "Main Movie" and "Custom".
Previewing mode: Before starting the DVD copy, VideoByte DVD Copy has the previewing window for you to check the DVD chapter condition to avoid setup errors.
Fast copying speed: People can choose the copying speed at "×2.0 - Recommended" or "Max" to save time in waiting for the copying to finish.
How to Copy DVD:
Step 1. Prepare two DVD drives and connect them to your computer if you want to copy DVD from disc to disc. You need to insert both the original one and the blank DVD disc to the computer.
Note: If you only have one DVD disc drive, you can copy your original DVD to the computer into the format of ISO file or VIDEO_TS folder first. Then you just need to insert a new blank DVD disc and copy this content to it.
Step 2. Open VideoByte DVD Copy and click "File" to "Select Source" for loading the DVD disc, folder, or ISO file.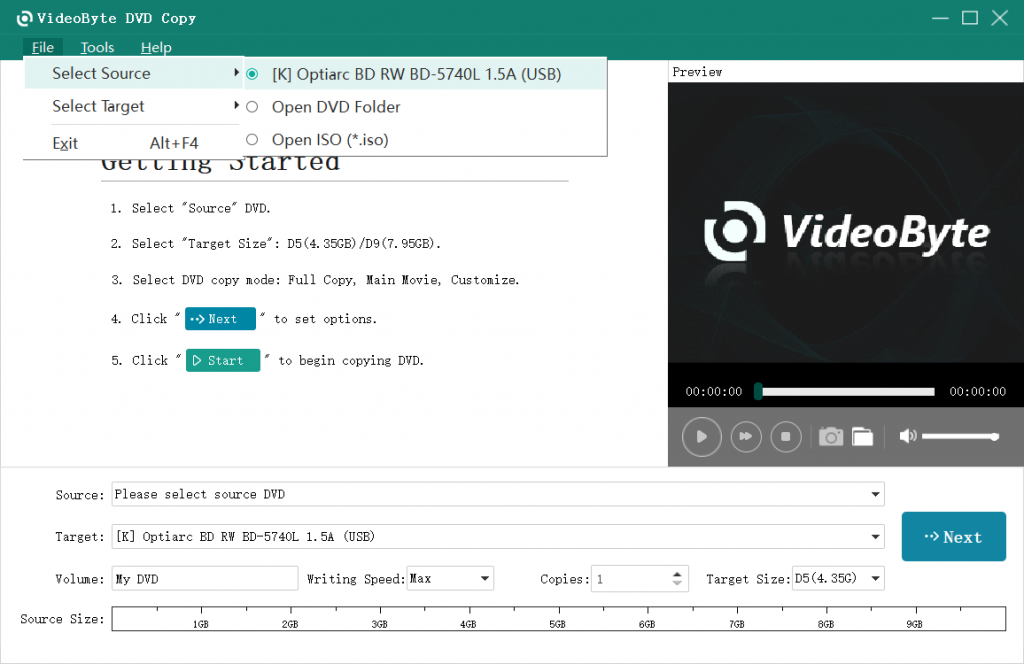 Step 3. Now, select "Targe" under "File" to output the DVD such as choosing the output disc drive.
Step 4. After loading the videos, select a mode to copy the DVD. You have three options, which are "Full Copy", "Main Movie", and "Customize". It depends on the content you need to copy.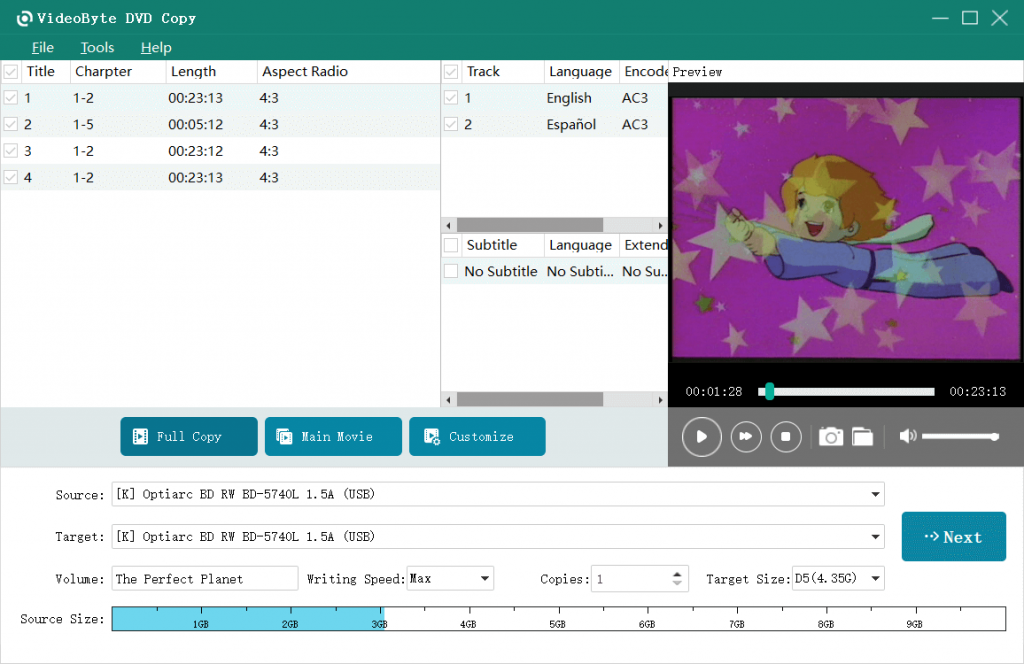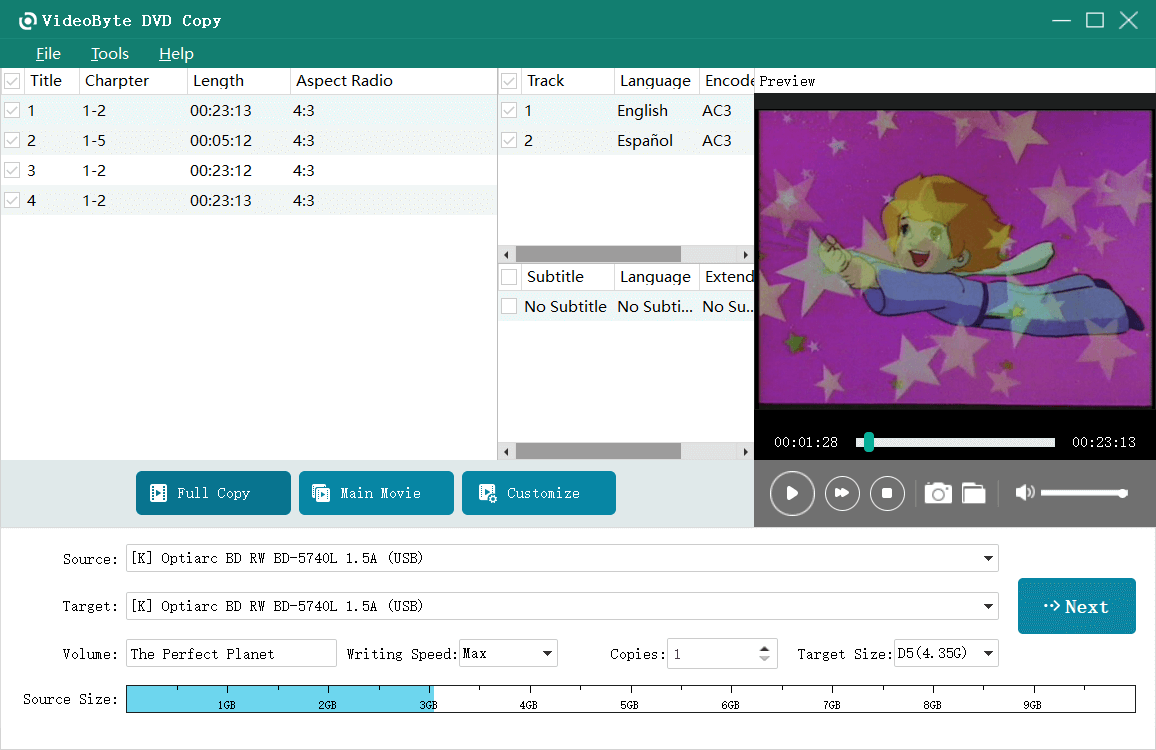 Step 5. Click the "Next" button and you can set the output settings before copying the DVD.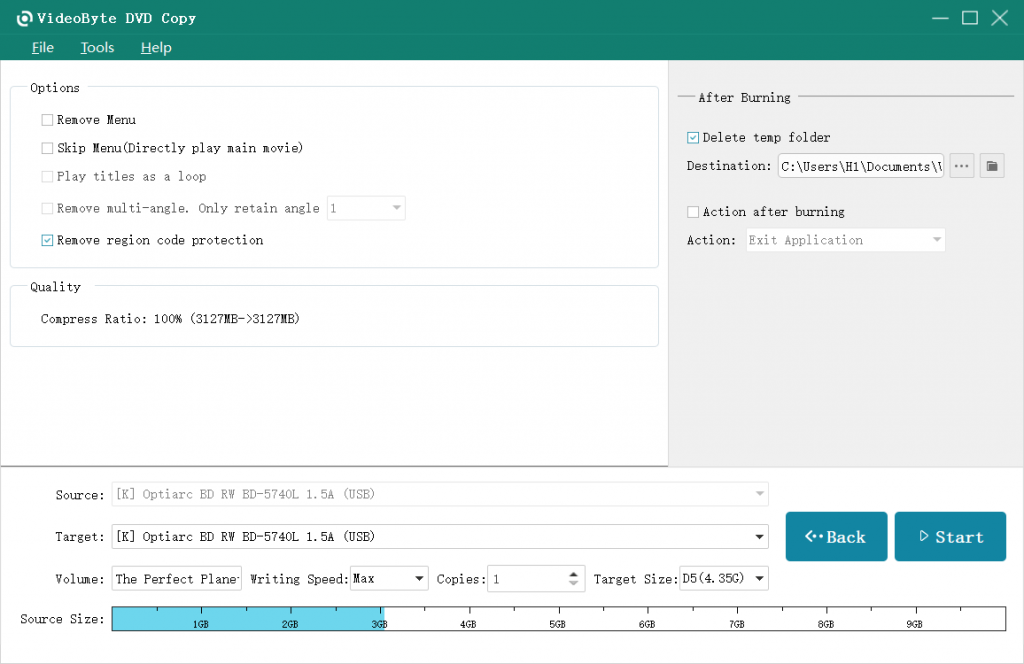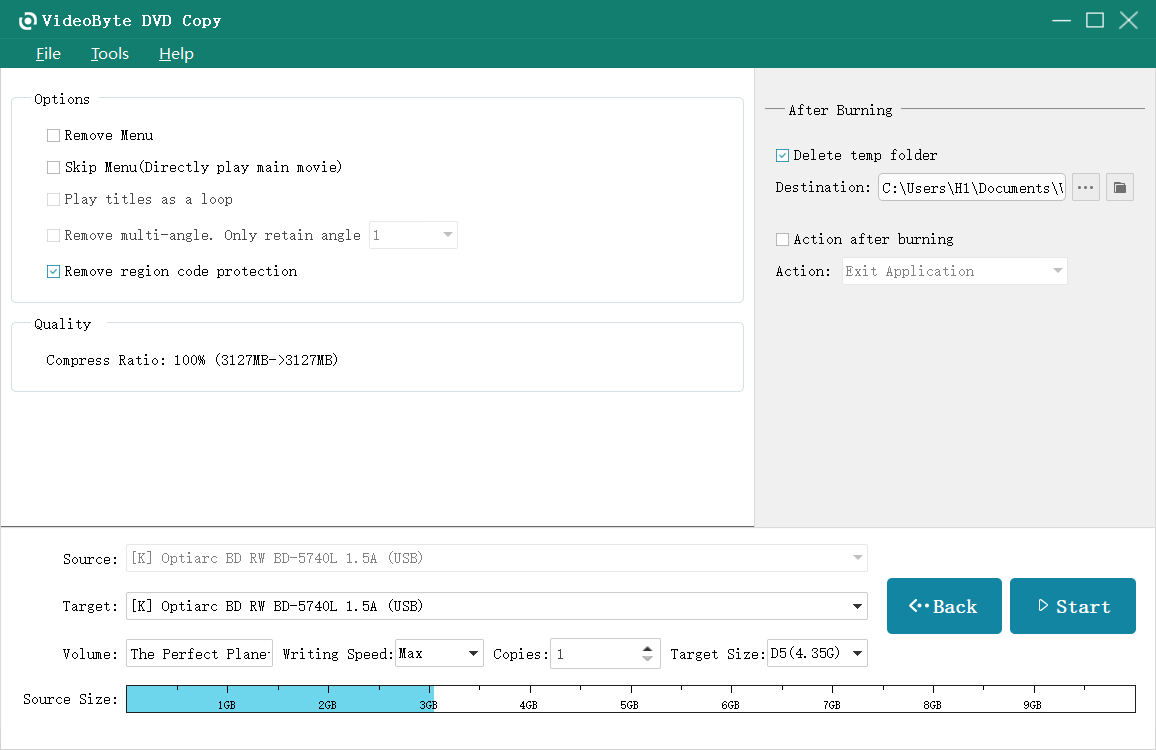 Step 6. Press the "Start" button in the final step and VideoByte DVD Copy will start copying the DVD immediately.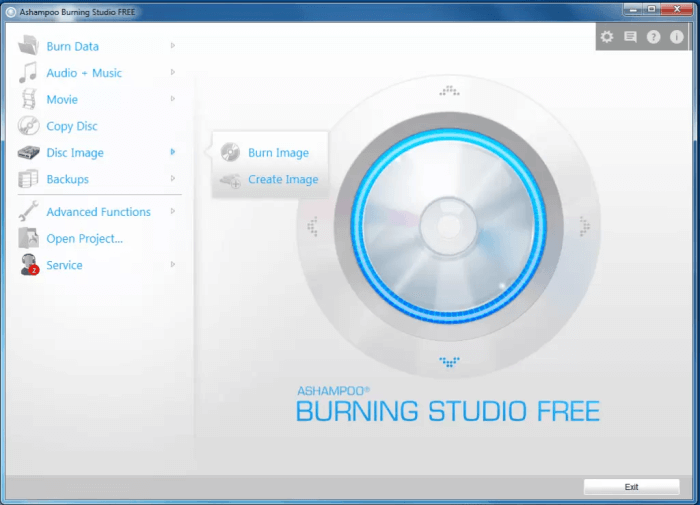 Ashampoo Burning Studio Free is a free DVD copying, burning, and ripping software providing different functions at the same time. It works on Windows 7/8/10 computers and is a free DVD copy software that needs no fee to use. This free version of Ashampoo works better at burning, which is available to burn existing video files(such as mp4 files) to DVD. You can burn 720p and 1080p movies to a disc. The software is easy to use and you don't need to waste much time handling the copying process. Just several simple clicks, Ashampoo Burning Studio Free can do for you.
Features: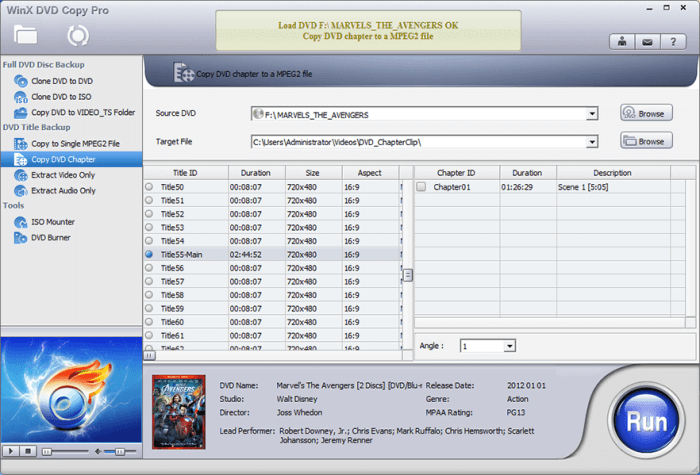 WinX DVD Copy Pro makes DVD copying a very simple process. It can run fluently on Windows computers and allows people to copy DVD without quality loss. It supports both DVD to DVD and DVD to ISO, so people just need to choose the option they need. WinX DVD Copy Pro will run fastly because it only takes small CPU, so your time in waiting for the DVD copying process can be shortened. It's highly recommended to try its free version before purchase.
Features: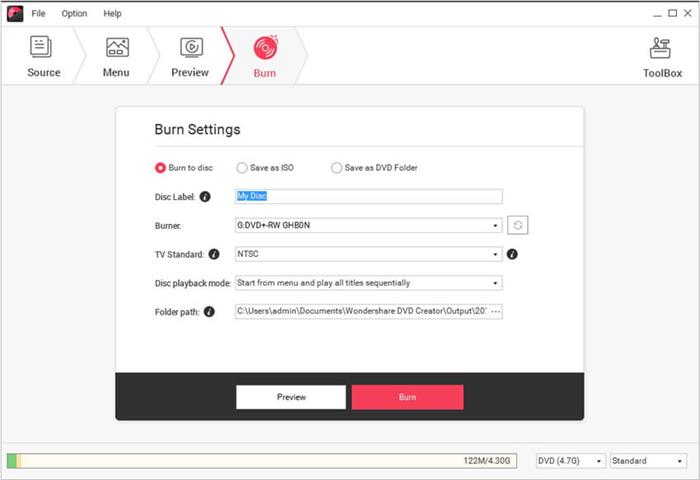 Wondershare DVD Creator is one of the best program to copy dvd. This all-in-one software for both Windows and Mac users to rip, create, or copy DVDs on computers easily. Instead of such functions, Wondershare DVD Creator also provides a powerful toolbox for people to edit the videos before copying or ripping. It can highly support more than 150 video formats and also all popular disc types. As a result, for people who want powerful software with more functions, Wondershare DVD Creator is the best choice.
Features: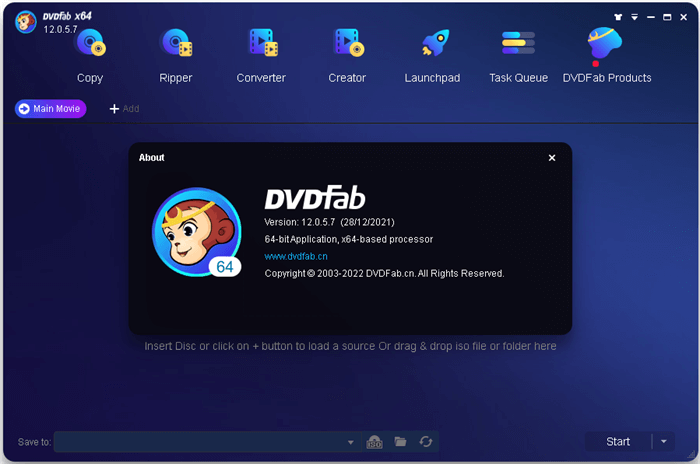 DVDfab also provides a DVD copy software for Windows and Mac users to backup commercial DVDs without worrying about the added protection. To beautify your videos, DVDfab DVD Copy provides some simple editing tools to manage the videos, such as merging and splitting. Also, it can automatically generate the meta info and also .nfo file for having better video playback or managing experiences.
Features:
Leawo DVD Copy provides very easy operation to copy abd backup DVD discs/folder/ISO to PC or disc in a safe way. It will not compress much of the original disc quality so you can get the same video playback experience after copying the content. Leawo DVD Copy also proivdes different modes for people to copy DVDs easily. This will be a helpful software to copy DVDs without wasting much effort.
Features: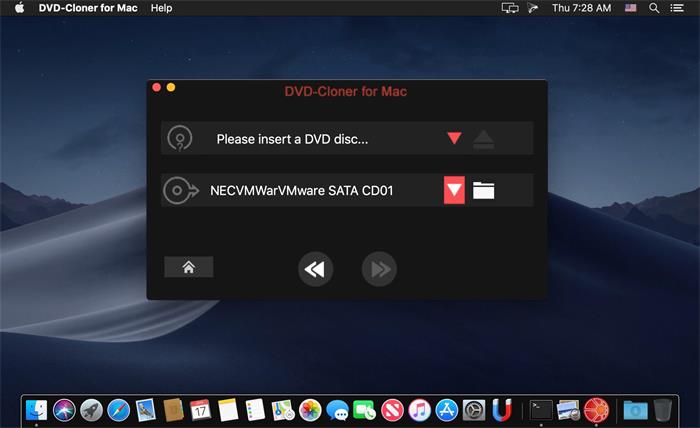 OpenCloner allows people to copy both DVD and Blu-ray discs at original quality without loss. It supports MKV as the main output format, which is a common-used one on most devices and media players. The software can also work for Windows 11, and it provides fast copying speed so that people won't waste much time waiting. It will help copy DVD in the simplest way.
Features:
Does Windows 10 have a DVD copier?
Unfortunately, Windows 10 doesn't provide people with a built-in DVD copier. Therefore, to copy DVD or Blu-ray discs, people need to find another software or tool to help, such as VideoByte DVD Copy.
How to choose DVD copy software?
Generally, people would consider three things in selecting a DVD copy software, including the fast ripping speed, original quality, and easy-to-use operations. With these factors, the DVD copy software can help you copy DVDs easily and fastly.
Will copying damage the physical DVD?
Completely no. The physical DVD will not have any influence during the DVD copying process. So you don't need to worry about damaging the physical one if you copy the disc.
Will copying DVDs affect the content quality?
This would base on the performance of the DVD copy software. If you use reliable software, the content quality will be kept as the original one. But if the DVD copy software is less powerful, the copied DVD may have slight compression resulting in lower video quality during the playback.
How long does it take to copy a DVD?
This should be based on the length of the DVD movies you are going to copy. If you use reliable DVD copy software, the process can be done at a quick speed. Take VideoByte DVD Copy as an example, it only takes a few minutes to copy a DVD longer than 1 hour.
When you need to copy DVD for backup the movies, these 7 DVD copy software are all good tools to try. They all come with advantages and helpful functions to help you copy DVD easily. You now only need to compare them and choose the best one to use.