Are you confused when you need to select an output format for ripping DVD? You don't know which output format is better to preserve the DVD contents with the original quality, or which format have better compatibility for playing on your most devices. Therefore, today we will help you to learn the best format to rip DVD with high quality.
Which Are The Best Formats to Rip DVD/Blu-ray Discs?
At first, let's learn how a movie store on the DVD disc. Due to the uncompressed video data of a full-length movie is over the storage capacity that the disc can store, the video data should be compressed to fit the DVD disc storage. And the compressed video is stored in the VOB file of DVD disc, the VOB file is an container for storage. When the video stores in DVD disc, they are encoded, most commercial discs store movies in the video compression standard MPEG-2 format established by the Moving Picture Experts Group(MPEG). Because the video encoded in MPEG-2 will keep the high quality. However, MPEG-2 is not as efficient as the H.264 or H.265 which are the two video compression standards used widely for the disc, digital media, digital television now.
Next, I will simply introduce some popular video compression formats to you which are used widely on video.
Popular Video Compression Formats
H.264/AVC supports high-quality video with small size at the low bit rate. With high compression ratio technology that more than twice as much as MPEG-2, you will save a lot of download time and obtain the best image quality. Because of that, video data compressed by H.264 requires less bandwidth during network transmission and more economical
H.265/HEVC also called High Efficiency Video Coding. The coding architecture is similar to H.264, but it can save about 50% space than H.264 with the same high quality. If you want to rip 4K or 8K videos, it's the ideal choice.
MPEG-4 is a method of defining compression of audio and visual (AV) digital data. MPEG-4 encoded video files are much smaller compared to MPEG-2. With the high rate of compression and smaller file sizes, MPEG-4 can keep the high quality video and audio across multimedia streaming applications on the Internet.
In order to preserve the smaller size of video files with original quality and then playback on digital devices or the internet, there have various digital multimedia container formats available. Next, we will list some container formats which are better to contain most video/audio compression formats.
Matroska/MKV supports contain many video and audio compression formats as well as subtitle streams. It supports selectable subtitles of ASS/SSA, and also may keep the tracks for selecting. Moreover, it can offer extra features, such as chapters, titles, tags, menus.
MP4 is also the digital multimedia container format which mainly contains videos, audios and images. It supports most of video and audio coding, such as MPEG-4, H.264, H.265, AAC, ALAC as well as some subtitle compression formats. MP4 is widely used and it can be played on almost all media players, whatever PC or mobile device. Especially good for mobile device.
FLV(Flash Video) is a container file format that has used widely with the abundance video websites, like YouTube, Google Video, MySpace. Through the Adobe Flash Player and web browser plugin or one of several third-party programs, Flash Video can be played on most operating systems. But IOS devices and all other mobile devices cannot support the Flash Player plugin.
Video_TS (MPEG2-TS/transport stream), a video format which contain all the DVD information. This format generally used for High Definition Television(HDTV). So you can rip Blu-ray disc into Video_TS format to watch home movie. But it will take a long time to convert because Blu-ray disc has high capacity.
From the above introduction, we know Matroska, MP4, FLV, Video_TS, etc. are the container formats rather than the media formats. With excellent compatibility, some container formats can be saved by different suffix names. And these extension names are often said the "output format".
| | |
| --- | --- |
| Requirement | Best Choice(Video Format) |
| Watch on PC | .mkv, .mp4 |
| Watch on Mac | .mov |
| Watch on Android Phone | .mp4 |
| Watch on Apple iPhone | .m4v |
| Uploading to YouTube/other video sites | .mp4, .flv |
| Save on External Hard Drive | (Sometimes Blu-ray disc will be ripped to this format because Blu-ray needs large storage.) |
I believe you can select the proper format to rip DVD to digital format after learning the knowledge about video format. Furthermore, an excellent DVD ripper is the best solution to digitize DVD, next we will share you the best choice and show you how to convert DVD to the format you need.
How to Digitize DVD to the Format Your Need Easily
We tested some DVD rippers and picked one, which is an amazing and good-value program, that is VideoByte DVD Ripper. Which supports over 300 formats for iPhone, iPad, Android, TV, or other digital devices. With advanced conversion technology, you can select any video format to rip DVD with high quality.
We will give an easy guide for you, let's start to learn how to rip DVD to digital format.
Step 1. Insert your DVD disc into the DVD drive of the computer or the external DVD drive. Before that, you should make sure the DVD drive can work. Then launch the program and click "Load DVD disc", you can see the interface display the overview of DVD files.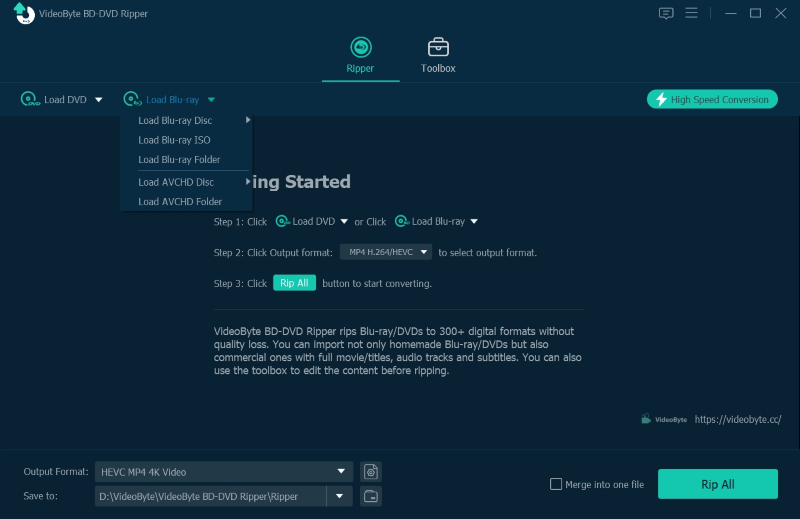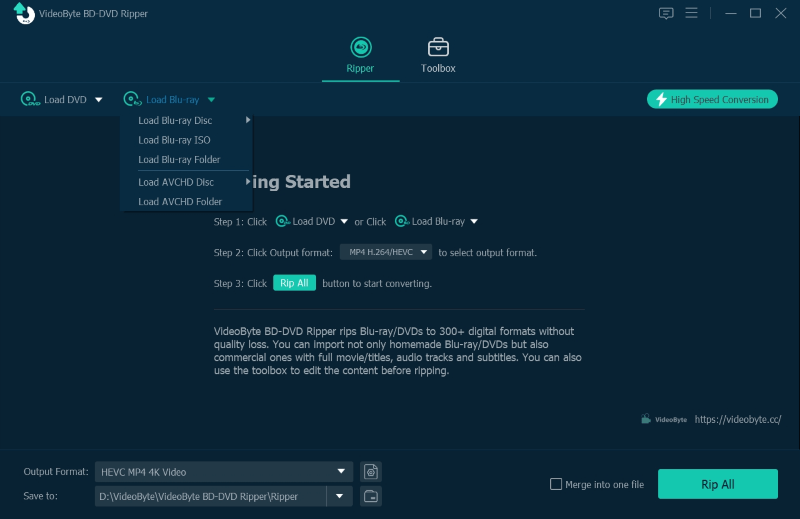 Step 2. Click on the downwards arrow of "Profile". You will see the pull-down list which has various formats for different digital devices. After that, you can choose the digital device you need and select the video format to digitize DVD. Or you can choose the "General Video" as well as "All Profiles" and select the common video format, such as ".mp4".
Everything is prepared, click "Convert" and you just need to wait for the finish.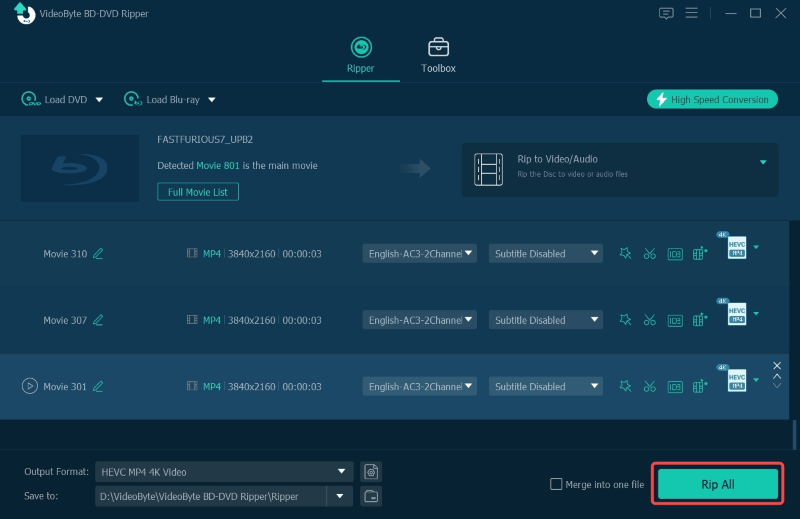 And if you have any question while you use the program, you can read other tutorials, such as
Anyway, it's very easy to digitize DVD by using VideoByte BD-DVD Ripper. Of course, selecting the best format to rip DVD disc with high quality can perfect the video. I hope this article can help you find the best format to match your digital devices.