DVDs are easily scratched. Once they are damaged, they can't be played, which is a heart-broken issue for DVD collectors. But everything will be OK if you back up them with DVD copy software. In this article, we have collected the 7 best DVD copiers to make DVDs backup on Windows or Mac as easy as ABC. Now, let's go over them one by one.
It is very important to choose a reliable DVD copier to help you get the backup done. Thus, the top software we want to show you is VideoByte DVD Copy, which can clone a DVD to another blank disc with 1:1 original quality in simple steps. You can also load and copy DVDs to the computer as DVD/ ISO files. So, it's a piece of cake for you to burn these files to a DVD anytime you want, even when the original one is scratched or damaged.
With VideoByte DVD Copy, you can choose to copy the whole DVD, movie-only, or any part of the DVD you like as it comes with three different copy modes. Its built-in DVD player can make you preview the content without hassle before the copying process.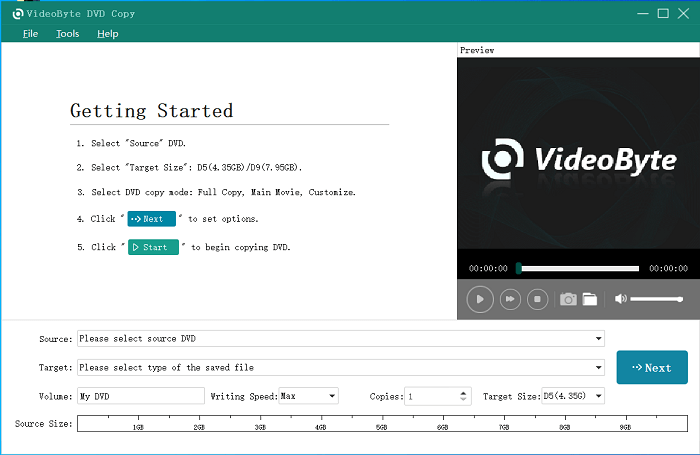 Pro:
Compatible with both Windows and Mac operating systems.
Backup DVDs to ISO image files with only three steps.
Clone DVD videos to a new DVD disc in a 1:1 ratio.
Burn the local DVD files or ISO images to a DVD disc.
Compress DVD-9 to DVD-5 or copy DVD-5 to DVD-9
Three optional modes: Full Movie, Main Movie, and Custom for copying.
Cons:
If you want to copy a DVD on Windows with the best quality, Magic DVD Copier should be your best bet. It can remove all restrictions on DVDs and copy DVD movies to a computer hard drive with no hassle. The entire backup process only takes 20-40 minutes. Then you can get the same movie on your hard drive without any loss of quality. It can also compress a DVD9 movie to fit on a 4.7 GB DVD. What you have to do is to insert a DVD and a blank DVD and press "Start", everything will be done automatically, saving both time and effort.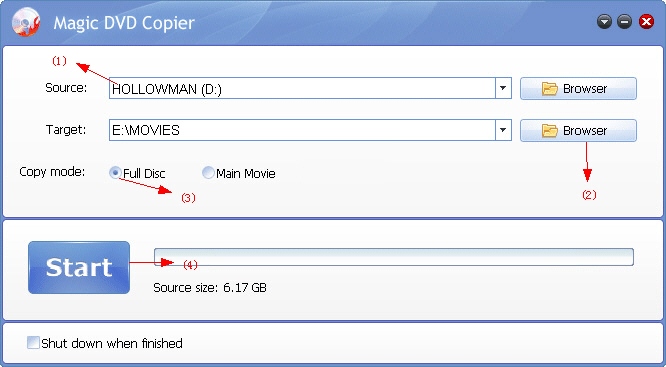 Pros:
Compress a DVD9 movie to a 4.7 GB blank DVD.
Split a DVD9 movie into two 4.7 GB blank DVDs.
Copy the main movie or specified titles only.
High speed, save time and effort.
Copy  the DVD movie to the hard drive and burn the DVD movie from the hard drive.
Cons:
No built-in DVD player for previewing.
You can't run it on a Mac.
Lower quality of compressed copy compared to other software.
WinX DVD Copy Pro is another easy and powerful DVD copy software tool. It is so considerate that offers 9 modes, taking all your DVD backup needs into account. You can copy DVD to DVD, DVD to ISO image, and DVD to VIDEO_TS folder flexibly. To better manage and save the DVD movie, you can copy and store the content on a hard drive, NAS, or even cloud storage. With the support of all kinds of DVDs, you can easily make a perfect copy by just clicking once. It wins over other similar products with an intuitive interface, multiple copy modes, broad DVD-type support, fast processing speed, and high output quality.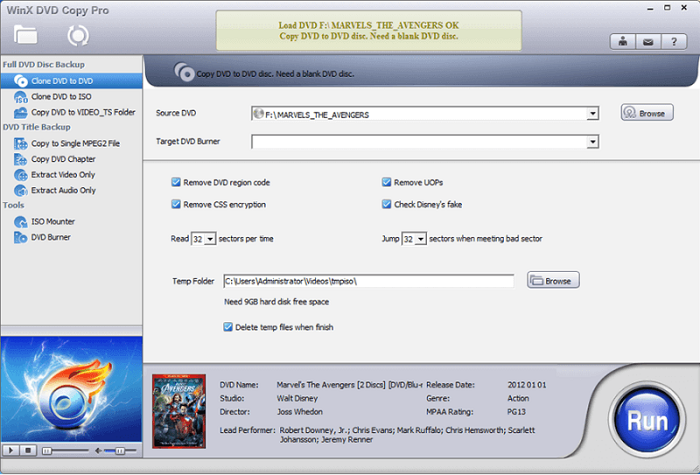 Pros:
9 modes are available for various backup needs.
Make an exact copy of a DVD with 1:1 original quality.
Fully maintain DVD menu, all subtitle tracks, and audio tracks in copy version.
Cons:
The program is only available for Windows.
No built-in DVD player for previewing and editing before copying.
DVDFab DVD Copy helps in offering DVD copy and burn features with 6 modes. It is an all-in-one solution, allowing you to remove all known copy-protections and copy DVDs freely. The software is well known for its high customization. Providing various personalized settings to backup DVDs, you're allowed to change languages, remove unwanted content, copy any part of the chapter, adjust the burning speed, etc. to produce the excellent output that you want. As it has a full range of features, it is a bit complicated to handle. If you don't have any technical skills, it may take some time for you to learn the program.
Pros:
Running on both Windows and Mac.
Copy any DVD free in batch at a lightning-fast speed.
Compress a DVD-9 to a DVD-5 for storage saving.
6 modes are available to meet your preferences.
Clone DVD-9 with lossless video and audio quality in a 1:1 ratio.
Cons:
Pure DVD Copy only.
You may take some time to learn it.
123 Copy DVD does a very good job of preserving and protecting your valuable movie collection and making backups of all your DVDs. It's a long-lasting program that has been developed for about 10 years. Running smoothly on Windows XP/Vista/7/8/10, it allows you to burn your DVDs from the PC video files. Aside from copying DVDs, it also can remove ads as well as burn videos from the internet to mobile devices like iPhone, iPad, and Android phones. Its UI is super intuitive and straightforward. You can easily see all the features it provides.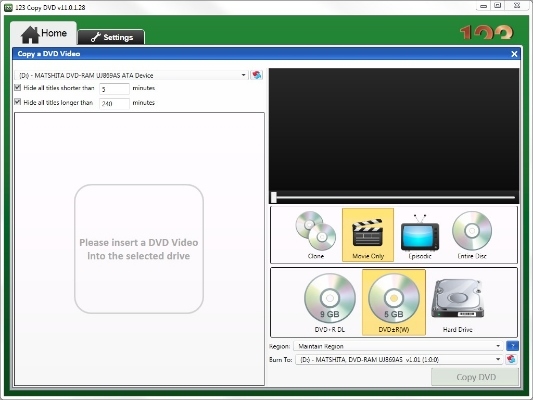 Pro:
Copy any DVDs to DVD+-RW, Dual Lay DVD+-R without damaging the initial DVD.
Burn ads as well as videos from the internet.
Choose the right and readable format automatically.
Archiving important files, movies, and pictures to other discs and DVDs.
Cons:
Limited supported operating system.
Limited features.
Available for some countries only.
DVD Cloner is an all-in-one DVD/Blu-ray/UHD copy software, which enables you to make perfect 1:1 copies of your favorite videos. With one click, a DVD-9 movie can be copied to a DVD-5, DVD±R/RW disc. It can save your DVD and Blu-ray disc in MKV format, featuring Dolby HD Audio, HDR Video, and the same quality as the source disc. Therefore, you can watch the DVD movie on portable devices at any time. This program also has a macOS version, allowing you to copy unprotected DVDs on Mac with ultra-fast performance.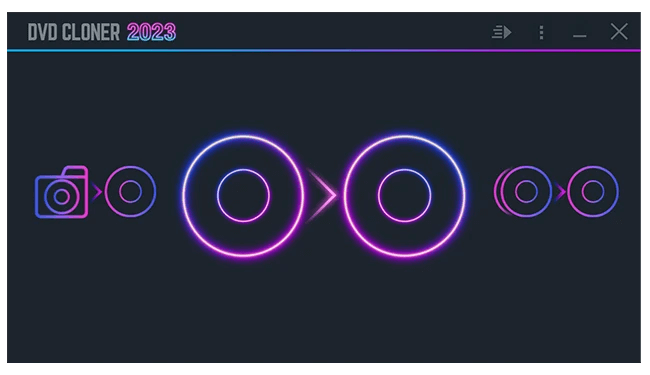 Pro:
Easy to use with intuitive modes.
Flawless copies of scratched DVDs.
Rip DVD, Blu-ray, and UHD with the same quality as the source disc.
Compatible with Windows and Mac.
Flawless copies of scratched DVDs.
Convert DVD movies to various formats.
Cons:
Not user-friendly.
Free trial version for only 7 days.
1Step DVD Copy is the last simple and flexible tool on our list. It allows users to copy, back up, or rip DVDs. This feature-rich DVD software can help you clone your entire DVD collection to a PC for easy access to all of your movies at nearly the same quality and only 10% of the original size. You can even copy DVDs to DVDs or your portable devices like iPod and iPhone and enjoy them anywhere. Whether protected or unprotected DVDs, 1 Step DVD Copy can do a nice job for DVD copying needs.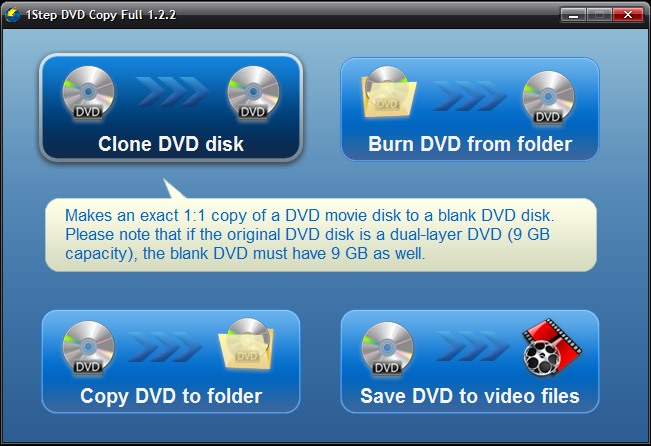 Pro:
Customizable settings for video, audio, subtitle, and output format.
Copy DVD with near original video quality at only 10% of space.
Offer a complete solution for copying DVDs to PC, DVDs, portable media, or DivX.
Cons:
Do not support copying DVDs to ISO files or other virtual discs.
Why do you need DVD copy software?
With more and more convenient media streaming platforms like Netflix and Amazon available in today's world, DVDs are not as popular as they used to be. The use of the DVD is more a memorial to the past than it is a function of it. There are probably a lot of DVDs left in your home, and it would be a pity if they can't be played anymore. Therefore, it's necessary to select a DVD copier to help you solve this problem. You can choose to copy the DVD movie to your computer, or you can prepare a blank DVD and clone the source disc to it.
What should be considered when picking the best DVD copy software?
Though there are many DVD copiers available on the market, not all of them are helpful. If you want to successfully copy a DVD, you'll need DVD copy software with excellent performance. So, how to choose the best DVD copier? Here are some important criteria.
The best DVD copier should value output quality. So, check whether the software can copy at a 1:1 rate with lossless quality.
The speed of copy directly affects the copy efficiency, so it is very important to see whether the program can complete the copy task in a short time.
In addition to the basic copy function, the best software is better able to provide diversified and personalized services to meet the different needs of users.
Supported operating system
Some DVD copiers support only a single system. The best software should be able to be compatible with as many systems as possible.
A reasonable price is also very important. If a piece of software is too expensive, not all users can afford it.
The best DVD copy software should be user-friendly as not most users have no technical skills.
How to Copy DVD to DVD with the best DVD Copy software?
Based on the criteria mentioned in the previous question, we still recommend VideoByte DVD Copy. So, let's show you how to use this software to copy a DVD to a blank DVD. It's extremely easy to follow.
Step 1. Launch VideoByte DVD Copy on your computer
Firstly, download and install the copier on your PC and click "Order Later" if you just want to have a test.
Step 2. Prepare two discs and two drives
Then, prepare the source disc and a blank disc. And insert them into the two drives.
Step 3. Load source files
Click on the "File" button on the upper left screen and then "Select Source" to load your DVD disc, ISO image file, or DVD folder. After a few minutes, the loading will finish.
Now, you can go to "Target" to select the file format you want to output and select the disc drive which contains the blank disc. VideoByte DVD Copy offers three modes. Choose a mode according to your needs.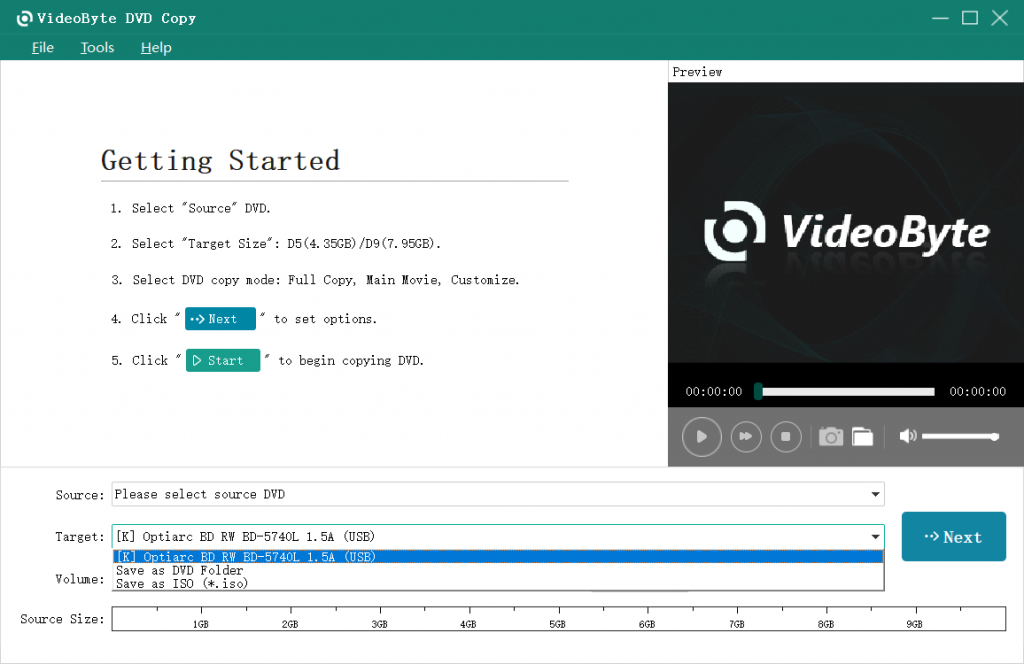 Step 5. Set Output Options
Click on the "Next" button and then you'll go to another window. Here you can enable or disable some settings such as "Remove Menu", "Remove multi-angle", and "Remove region code protection" based on your situation.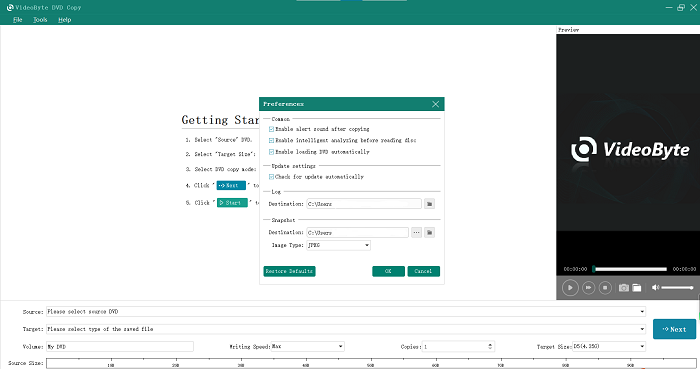 Step 6. Start the copy process
Finally, click the "Start" button to start copying your DVD movie to a blank disc.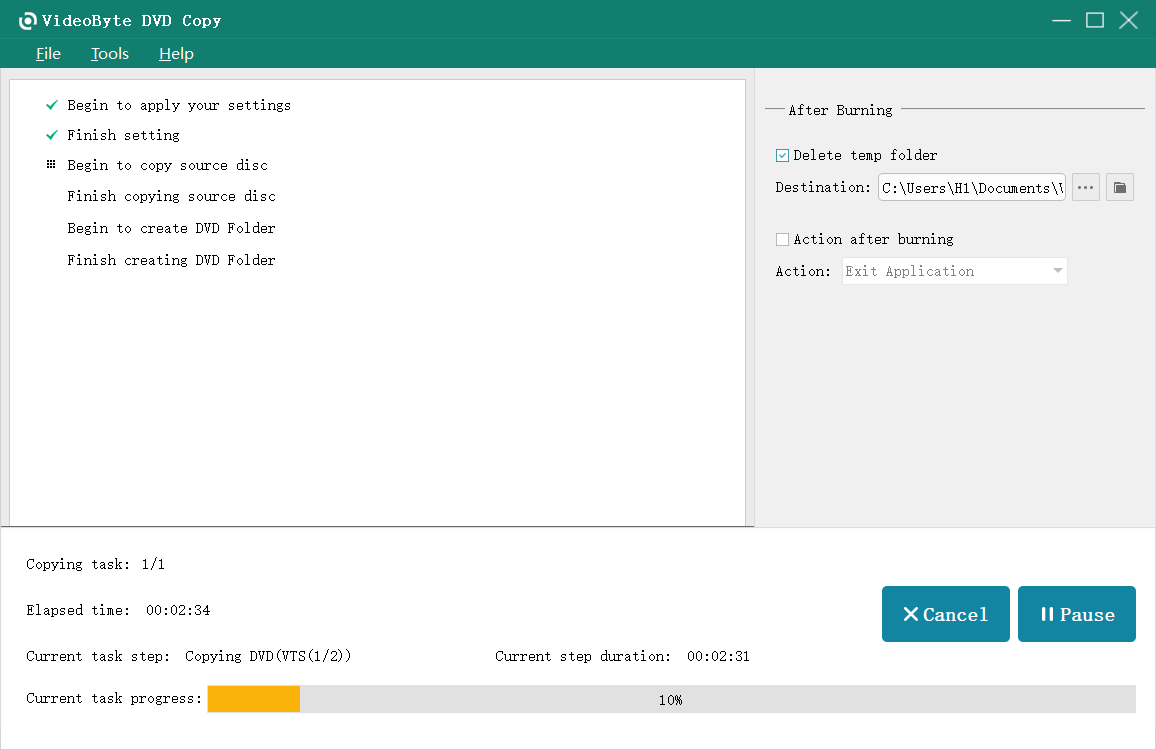 These are all the 7 best DVD software we want to show you. They all have their highlight features, advantages, and disadvantages. Overall, VideoByte DVD Copy is the most recommended as it supports both Windows and Mac systems, and has full functions to meet users' various backup and copy needs. Its interface is intuitive and is also easy to use. Now, download it and have a try.