The invention of 4K Ultra HD has greatly facilitated the stunning video streaming experience for people, especially during this era when multimedia content plays an important part in people's life. This resolution is designed with the 20/20 vision concept, which is able to reach better capabilities than human eyes.
Nevertheless, a frustrating fact is that not all devices or built-in media players can support the playback of 4K UHD videos. Therefore, external helps are required. This post will provide the 5 best 4K Blu-ray player software and the top 3 hardware to you. Hope you can find the best partners to enjoy 4K Ultra HD videos on computers enjoyably.
Part 1. What is 4K Blu-ray
4K display, also stands for Ultra HD Blu-ray, refers to a digital optical disc data storage format that can deliver higher video streaming quality than standard Blu-ray to viewers. A 4K display provides at least 8 million active pixels.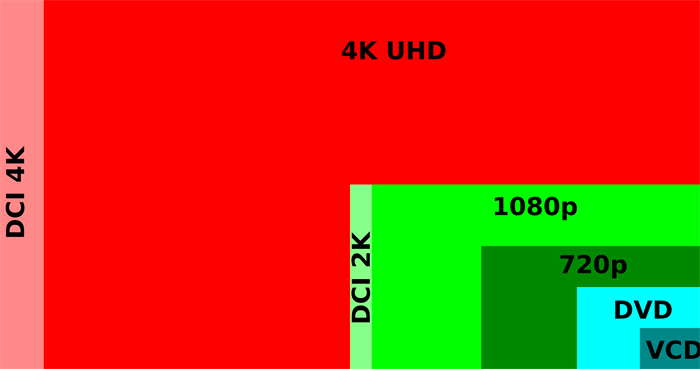 For televisions, the stand resolution can reach 3,840 by 2,160. By comparison, the digital cinema 4K (like the 4K movies in theaters) can even overpass this standard and achieve at 4,096 by 2,160. To calculate, it surpasses four times as the HD 1080p display, and even more than 23 times than the resolution delivered by the standard definition television.
Currently, 4K Ultra HD provides three different capacities, which provides distinguishing layers and writing speed including:
4K Ultra HD does facilitate a better streaming experience, nevertheless, the 4K Blu-ray is only compatible with Microsoft's Xbox One X, One S, and PlayStation 5. For mainstream computer systems such as Windows and Mac, cooperating means (both hardware and software) to stream 4K Blu-rays are required.
Part 2. Preparation for 4K Blu Ray Playback
You should realize that the standard Blu-ray players are not compatible with the playback of 4K Ultra HD videos. Therefore, to stream 4K Blu-rays, UHD Blu-rays, and Blu-ray UHD, both 4K Blu-ray hardware and software are required.
For 4K Blu-ray playback on televisions, the following items are essential:
For PC users, things are alike - you will be required to prepare:
Today, this post will mainly introduce the 4K Blu-ray player hardware and software for PC users to enjoy the 4K Blu-ray video streaming on computers.
Part 3. 5 Best 4K Blu Ray Player Software
As there are countless options online, selecting the best 4K Blu-ray player software is not a simple task. Through careful comparison, the 5 best programs can be of great help to upscale the 4K Blu-ray video streaming on PCs. Let's see who they are in below.
The first top-ranking Blu-ray player software for PC should be VideoByte Blu-ray Player, a professional helper which can deliver the quality-lossless 4K Blu-ray streaming to all users with original image and sound support. With superior Blu-ray video streaming function, VideoByte Blu-ray Player has provided high-quality playback to global users around the world.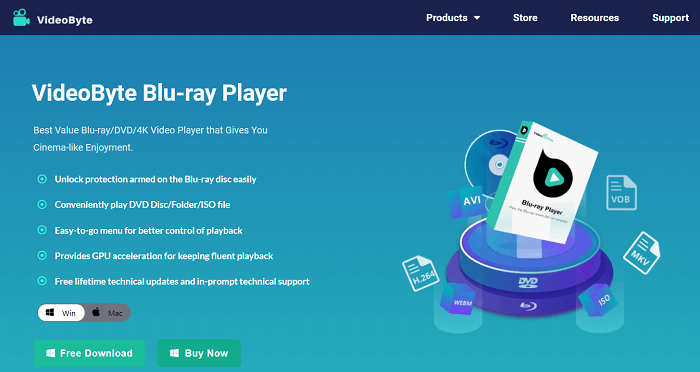 The core features of VideoByte Blu-ray Player include the following points:
Quality-lossless playback:
Easy for manipulation:
Expert in unlocking:
Multi-format supported:
Regular formats supported:
GPU acceleration:
Lifetime support:
A Video Tutorial on How to Play 4K Blu-ray Discs on Your Computer
The following tutorial will walk you through the manipulation in utilizing VideoByte Blu-ray Player to stream 4K Blu-ray on Windows/Mac.
Step 1. Prepare the 4K Blu-ray player hardware and connect it to your computer.
Step 2. Insert the 4K Blu-ray disc to the optical drive, subsequently, launch VideoByte Blu-ray Player and load the disc content.
Step 3. When the movie thumbnail is loaded, playback is ready for you.
Tips: By tapping the Menu option, you can access the navigation menu for selecting to play the 4K Blu-ray movie flexibly.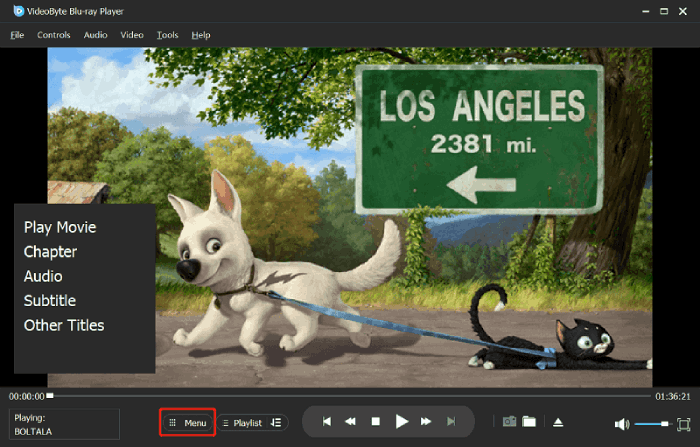 The second professional and quality-guaranteed 4K Blu-ray player software you shall not miss is CyberLink PowerDVD 16. As a high-class player, it can manage the playback of Blu-ray, 4K Ultra HD, 8K videos for Windows users. Despite this, its support for DTS HD Audio and Dolby True HD Audio also highlight the video streaming quality and deliver the theatre-like movie playback experience for you to enjoy without hanging out to the cinemas.
An extra highlight of CyberLink PowerDVD 16 should be its supplementary application for Android and iOS. This app turns your smartphone into a remote controller to control the movie playback in the room. However, although CyberLink PowerDVD 16 brings such awesome functions, some people are not likely to try it because of the expensive expense - you need to pay at least $69.99 to get the license for using CyberLink PowerDVD 16 without limitations.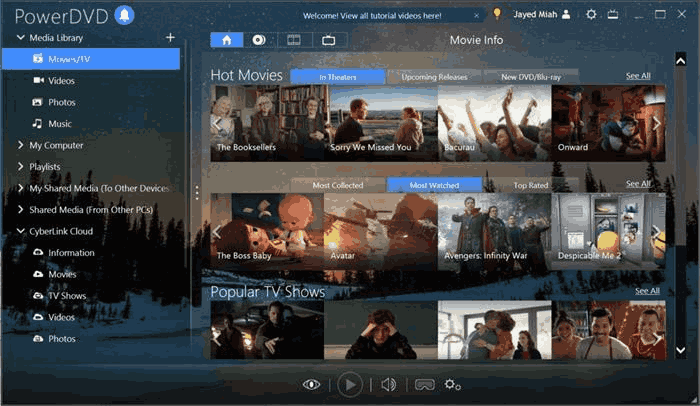 As a free and open-source media player, VLC provides high compatibility to support the playback of most multimedia files, DVDs, Audio CDs, VCDs, and more protocols. For 4K Ultra HD videos, users can utilize VLC for streaming on different systems, in that VLC is a cross-platform player that can be compatible with Windows, macOS, Linux, Android, and also iOS.
VLC also provides more hidden features such as online video streaming, DVD ripping, screen recording, and so forth. Security is also the thing that VLC pays high attention to - even though this is a free program, no spyware, ads, or user tracking will be installed for illegal profit earning. However, some users still reported that VLC would probably get stuck during the video streaming, which results in an unhappy playback experience.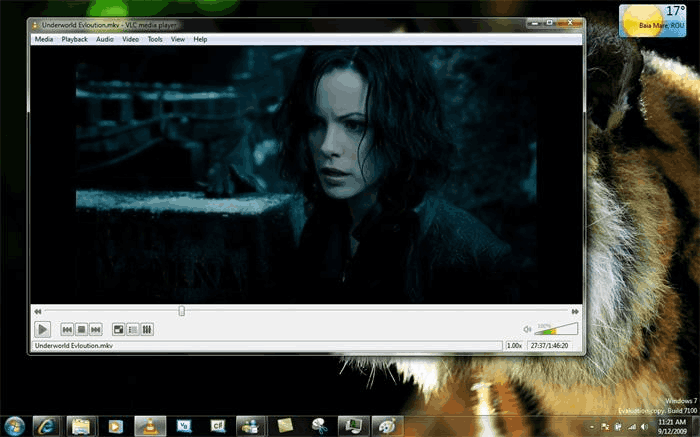 AnyMP4 Blu-ray Player is also a reliable 4K Blu-ray player software that you should not leave behind. The program assists all users to fulfill the dream of bringing the cinema back home by delivering the perfect 4K UHD, 1080p HD videos, and Blu-ray movie streaming experience with the loss of image frame (however, it doesn't support lossless audio playback on computers).
However, AnyMP4 Blu-ray Player provides extra brilliant features, such as the manageable local music library, an easy-control and flexible navigation menu, adjustable audio effects, and so forth. Therefore, users can definitely enjoy the best video playback on computers easily.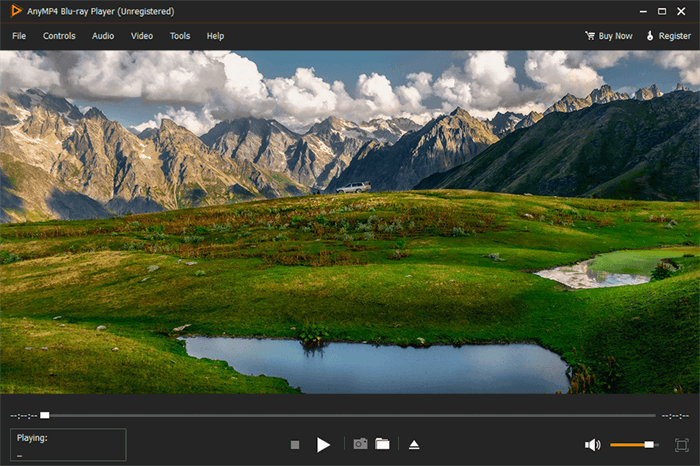 The final 4K Blu-ray player software is recommended for Mac users. Aurora Mac Blu-ray Player Pro is an outstanding program that delivers the stable and quality-lossless performance to stream 4K Blu-ray, standard Blu-ray, DVD, and also HD videos on Mac computers with one-stop manipulation. Furthermore, it is also developed with the auto region code unlocking technologies to resolve the inconvenience brought by the DRM encryption. Therefore, with Aurora Mac Blu-ray Player Pro, you are sure to enjoy the industry-leading 4K Blu-ray playback experience at home without going to cinemas anymore!
These top 5 4K Blu-ray player software all work well to deliver a nice 4K Blu-ray movie streaming experience to you. As mentioned, besides the software, 4K Blu-ray hardware is also an indispensable component for the successful 4K Blu-ray playback. The next part will introduce the 3 best options to you.
Part 4. 3 Best 4K Blu Ray Player Hardware
Let's come to the hardware part now. In the following, you will be introduced to the 3 best 4K Blu-ray player hardware on the market for achieving the successful 4K Blu-ray playback on televisions and also computers.
Through serving people with the awesome inviting and also immersive image quality, Panasonic DP-UB820EB is selected as one of the best 4K Blu-ray hardware for reading and streaming the movies. It has an upscaling feature and also a meaty sound effect, which facilitates all-around high quality in the movie playback.
Price: $399.98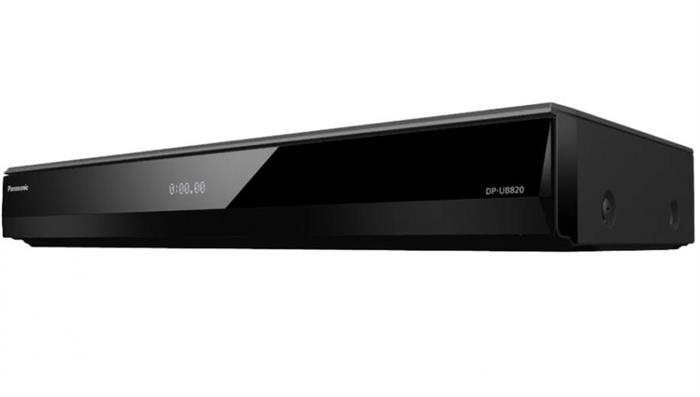 Sony UBP-X700 4K provides an affordable price for people to enjoy the high-class 4K Blu-ray playback saving much money. As Sony will always deliver the wonderfully subtle picture and also the zippy, dynamic character sound quality, people are sure to boost their home cinema systems with the assistance from Sony UBP-X700 4K.
Price: $135.95
Finally, we come to Panasonic DP-UB150. This economical 4K Blu-ray player hardware can perfectly handle the 4K upscaling to a high extent with aplomb. Also equipped with the 7.1 surround sound (using a supported system), the audio effect of Panasonic DP-UB150 is nicely detailed, with an impressive sense of scale. Therefore, this hardware is a considerable option to purchase.
Price: $159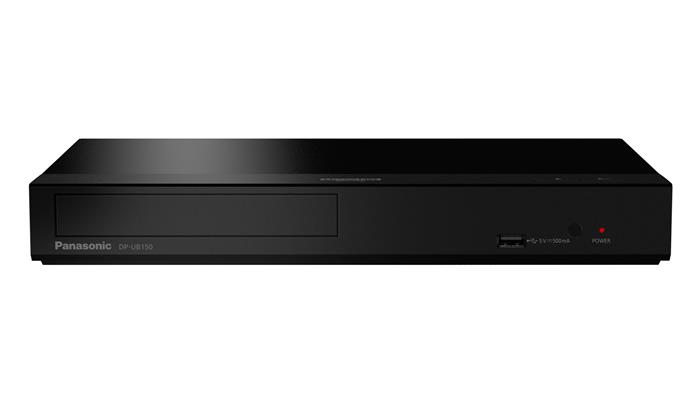 Both 4K Blu-ray player software and hardware are indispensable tools to ensure the successful 4K Blu-ray playback, in that the standard Blu-ray player would fail to function this upscaling resolution. As this post has introduced the best options of the 4K Blu-ray players to you, hope you can enjoy the nice movie streaming at home!